95 4runner back to the original look
11-03-2009, 08:18 PM
95 4runner back to the original look
---
i have a 95 4runner limited we bought it off a girl who had spray tinted the tail lights and painted the aluminum rims black what can i use to get the spray tint off thetal lights and remove the paint off the rims? thanks
11-03-2009, 08:33 PM
Registered User
Join Date: Jun 2006
Location: Calgary, AB
Posts: 2,243
Thanks: 0
Try some acetone in an inconspicuous spot. I doubt they prepped the rims really well, so maybe they'll strip clean. Worst case, you'll need to sandblast and clearcoat them.

Tail lights you might want to try one of those Mother's polishing balls.
11-03-2009, 10:32 PM
Registered User
Or just buy new tail lights.. They're pretty cheap, and they'll look better than if you just took the paint off...

Don't use any kind of industrial paint stripper/rim degreaser on the rims.. That stuff ruins aluminum finish extremely fast.
11-03-2009, 10:36 PM
Registered User
Join Date: Oct 2009
Location: Long Beach CA
Posts: 28
Thanks: 0
Thanked 0 Times in 0 Posts
Get new tail lights and forget the rims, you cannot remove the paint without stripping the clear coat.
11-03-2009, 10:41 PM
Registered User
Join Date: Aug 2007
Location: Vian, OK
Posts: 5,334
Thanks: 0
Thanked 0 Times in 0 Posts
there is no way you'll get the spray tint stuff off that i know of...mainly because the lenses are plastic

as for the rims..yea get some acetone or other STRONG paint thinner or stripper..and see what happens..if it don't look good..or doesn't work..get ya some silver paint and spray em!!! haha jk.get some stock rims from craigslist or a junkyard??
11-03-2009, 10:43 PM
Registered User
my eyes almost popped out of head after you said that, lol.
i remember my tard neighbor built up this sweet 350... he had aluminum valve covers.he sprayed some chemical, and it ate the finish right off them...

theres no way to get the paint off the aluminum without marring the finish..
11-03-2009, 10:50 PM
Contributing Member
Join Date: Feb 2007
Location: maple ridge, British Columbia, Canada
Posts: 9,055
Thanks: 0
Thanked 0 Times in 0 Posts
Stock rims and tail lights are cheap and plentiful.
11-04-2009, 07:35 AM
Registered User
Join Date: Sep 2008
Location: middle of no where Alaska
Posts: 4,355
Thanks: 0
Whats wrong with tinted taillights?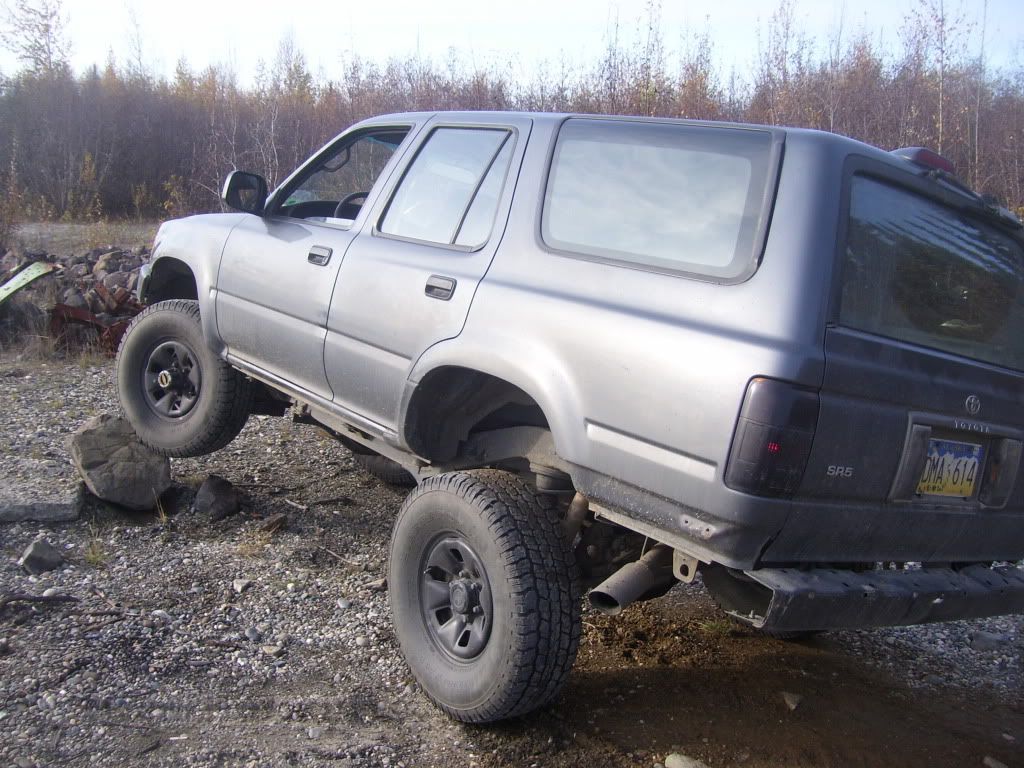 Okay. I dont really like them all that much either, but at least they arent illegal here. And it kind of does match the color scheme of my truck
11-09-2009, 12:37 PM
ya she just wants it back to the original style. i girl that had it she tinted the tail lights the side marker lights and the front turn signal looks like i gotta replace all those. i wonder if i can brillo pad them and polish them back up. the rims i will deal with it later. we just got a new front bumper it was banged up. i need the toyota emblem for the front grille i cant seem to pry them off at the junk yard. i need to reinstall the trailer hitch i just put the side boards back on with the ends. this girl took everything off. cant get funkyard parts for cheap anymore. they wanted 16 bucks for a front turn signal. can i wire brush the rims and use aluminum polish? the girl she bought it from really ed it up
---
Last edited by sis004runner; 11-09-2009 at

12:38 PM

.
Thread
Thread Starter
Forum
Replies
Last Post
86-95 Trucks & 4Runners (Build-Up Section)