Snow wheeling
11-22-2008, 11:34 AM
Registered User
Join Date: Aug 2008
Location: Mesa AZ -> Federal Way, Wa
Posts: 369
Likes: 0
Received 0 Likes on 0 Posts
Snow wheeling
---
Living in AZ, I don't get much snow action.

A couple friends and I have decided that once we start getting some snow up in the mountains that we're going to head out and go camping/wheeling in the snow. I've driven in snow/ice plenty of times, but thats just on paved roads trying to get to a destination.

Anyone have any tips for wheelin' in the snow?
11-22-2008, 02:30 PM
Registered User
Air down to about 10lbs this will give you a bigger foot print and when the tire reaches the top of the rim and is "narrow" again the snow will "pop" out of the tread so it's clean going back into the snow. If you're in powder then speed is the key. You want to "ski" over the powder. In slush you want low controlled speed and you want to dig. If you are in ice then speed is your hated enemy. Slow, low air, big foot print, honest traction and you're good to go.

In snow watch the terrain, a minor lift/drop of a few inches in the snow drift my indicate a large rock or deep hole. Be aware and stay alive. Oh and don't forget to take survival gear with you just in case.
11-22-2008, 06:51 PM
Contributing Member
Join Date: Nov 2005
Location: Longmont, CO
Posts: 8,875
Likes: 0
Received 0 Likes on 0 Posts
x2 for super low air pressures. The low temps will make the same amount of air read as lower pressure, so you can go to 10 psi or lower, but be sure to air up before getting on the road!

Also, be sure to have warm clothes and a sleeping bag just in case!
01-24-2009, 09:57 AM
Contributing Member
Join Date: Jun 2002
Location: SF Bay Area, CA
Posts: 10,789
Likes: 0
x3 on the low tire pressure and a few other tips below:
-
http://www.4crawler.com/4x4/index.shtml#SnowDriving
Gets fun when you start pushing snow up over the top of the hood: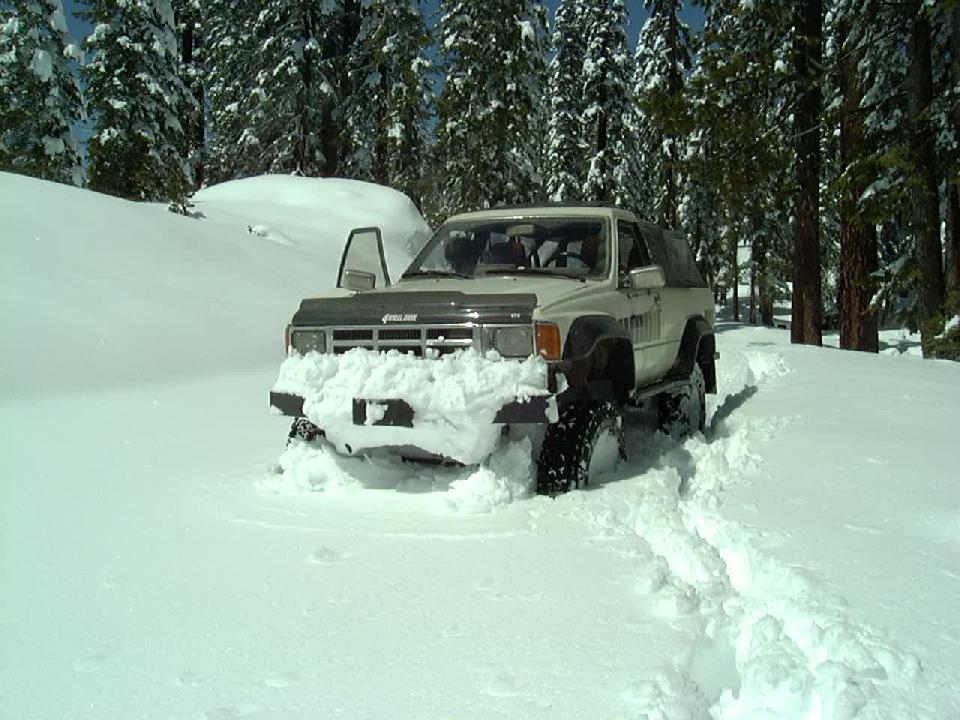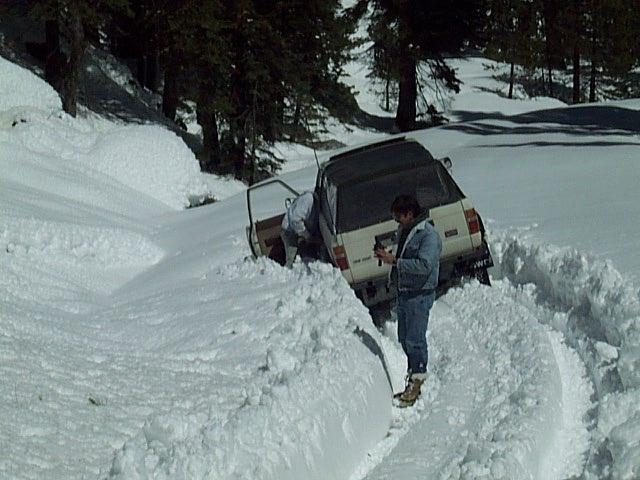 02-03-2009, 07:35 AM
Registered User
Join Date: Oct 2008
Location: Corvallis, OREGON
Posts: 189
Likes: 0
Received 0 Likes on 0 Posts
Unless you're driving a with 40" tires and about five feet of clearance, up in some on the mountains here, you're going to hi-center. Remember to go with someone, and space yourselves, no point in both of you getting stuck. Survival gear is a must, and at least have a shovel, you'll be doing more digging than you ever imagined. Winches and tow-straps/chains are a must. x3 to airing down.
02-06-2009, 12:13 PM
Chains go for about $100/ axle and they do wonders for traction in snow. Put them on the front tires for deep snow (or all 4 is you buy two sets). At higher speeds on slippery roads (anywhere where you might need to brake) put them on the rears.
02-06-2009, 05:54 PM
Registered User
Join Date: Oct 2008
Location: Corvallis, OREGON
Posts: 189
Likes: 0
Received 0 Likes on 0 Posts
I've never used chains and I doubt I ever will. it's all about how you drive, and tire siping. I had some 32" BFG's on my '95, siped, and they were solid. I was driving better than people with chains.

Also, get a cheap pair of used boggers or something with a lot of clearout if you're doing any kind of deep snow driving. It's really easy to get stuck with a pair of rock tires and have them packed with snow, essentially racing slicks.
02-06-2009, 06:56 PM
Registered User
yep air down, let some one know where you are going and when to be expected back, snow is the reason I bought a winch. Radio communication (even walkie talkies) is nice for between vehicles. Check out some of the other section of this forumn, I've posted there and not going to retype here. Starting a fire in the snow especially deep is a bit more challenging and can even defeat the "use a gallon of gas lugnut type method." Do you know the signs and symptons of hypothermia? Have fun.
11-21-2015, 10:48 AM
Registered User
Join Date: May 2008
Location: Montana
Posts: 4,151
Likes: 0
Kind of an old thread. I haven't been using my Toyota, because we have work trucks. I live 30-plus miles off pavement right now. I'll be out of here soon, but until then, it's getting more and more snowy.

The snow is actually fine by itself, but the wind is causing issues. Drifts. I've gotten stuck twice now in the 4x4 Chevy I've been driving around. I think it's a variety of issues, but I'd like to hear people's thoughts.

First time - snow drift. Just too deep. This is just a 1500 Chevy, not very high clearance. Hankook ATs. I dug myself out.

Second time - snow drift. Same deal. Dug myself out. BUT, two larger Chevy/GMCs (I was too busy digging to really notice the exact model) came from the opposite direction. The direction I was headed, when I got stuck. They came from the direction in which the drift was getting worse. I got stuck before I could even get to the worse part, which they came barreling through.

I don't think they were lifted. They probably had better tires. Maybe they were aired down, but I doubt it. They did have more clearance than me. But I'm curious. Is a little more clearance and maybe a more aggressive tire all the difference that was going on here? I mean they were just plowing through the drift that stopped me cold. So to speak.

This thread helps, but I'm still curious on tips for driving through snow drifts and deep snow in general. What are the factors that make the difference between getting out the shovel, and powering through? I'm guessing a combination of driving technique and the right tires/etc.

But I was definitely annoyed that these guys came from the direction I wanted to go, and we all agreed I should NOT try to go that way, but instead turn around.
10-09-2016, 05:07 AM
Registered User
Ppl here get really butt hurt if you drive the trails with snow on them. Snowmobiler really cry out west trucks and snowmobiles figure out how to co-exist but not here. Driving skill is as important as rig set up maybe more so. I got low and slow, as rig is light to float on slushy or packed snow.
Thread
Thread Starter
Forum
Replies
Last Post
95.5-2004 Tacomas & 96-2002 4Runners