A place for vehicles seen for sale
12-10-2011, 07:17 AM
A place for vehicles seen for sale
---
I am a new member here, and have seen a couple Toyotas for sale here (El Paso, TX). Is there a place to pass this info on to those looking? Around here the vehicles are usually rust free. There is a clean looking 1980 4x4 pickup and a 1993 4runner both on Craigslist now that look like decent deals. (I have no interest other than to pass on the info).

Thanks
12-10-2011, 07:32 AM
Registered User
The "hot deals/ freebies/ Craigslist" section.
12-10-2011, 10:19 AM
Registered User
In the classifieds section, guys.
Hot Deals - Free Stuff - Craigslist
Use this section if you have free stuff to get rid of, or you have found deals on the Internet you'd like to share with the members like Craigslist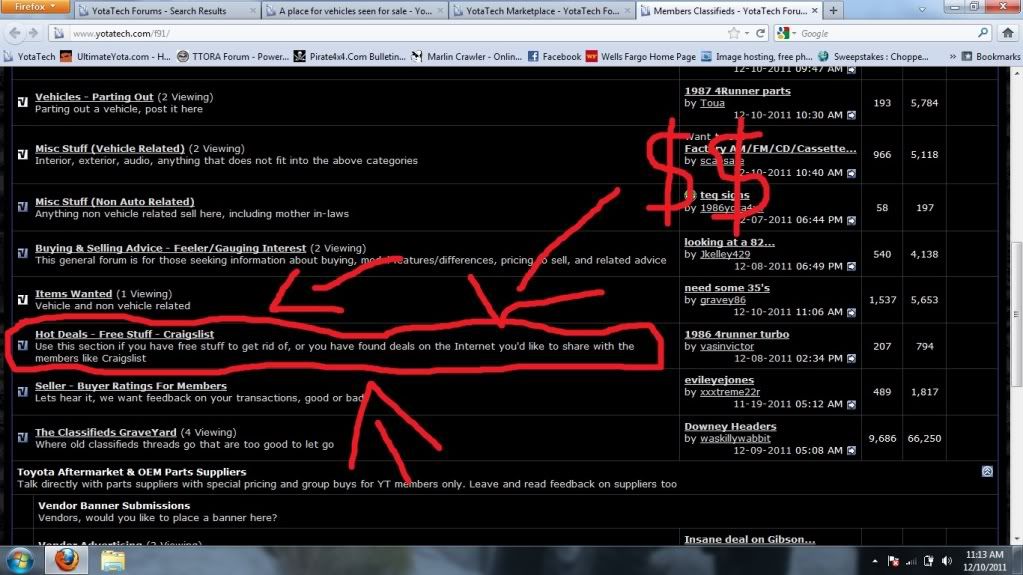 12-10-2011, 10:56 AM
Co-Founder/Administrator
Staff
They can see it, they just cannot post until 15 days/15 posts are assimilated, er I mean accumulated.
Just got done watching the Borg on HBO, First Contact
12-10-2011, 05:40 PM
Registered User
Thread
Thread Starter
Forum
Replies
Last Post
Axles - Suspensions - Tires - Wheels
Misc Stuff (Vehicle Related)
General Electrical & Lighting Related Topics