Corey's 2007 FJ Cruiser Build-Up Thread
03-02-2018, 11:13 AM
Registered User
Join Date: Mar 2012
Posts: 5,892
Originally Posted by
Corey
Must be good... They look like those on Toyota War Trucks...
---
Last edited by RAD4Runner; 04-22-2018 at

11:21 AM

.
03-10-2018, 11:11 AM
Co-Founder/Administrator
Staff
Relocated Backup Camera 3-10-2018
---
Almost two years ago I had my rear ARB bumper installed, and the shop moved the backup camera to the spare tires center cap.
Although it was a great spot to see everything centered behind me, the camera became useless once I installed my Maxtrax on the spare tire hanger for them.
This morning I finally got around to relocating the camera which I should have done a long time ago.
There really is not a good spot to get the camera centered again, so I opted to have it off to the side on the BajaRacks ladder mount.
I could mount it lower and get a better field of view by mounting it underneath the rear lip of the ARB bumper, but then I take a chance of it ripping off while exploring trails where I like to go.
This will work for now where I have it, but in the future I may monkey around and see if I can get it centered and lower.
Rig is filthy, needs a bath badly.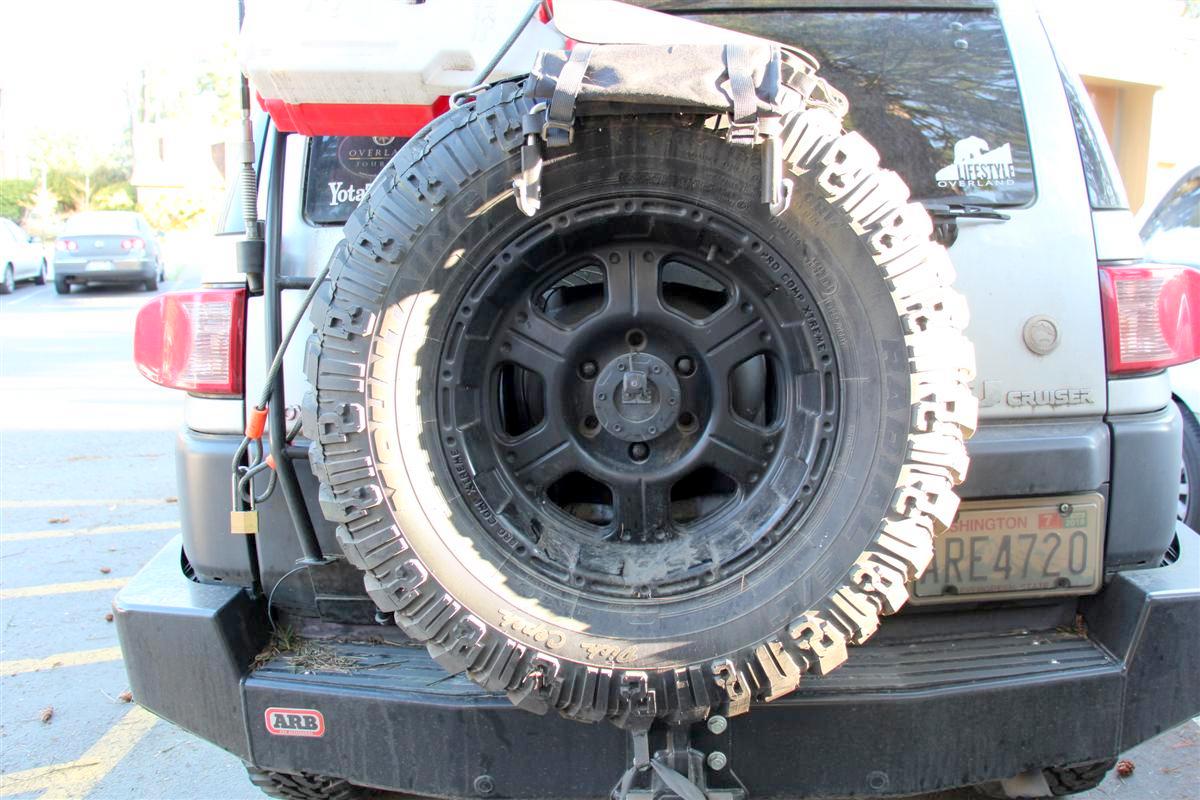 Camera on the wheels center cap, not a good place for it, because if I had to use the spare tire, the camera would have to be unscrewed from the cap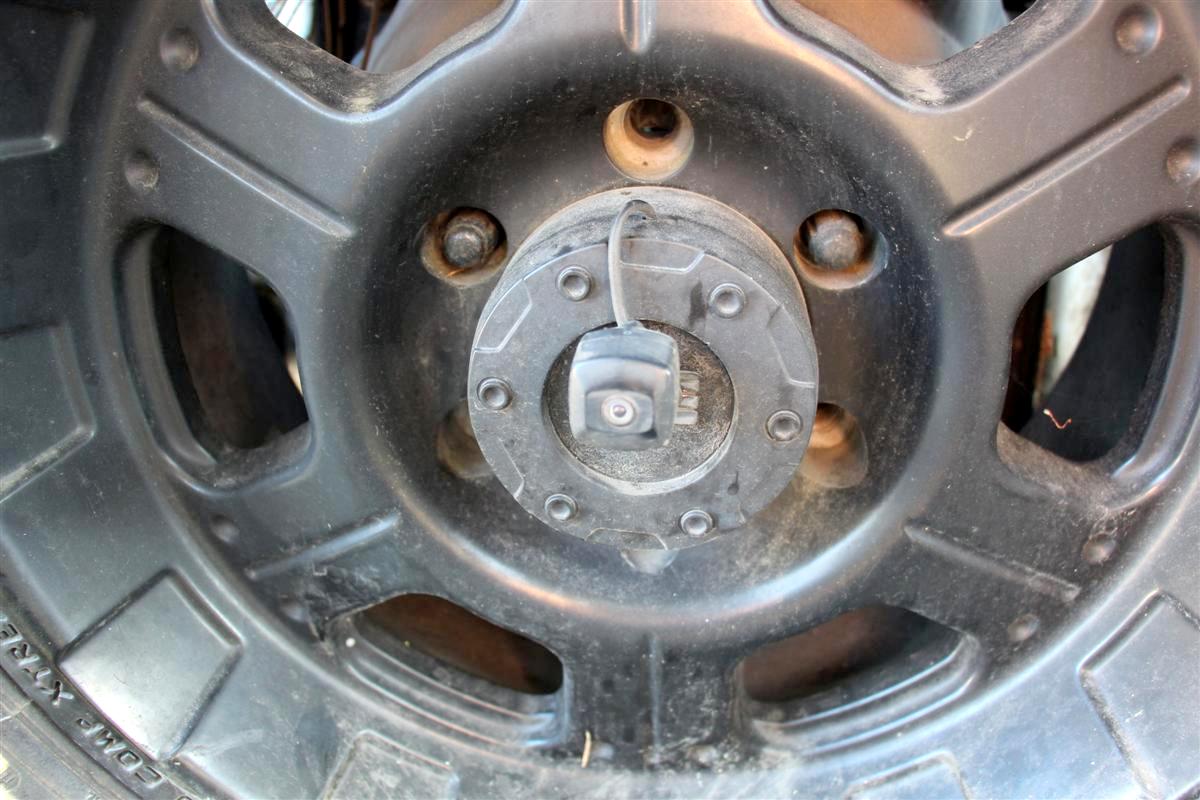 Closeup of the center cap and camera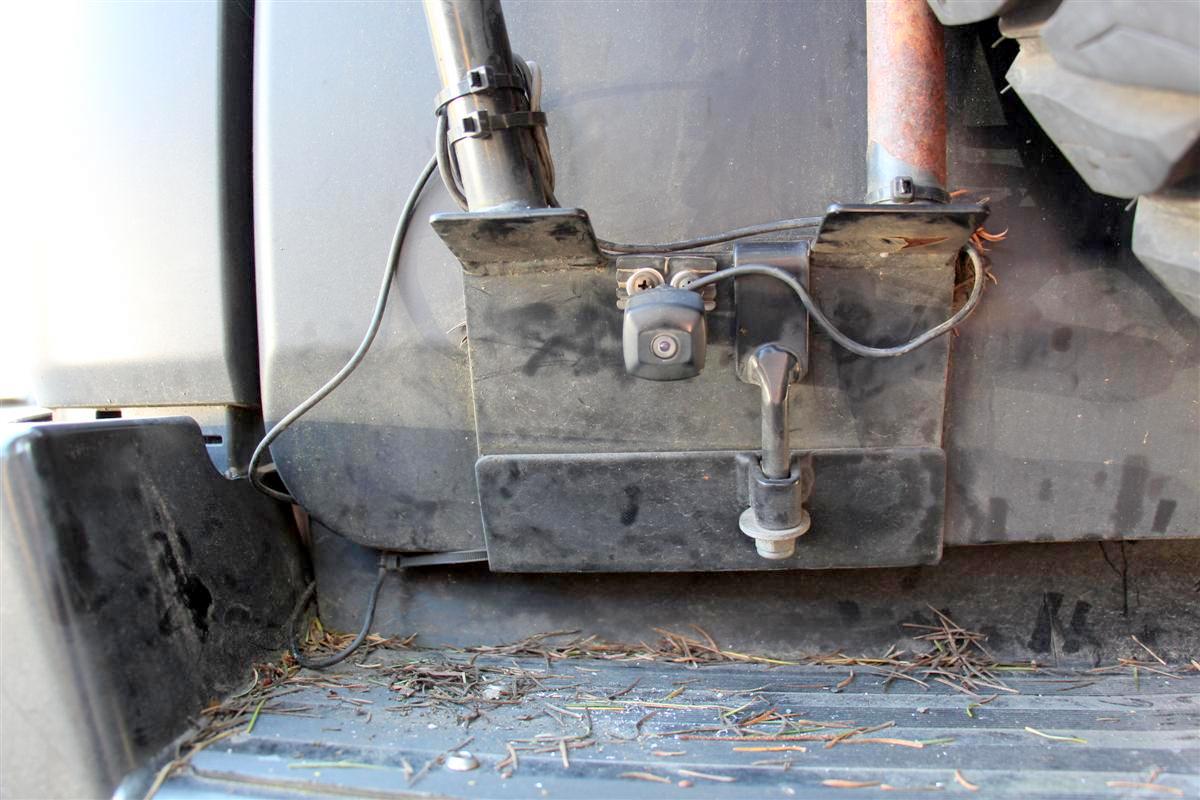 Camera in its new place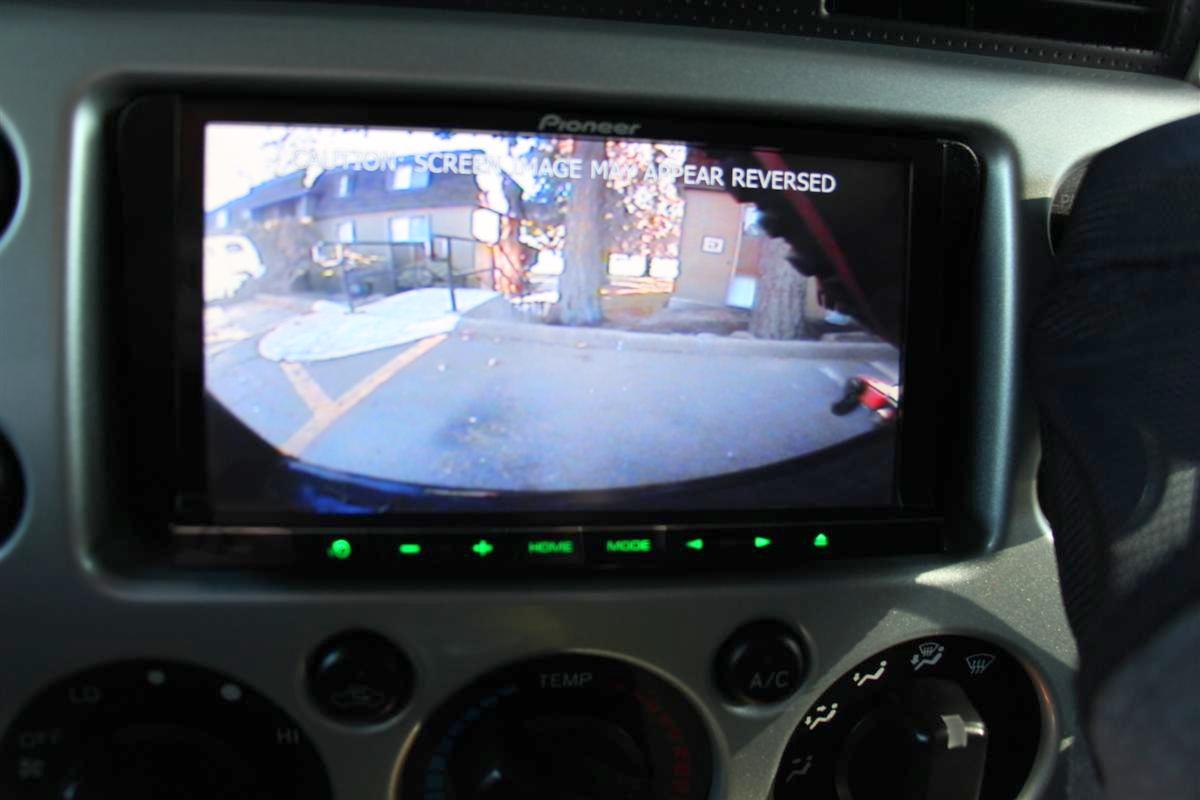 Screenshot on the Pioneer stereo, image is reversed, will have to see if there is an option to fix that in the settings
03-17-2018, 10:48 AM
Co-Founder/Administrator
Staff
Relocated Extinguisher & First Aid Kit 3-17-2018
---
With my Outer Limits Supply First Aid kit on the rear door it protrudes too far into the cargo area when you shut the door.
In order to relocate it I had to move my fire extinguisher to a better location, and I choose next to the fridge on the seat back.
I am not sure what kind of metal is behind the plastic you drill into, but in the past I have broken off drill bits, and today was the same.
I ruined two new drill bits I had bought awhile back when I got a new Ryobi drill.
With the fire extinguisher moved, I could now take off the first aid kit and move it next to the Powertank.
I had to turn it sideways though, and it is a little harder to active the pull strap, but I can still get it off the Springtail siderack OK.
Now I have plenty of room in the back next to the Trail Kitchens chuckbox.
I can have my big 73 liter Alu-Box there that contains misc. camping supplies, but there is not enough room on top of of it to put the 60 later Alu-Box I used for non refrigerated food.
I do have a 42 liter Alu-Box that might fit on top, but it is a little too short to hold all of the food.
I may put the 73 and 60 liter Alu-Boxes on top of each other behind the passenger seat, as they will stack there since they are lower and not sitting on top of the Goose Gear cargobox.
I will experiment more when it gets close to camping season, and when I will be leaving the Alu-Boxes in the rig full time.
If I do leave the two Alu-Boxes up front, that will give me plenty of room in the rear for the Thetford crapper, a propane shower, and more gear.
This season the rig is going to be the best organized it has ever been.
It was so crowded inside last season, and I only had room for one bundle of firewood.
The solution for carrying lots of firewood is in the next mod to my rig, it should be landing this coming Wednesday, and I hope to get it installed next Saturday, and will update my thread here with it.
Pics: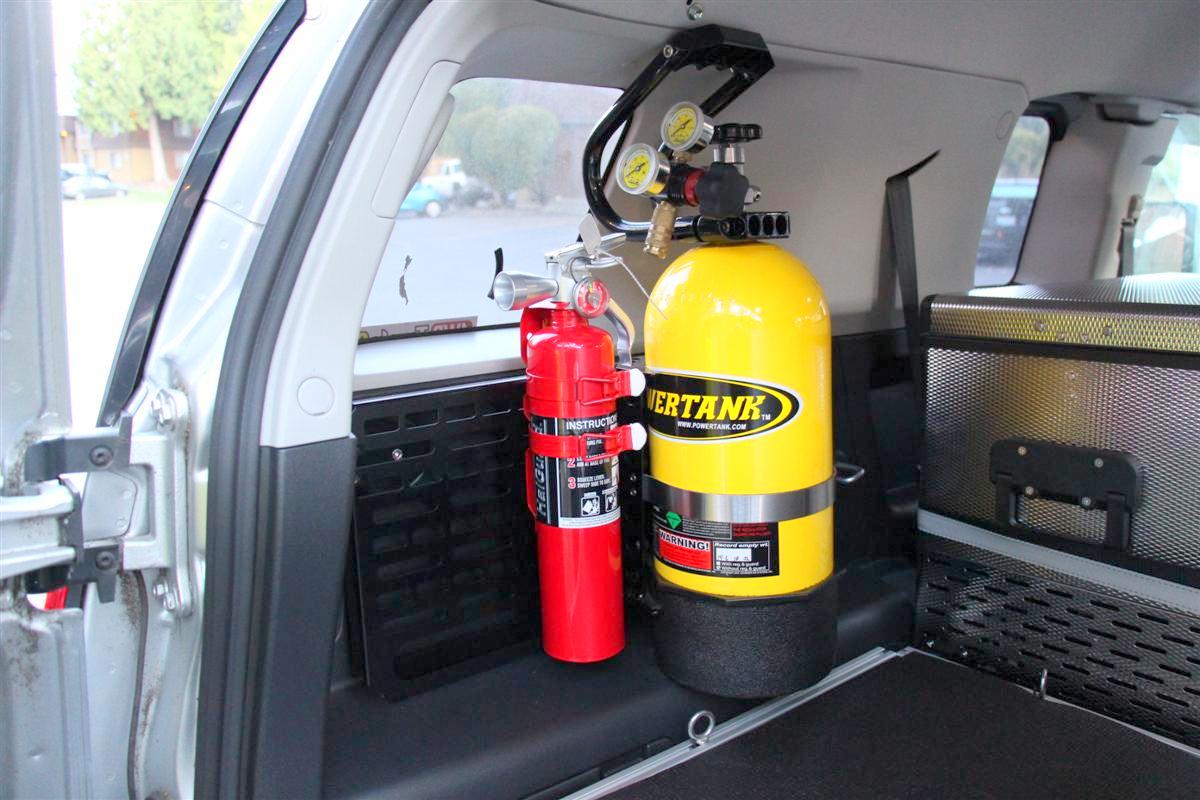 Old location next to the Powertank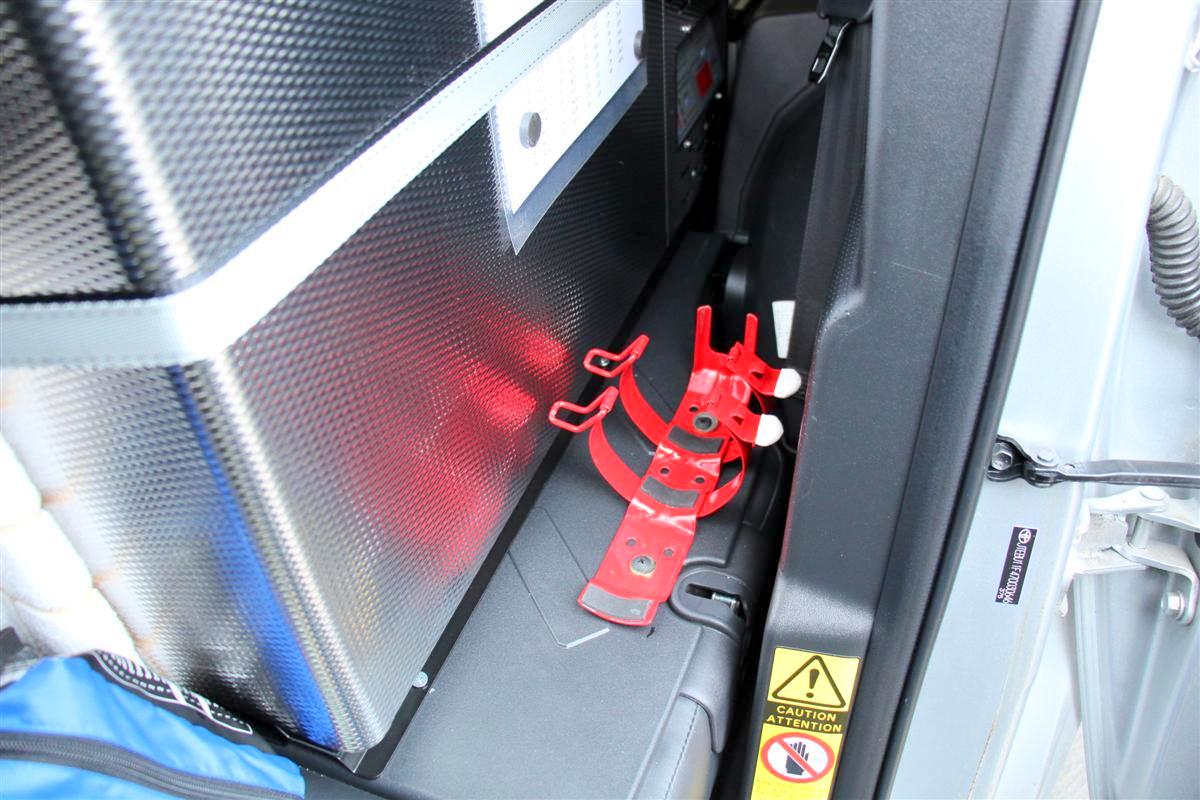 Bracket installed next to the fridge, and yes, my two broken drill bits are still inside of the metal that is underneath the top plastic, time to buy another set of drills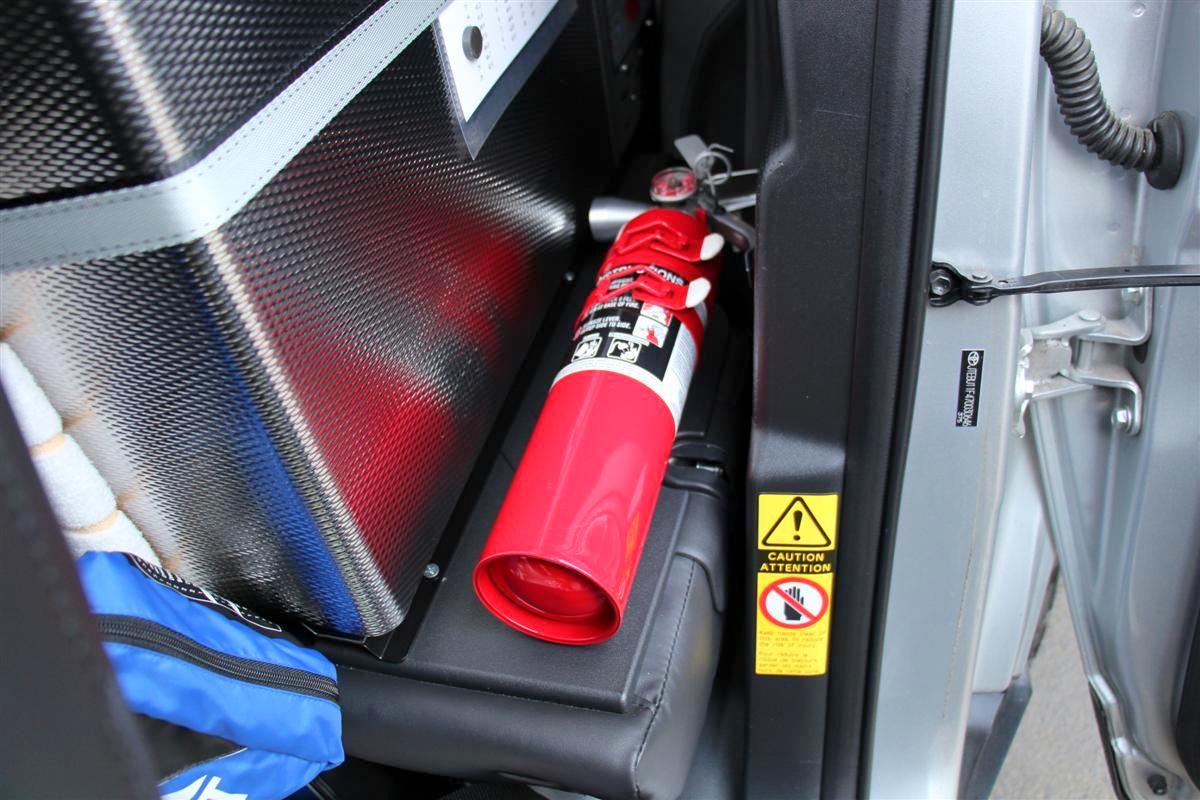 Fire extinguisher in its new home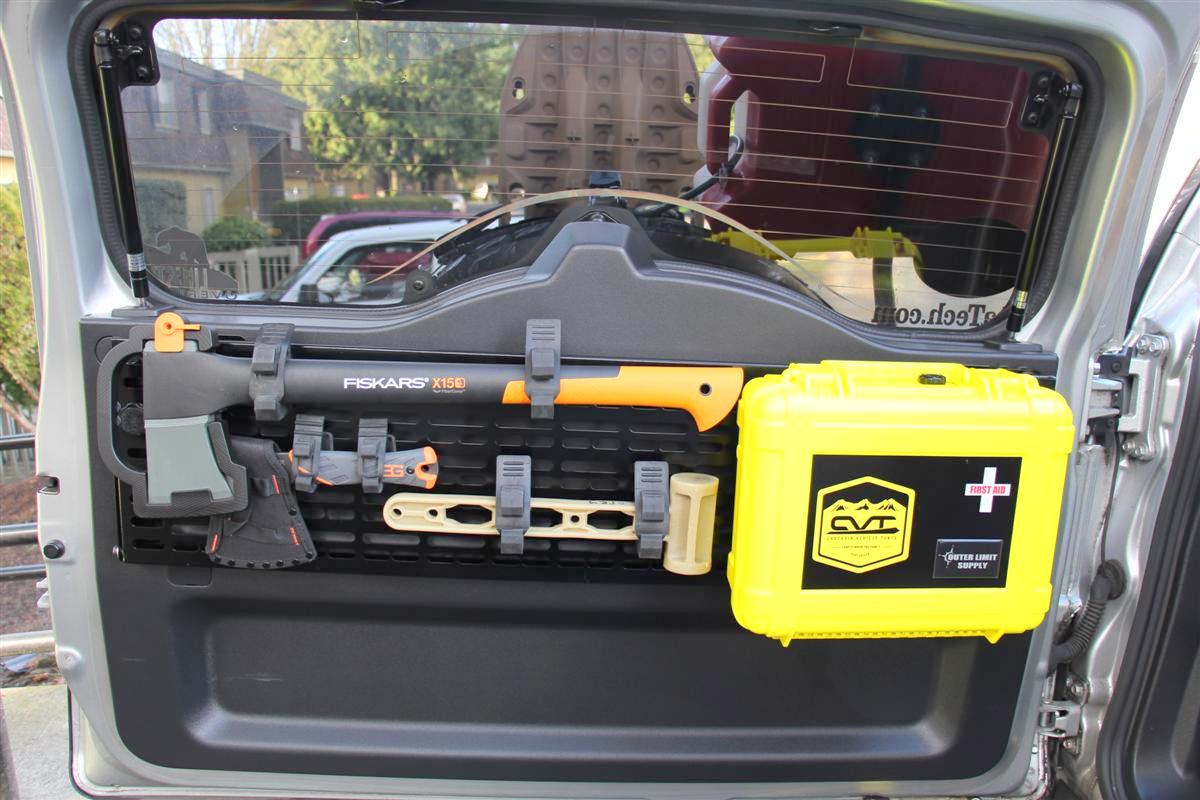 Old location of the Outer Limits Supply Weekend Warrior first aid kit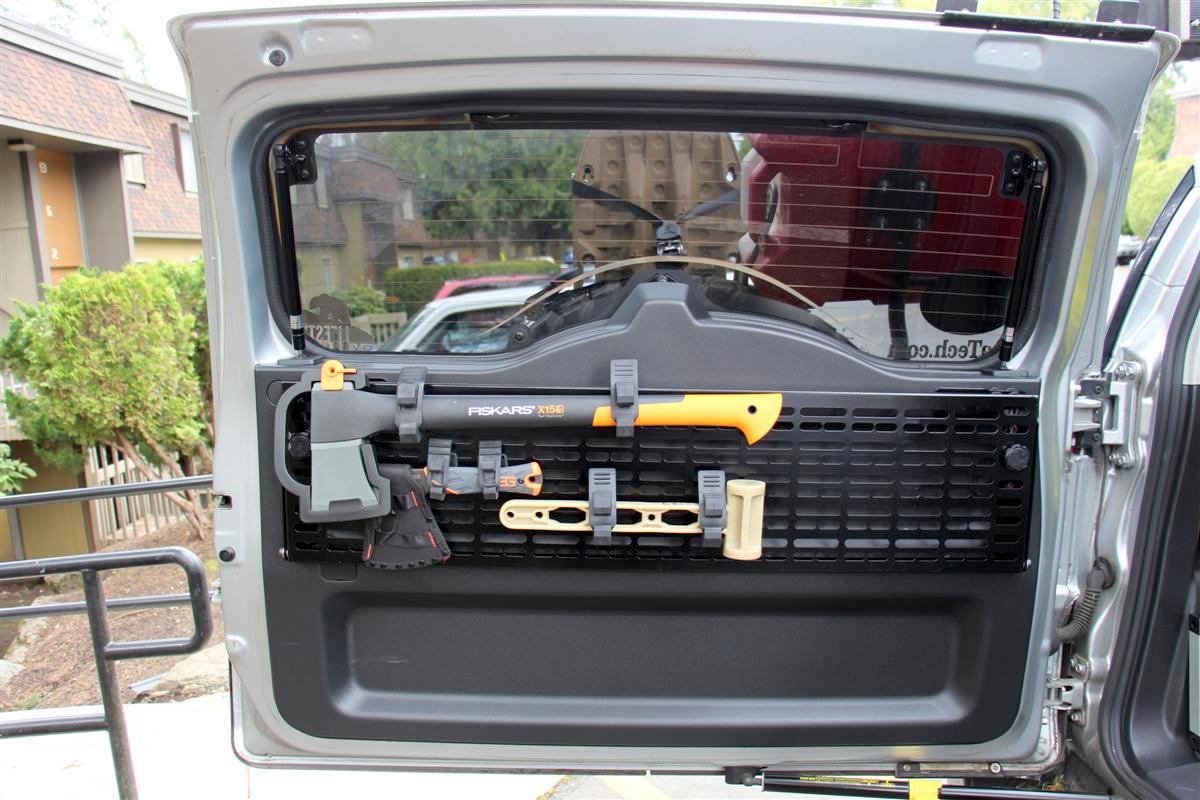 With first aid kit removed, nothing is sticking out to take up precious cargo space when the door is shut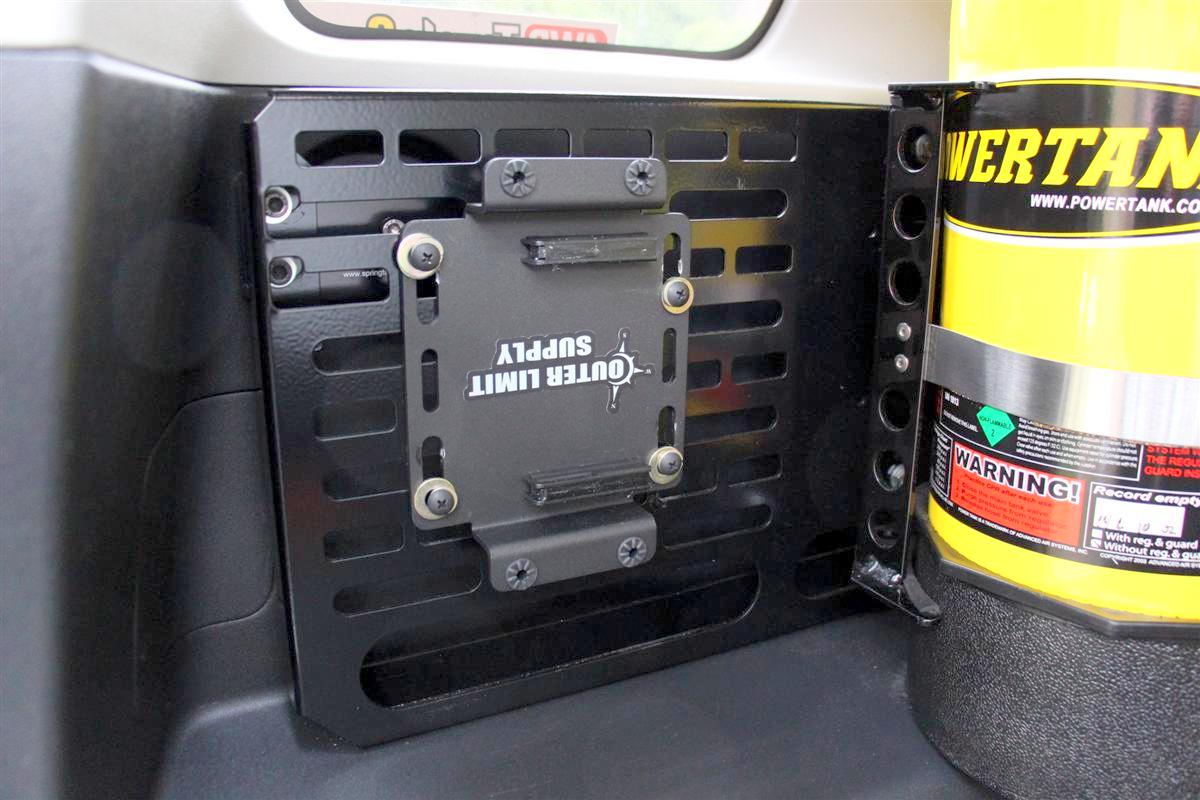 Quick release bracket in place, but I had to mount it sideways, as the Powertank takes up a lot of room on the siderack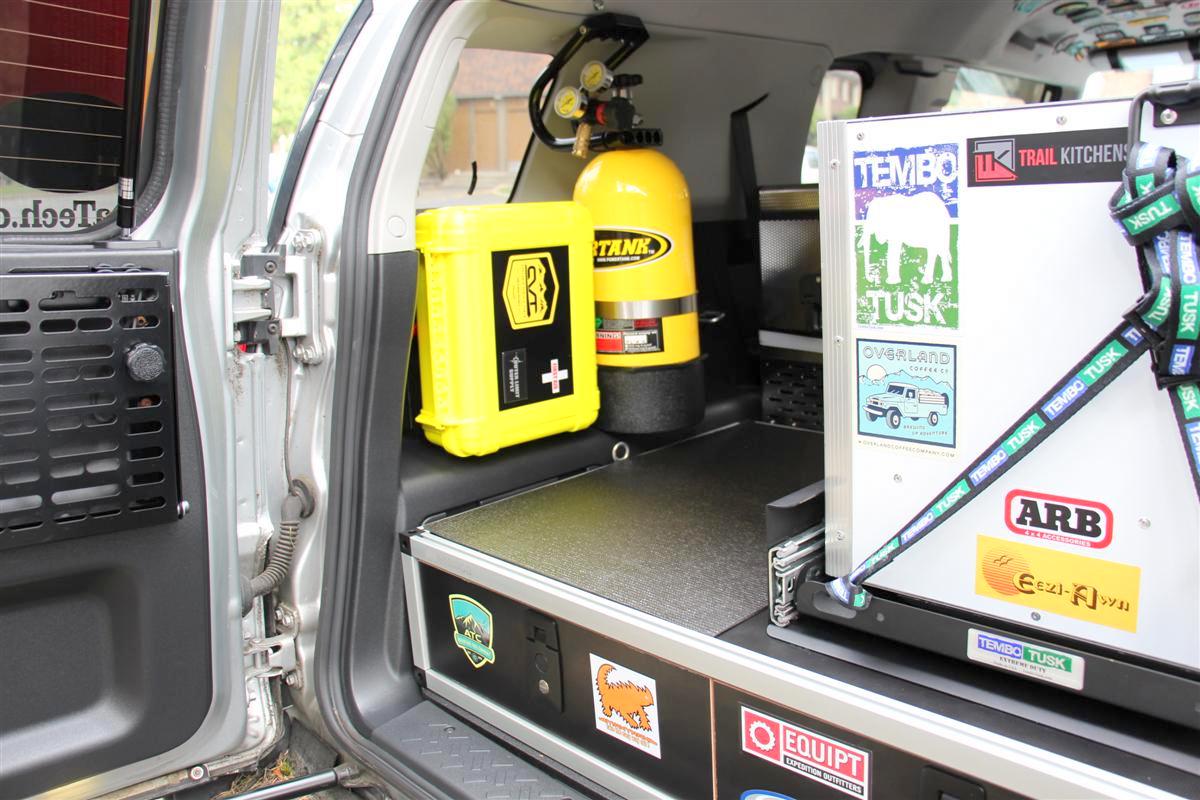 First aid kit all mounted up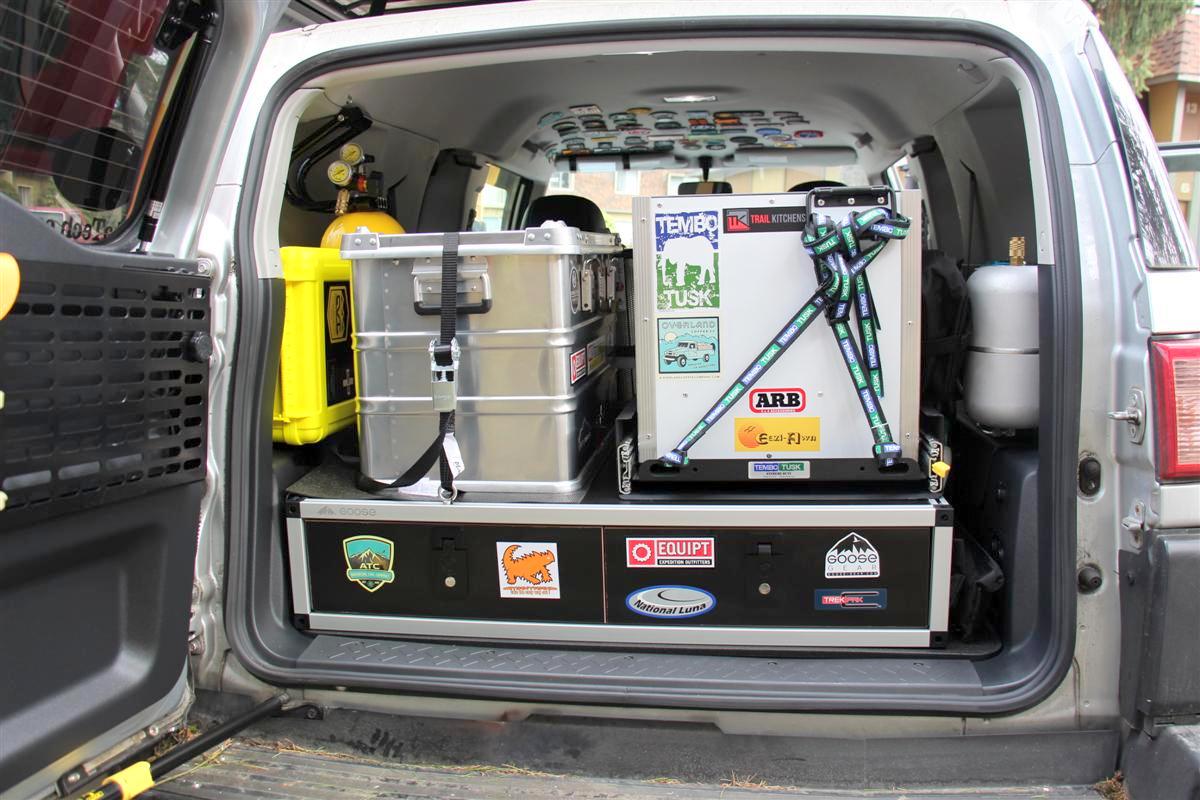 Rear shot with the 73 liter Alu-Box in the rear now, door now will close and not hit any cargo with the first aid kit relocated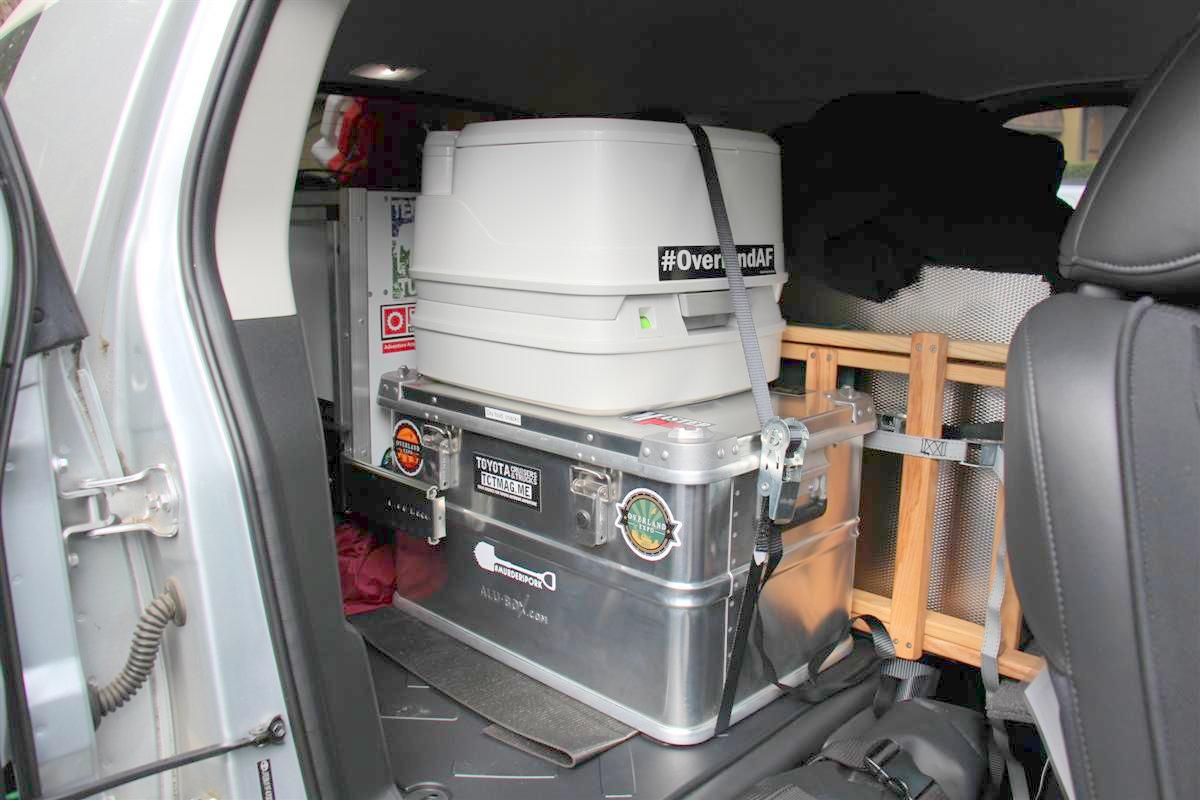 The 60 liter Alu-Box in place along with the Thetford porta-potty on top, but I may has mentioned earlier put the two Alu-Boxes there together
Stay tuned for the carrying of firewood solution...
03-24-2018, 08:57 AM
Co-Founder/Administrator
Staff
PakMule Added 3-21-2018
---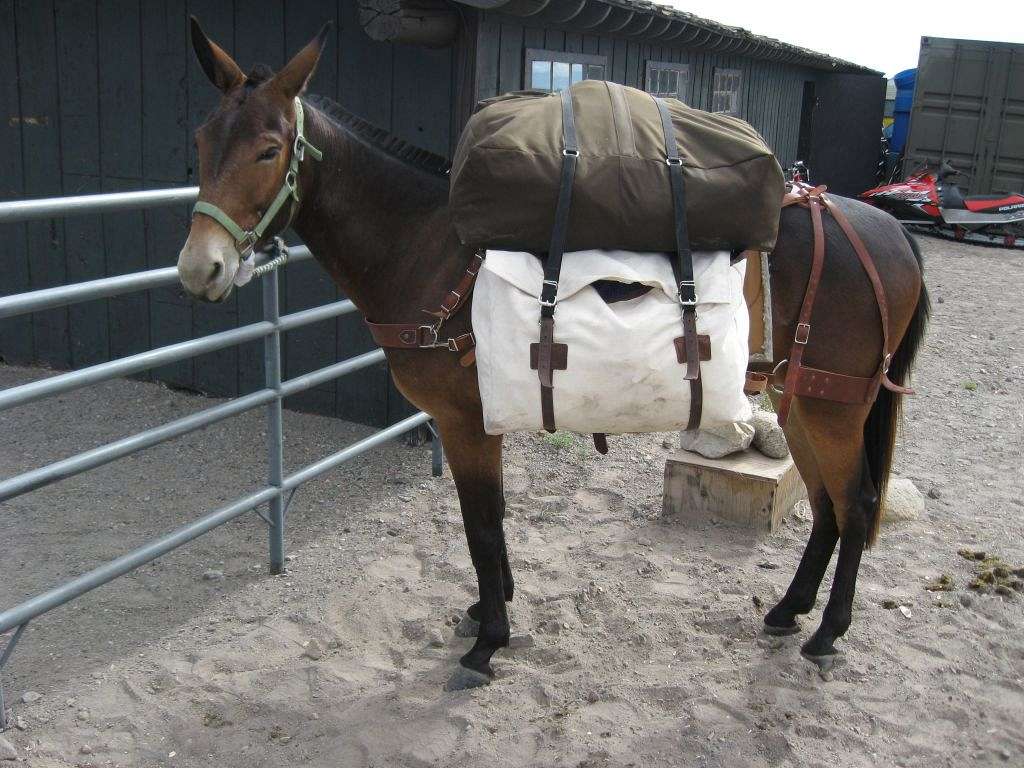 The FJ Cruiser is known for not having a ton of room inside, and last year I was able to fit only one bundle of firewood to take on vacation.
Fortunately Mount Rainier National Parks campgrounds has a vendor there that drives around before it gets time to build a fire, and he sells good dry wood.
I plan on camping on forest service land this summer, as long as it is not on fire like last year, and they had burn bans in effect, but Mount Rainier allowed campfires since they have park rangers there.
With the new Goose Gear cargobox I bought last year, it has cut into my interior space some, so I need a good way to carry firewood outside of the rig.
I looked at hitch carrier racks on Amazon, and I was not impressed.
Most were made overseas, required lots of hardware to bolt together, and a lot of the reviews said rust was an issue.
One of the mags I subscribe to had an ad in it for an all aluminum hitch rack that was welded together, and of course it will not rust out on me in a few years.
The price was $725 which seemed pretty high to me at first, but when you weigh the benefits of no rust, no hardware to loosen on you, I think it was money well spent.
I am not the
TYPE
of person that buys cheap junk that will wear out in a few years and have to turn around and buy the same item again, or another brand that is just as bad.
Plus this is made in the USA, I am not paying for child labor like a lot of the overseas stuff is made by.
So there, now that I got that out of the way, you now know why that I hate buying crap junk, so in my opinion I will always try and buy some of the best gear that is going to last or outlast me so my sons can benefit from it down the road.
When I got the item earlier in the week, it would not go into the receiver all the way, and the owner got a hold of me, and a lot of the receivers out there are open in the back that points forward to the front of the rig.
Not mine, mine is a bolt on receiver by ARB for the ARB rear bumper.
The solution was to hacksaw off around 3/4" of 2" square aluminum stock, and that did the trick.
Only took me around 40 minutes non stock hacking away with a new hacksaw I bought last year.
It added about 2,300 steps to my Fitbit tracker I wear too, nice...
I only had two bundles of firewood to test, but there is room for eight bundles total laid down flat like the two in the picture.
Will be stocking up on firewood from the grocery store until I get around that many.
Of course the rear door will not open when wood is loaded, unless I took it out of the bundles and laid it out, but I am not going to do that.
The wood will be the last thing added to the rig before a trip.
Links:
PakMule
Sway-Back Model
Pics: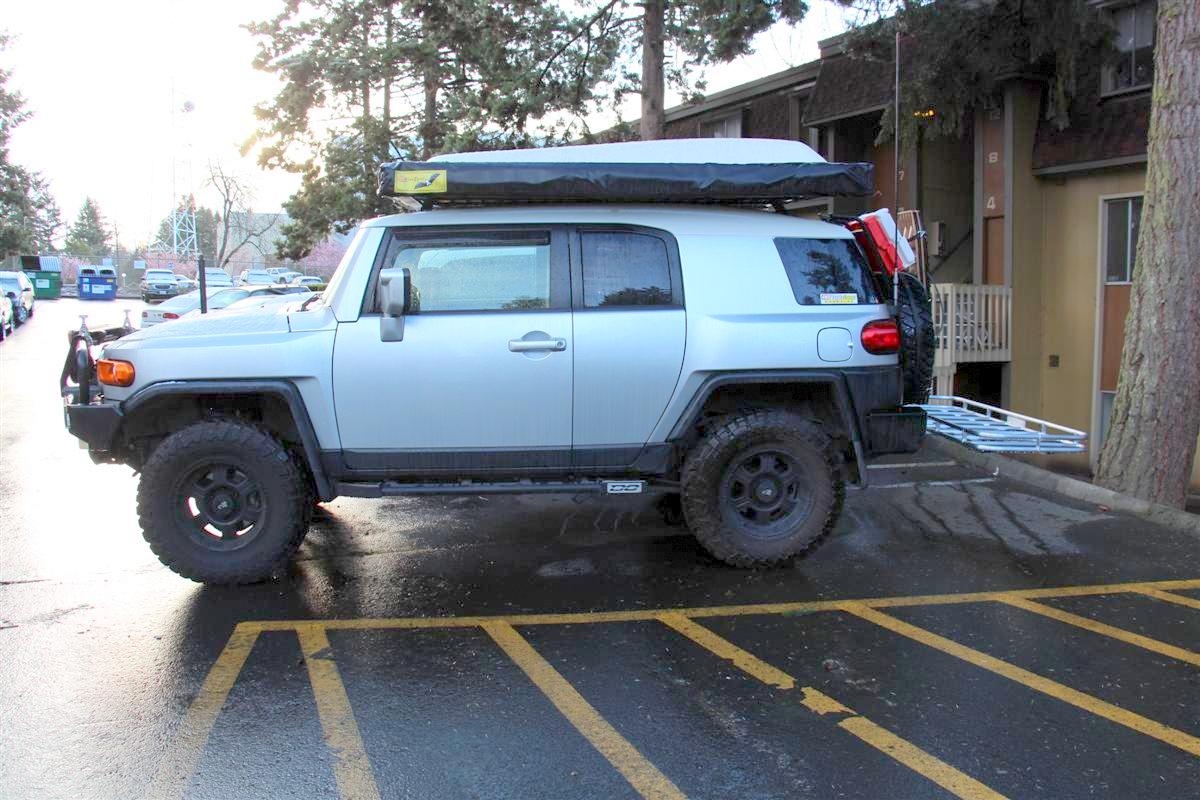 Side shot, extends out some, hope the @sshole tailgaters stay back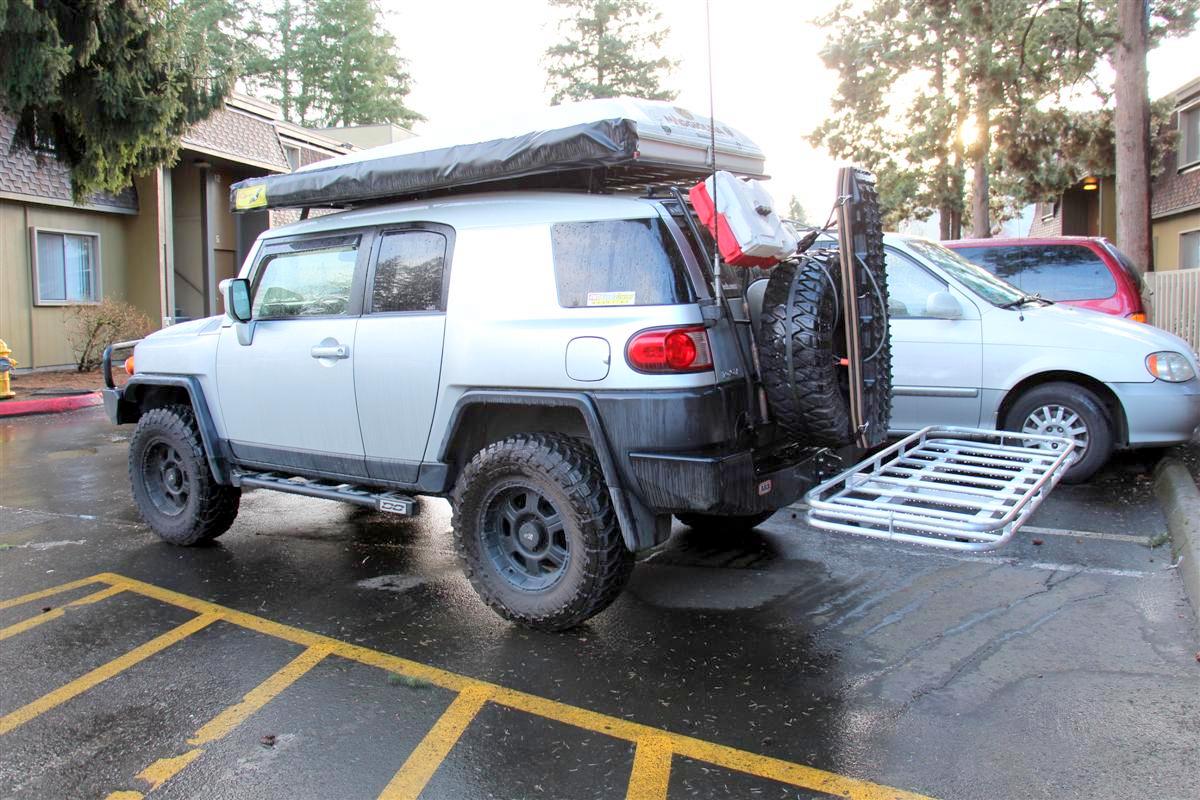 Will add a trailer light to it to connect to the factory trailer package wiring at a later date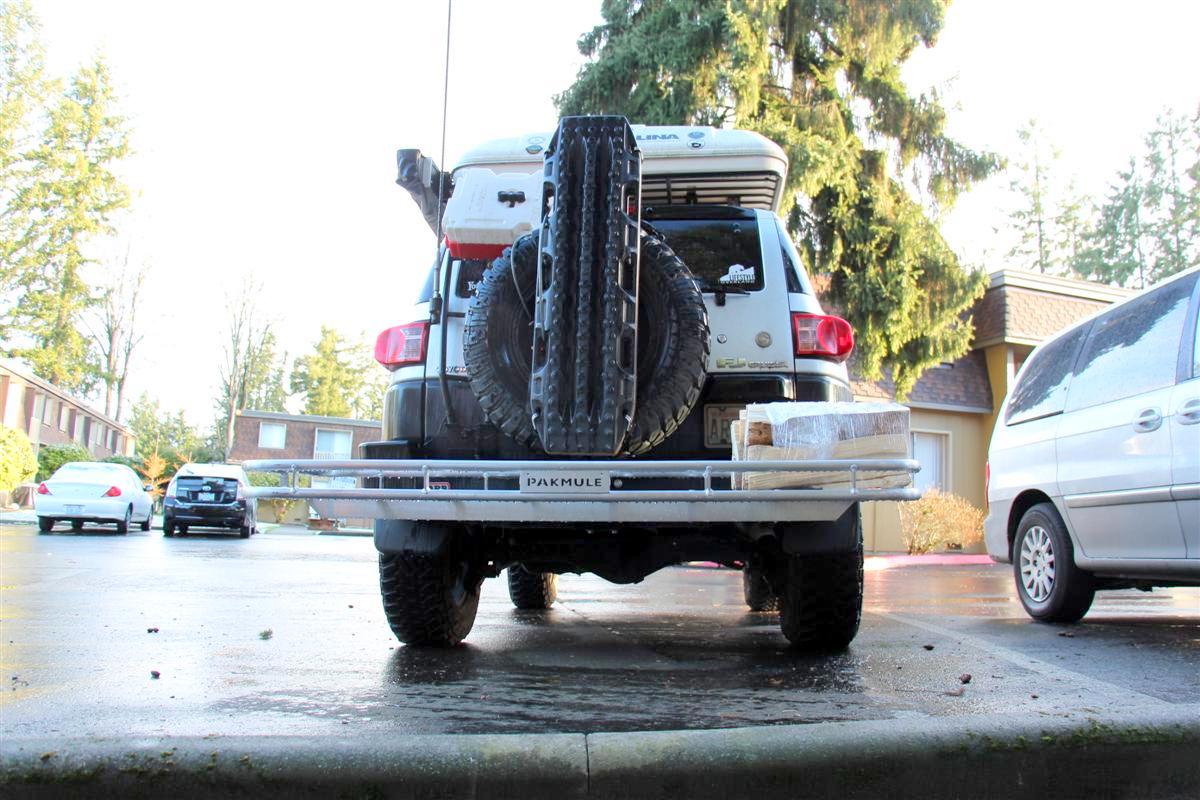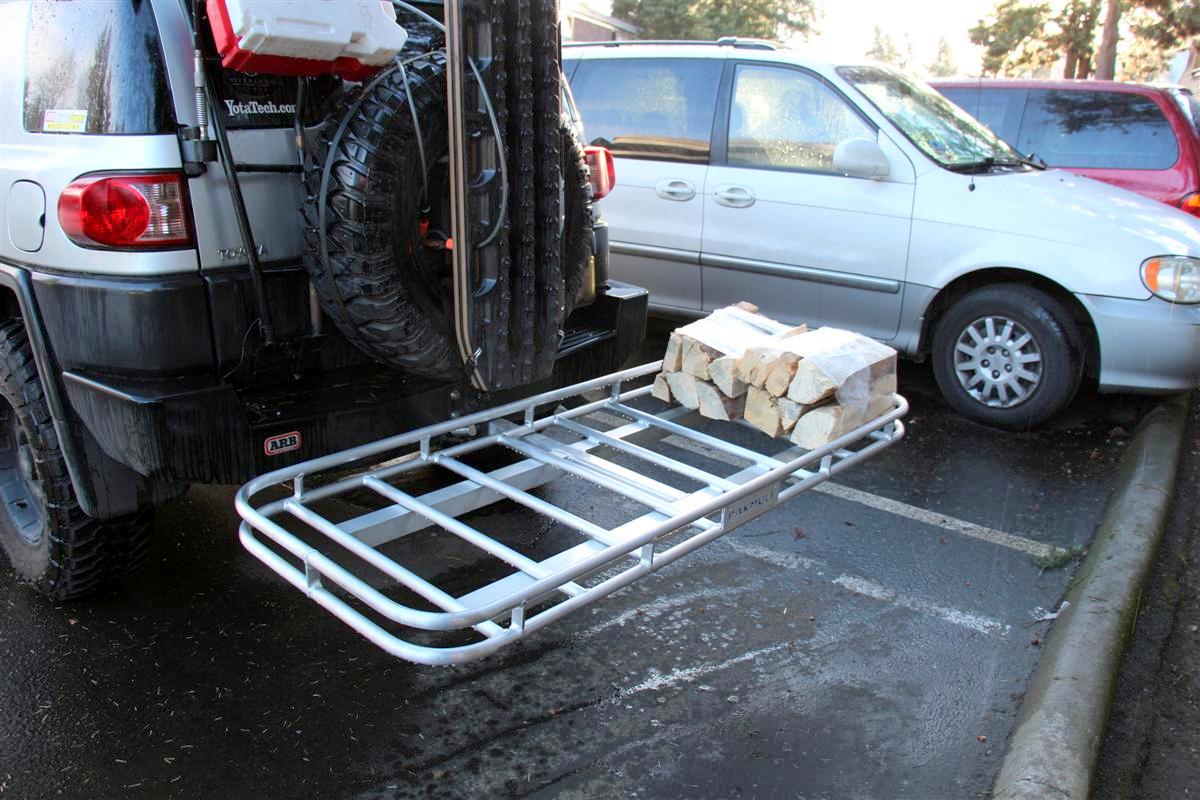 Test fitted with two bundles of wood, there is room for eight total laid in a single layer flat
Plenty of wood for several days, plus I can look for downed wood on forest service land for free.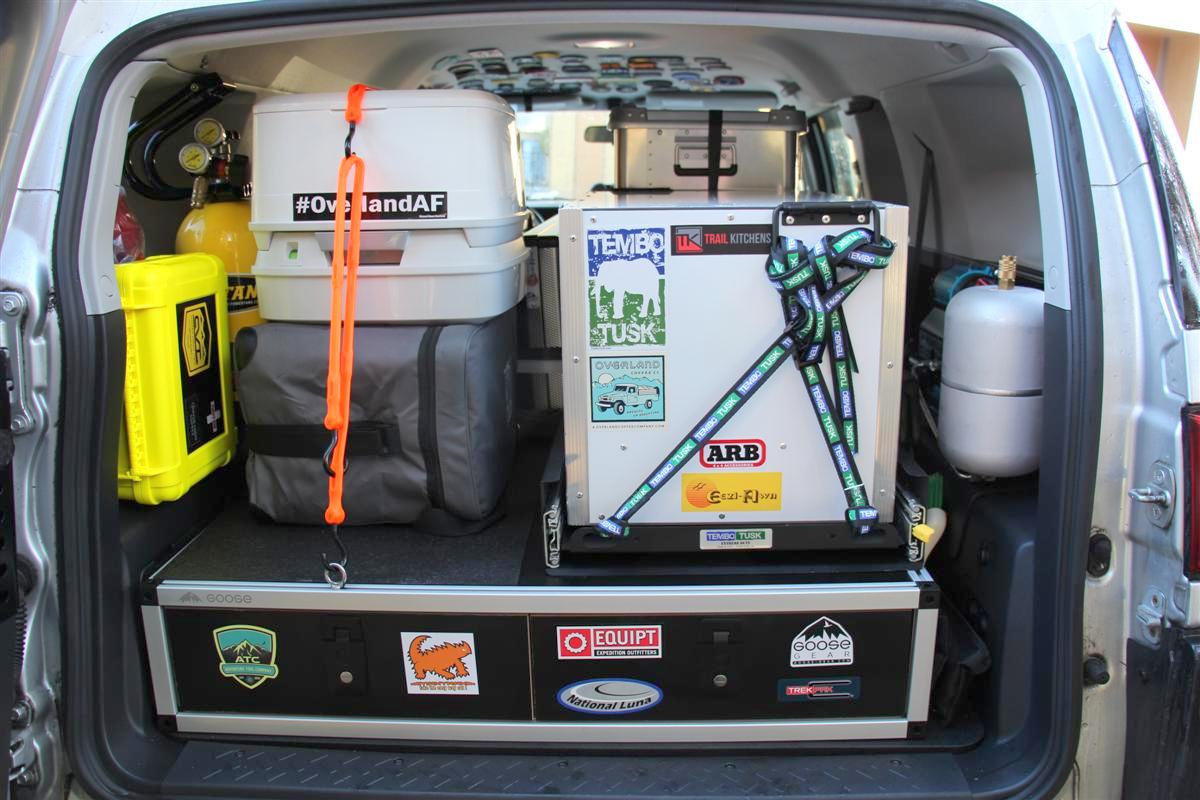 Also test fitted gear dialing in how I am going to pack it this coming season
Have to pack differently than last year, as the cargobox is taller and deeper, cuts down on some of the space I used last year when packing.
That is the new Thetford crapper of course I bought after last Augusts vacation, and that is a propane shower in the bag.
You can see a demo of it here, great shower, but I used a different one last year, but will be trying this one again this year.
04-22-2018, 06:16 AM
Co-Founder/Administrator
Staff
Bihlerflex Perfect Bungee Test 4-21-2018
---
In the past I have used cargo straps and ratchet straps for securing my camping gear in the rig.
This year I bought some 36" Bihlerflex "The Perfect Bungees" via Amazon.
However they were out of the two packs for the cheap price listed below, and I paid way more for them buying them as a single item.
These are so much easier to use than straps, and these can be adjusted too.
I was going to install a V ring from a four pack I bought off of Amazon, but after looking today in the rig, there was really no where to install it.
Previously I was using a D ring built into the folded down seat back, but the problem with that was it was actually underneath the gear.
I discovered today there was a plastic cover over the seat belt by the head rest inserts, and when I removed it, there were two different heavy duty bars there that I could use to secure one of the Bihlerflex hooks to.
The other end of the bungee goes to a Goose Gear Module Anchor ring that goes into their tracks on my cargobox from them.
You can also see one of the Goose Gear rings in the picture from the rear door view.
I like how you can use a second bungee and shorten it and then have it looped into the other bungee that is fully opened/extended.
Currently I am using straps for securing my two camping tables to the side of the National Luna Weekender 50 Twin Fridge/Freezer,. and also for securing a Blue Ridge Chair camp chair.
I may try using some more of the bungees which I Have at a later date.
These are very cool bungees, and can pretty much replace any strap you are using to secure camping gear in your rig.
I am always switching around gear too to test for the best fit, and I may end up putting both of the Alu-Boxes where one with the Thetford crapper is for now.
With the lack of a ton of room in the FJ Cruiser, I am always on the hunt for packing it best for a trip since all must go inside since the roof top tent takes up the whole roof rack.
Link:
The Perfect Bungee by BihlerFlex, AS36NG2PK 36" Adjust-A-Strap Adjustable Bungee, Safety Orange, 2-Pack

Goose Gear Anchor Pack Module 1/4"
Pics: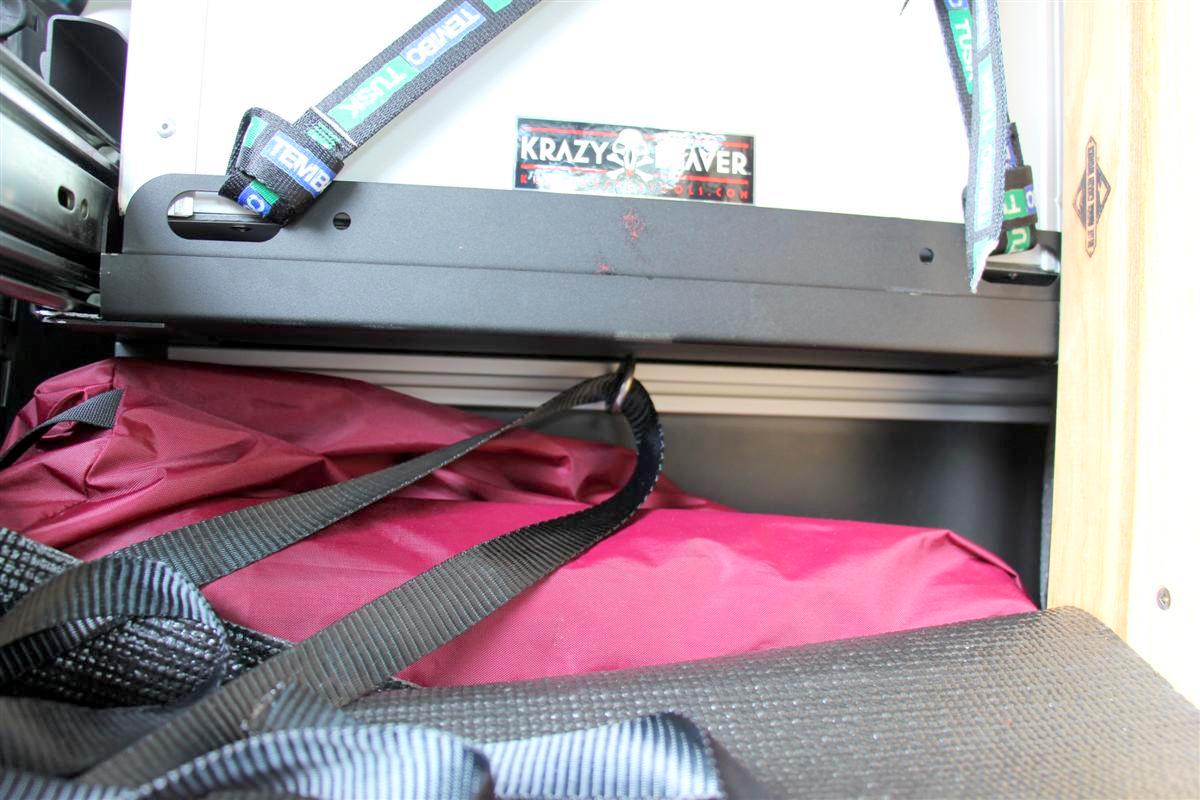 The Goose Gear anchor ring for one end of a strap or a bungee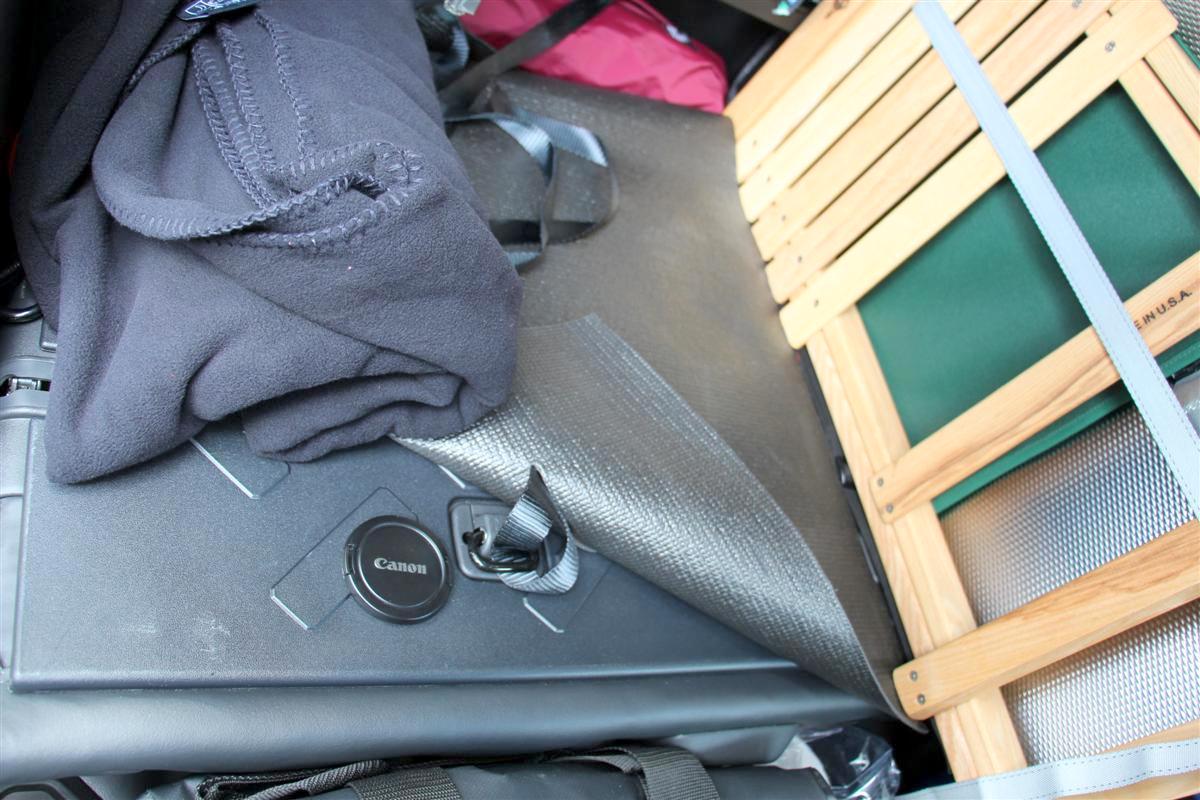 The stock Toyota D ring I was using, but it let gear slide around a bit due to it not being outboard from the gear, but underneath of it

Removing the plastic cover for the seat belts reveals two nice heavy duty anchor points for a strap or a bungee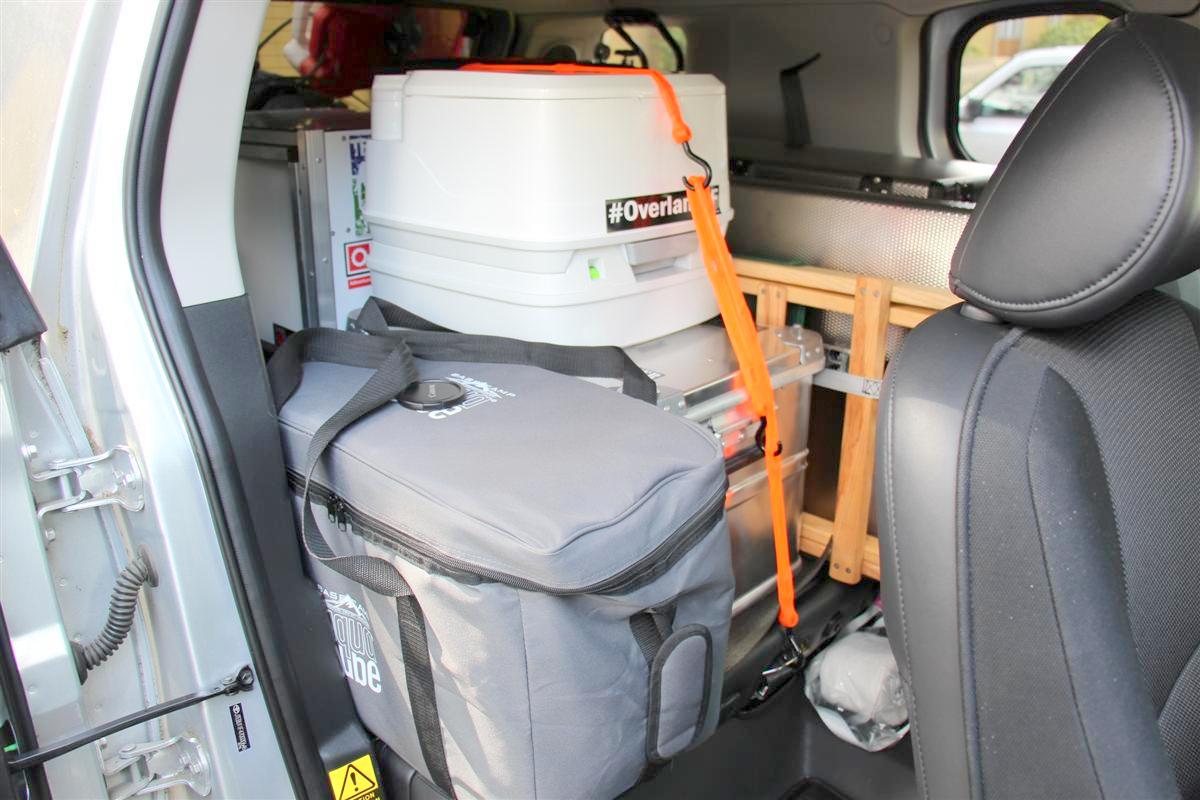 Two bungees in place over the Thetford toilet, and the 60 liter Alu-Box that contains all of my dry food
Next to it in the gray case is my propane Mr Buddy shower/kitchen faucet setup that I am going back to this coming season.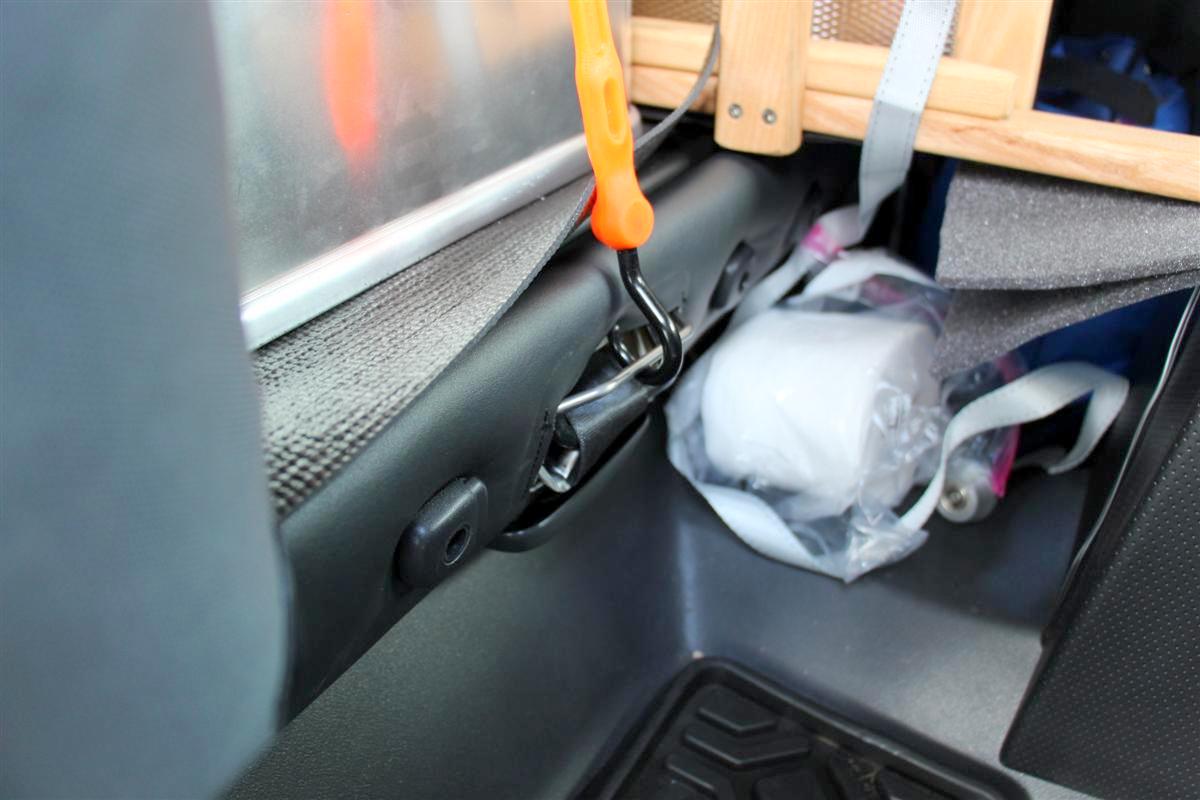 Bungee hook over one of the bars, very secure with tension on the bungee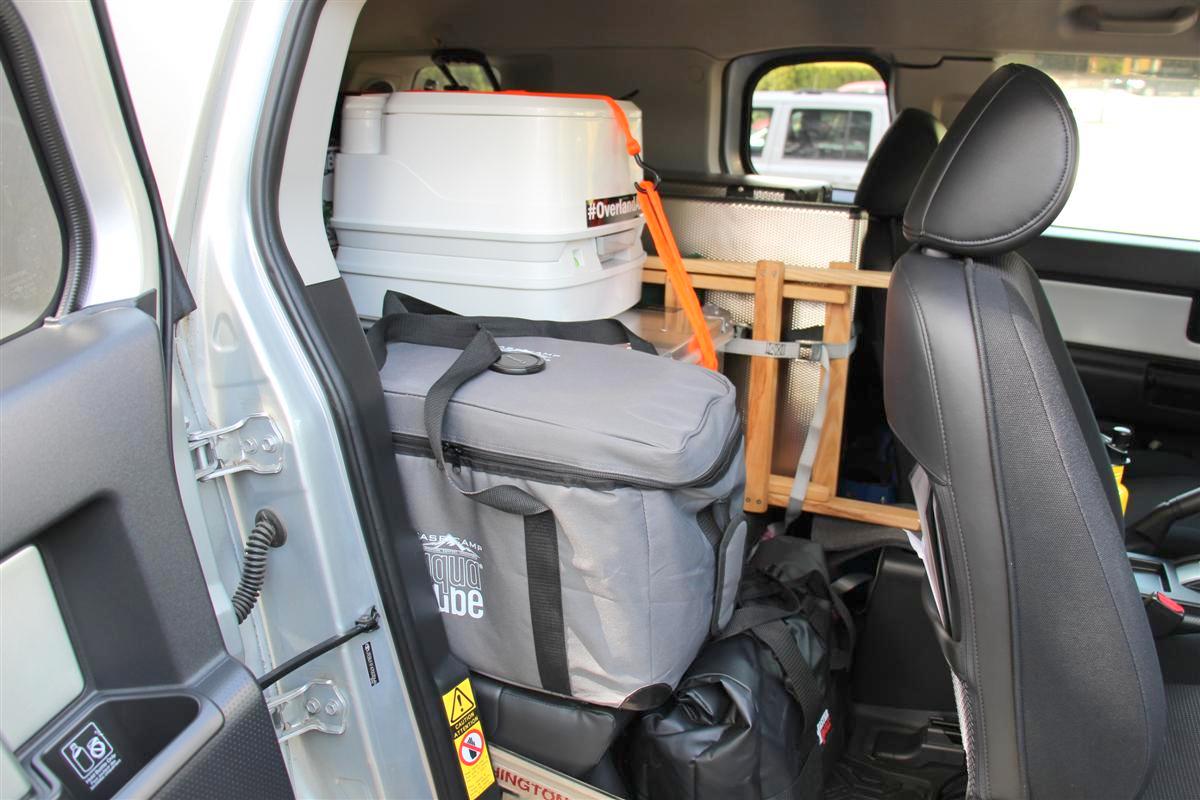 Another shot with the Masterpull recovery bag back in place on the floor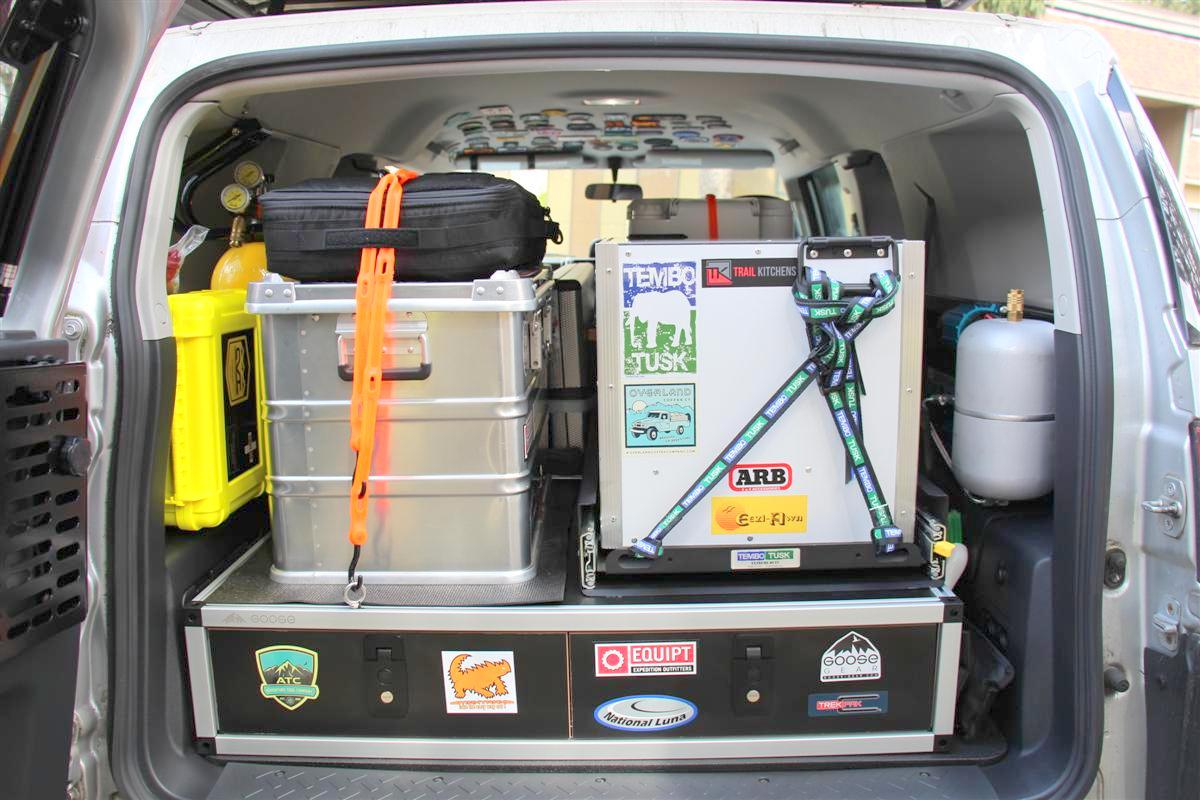 The 72 liter Alu-Box of misc. camping gear along with the Camp Chef Denali stove secured to the Goose Gear cargobox via the Anchor Pack Module rings
01-11-2019, 01:10 PM
Registered User
Join Date: Jun 2013
Location: Portland, Oregon, USA
Posts: 2,002
Hey Corey!
How are you and your FJ Cruiser doing?
We haven't had an update in a while.
01-14-2019, 03:19 AM
Co-Founder/Administrator
Staff
Hey, doing OK.
Have not done anything to it for awhile, and no camping updates
I was going to go camping with all the new stuff I have added on Tuesday the 4th of August, but when I woke up on that Monday I could not walk hardly.
And when I turned to the right it felt like someone was stabbing a knife into my right butt cheek very deep.
My oldest son took me to emergency on Wednesday, and it they came to the conclusion it was my sciatic nerve on the right side.
I ended up missing two months of work and was held hostage in my easy chair doing pretty much nothing from the pain.
I think what brought this on was a combo of lifting stuff at work and at home.
Ended up coming back to work on October the 3rd, and getting back into walking and having some physical therapy I got a lot better.
Still have some pain now and then, but I get around a lot better.
Not sure if I will feel up to camping this summer or not, will have to see how I feel.
Lifting gear and out of the rig could send me into a relapse.
01-15-2019, 10:26 AM
Registered User
Join Date: Jun 2013
Location: Portland, Oregon, USA
Posts: 2,002
That does not sound like fun, at all!
Stay healthy! Hopefully you can get some
relaxing
camping in, without too much lifting.
Take someone along to do the heavy lifting for you!
Thanks for the update!
01-21-2019, 12:45 PM
Co-Founder/Administrator
Staff
You are welcome.
Thanks, would like to get back into it again for sure.
I am walking around ten miles per day, and in the fitness center here at work in the morning before work doing a number of stretching exercises for it, but a lot of times I have the pain there in the right cheek area and surrounding area, it may never go away.
I really do not want surgery, as that is no guarantee it would work, and I would be laid up again for quite awhile.
Another thing, I am glad I was not camping as this may have hit when I was up remote camping, my tent would have been my coffin
Thread
Thread Starter
Forum
Replies
Last Post
Misc Stuff (Vehicle Related)