re-painted my bike
03-22-2011, 08:08 PM
Registered User
Join Date: Sep 2009
Location: boone nc
Posts: 242
Likes: 0
Received 0 Likes on 0 Posts
re-painted my bike
---
just thought i'd show some peeps my bike,kinda happy with the way it turned out
sorry for the pics i used my webcam
i cleared over the stickers so they should be on there pretty good lol
this is a tach that was infront of the letters,and this seemed a good spot for it lol
---
Last edited by weeman93; 03-22-2011 at

08:10 PM

.
05-04-2011, 08:10 PM
Contributing Member
Repainted my old Schwinn touring bike a month or so ago. Took it back to nearly the original factory color:
-
http://www.4crawler.com/Photos/104_pana/Schwinn/
06-25-2012, 06:06 PM
Contributing Member
I used some left over Rustoleum Ultra-Cover orange paint. I had not even thought about it, but I did hit the original factory color pretty close:
-
http://waterfordbikes.com/SchwinnCat...0/1971_09.html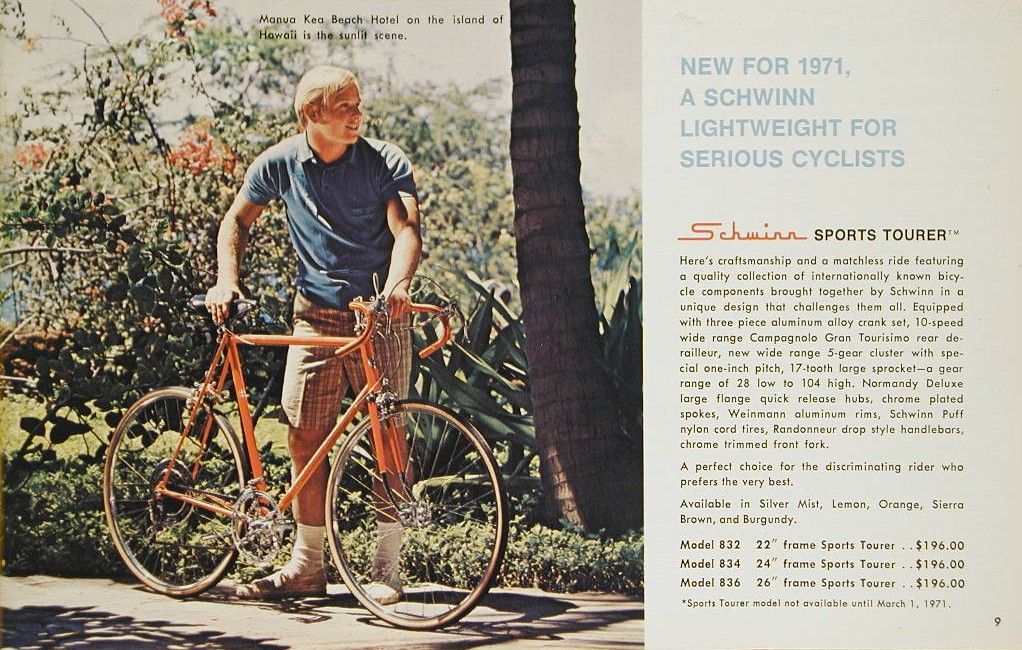 06-25-2012, 07:31 PM
Registered User
Join Date: Sep 2006
Location: i ka moana
Posts: 949
Likes: 0
If only I could get one of those for $196 now. When I was a kid I borrowed one of those, sans consent, from my evil 'stepmother' and took it to the mall in Concord. The bike never made it home and I got my ass whoooooop'd
06-26-2012, 08:09 AM
Contributing Member
Yes, those grips are decent, they are Ergon GP1. I had converted the bike from drop bars to a flat bar back in the mid-80s along with MTB style brakes and shifters and adding a triple crankset. The bike gets ridden about 50% on dirt and gravel bike paths and fire roads:
I did just build a new cyclo-cross type bike for riding on the harder trails as I found that the old Schwinn sort of ran out of traction on dirt trails at around 18%-20% grades. I used to have some old Specialized knobby 27" cross tires for the bike, but those are pretty much dry rotted now and nobody makes any decent cross tires in 27" size any more:
-
http://www.4crawler.com/Photos/104_pana/CX700/
06-21-2017, 01:07 PM
Registered User
Join Date: Oct 2016
Posts: 17
Likes: 0
Received 0 Likes on 0 Posts
Really nice -- a buddy of mine with access to powder coating just did his whole frame and I've been jealous. I inherited my mom's rusty 86 Puch several years and would love to get its champagne color back to square one.
Thread
Thread Starter
Forum
Replies
Last Post
Early Land Cruisers (Build-Up Section)
Hot Deals - Free Stuff - Craigslist
Vehicles - Trailers (Complete)