EVAP VSV: Number of nipples
06-30-2011, 04:55 PM
Registered User
Join Date: Apr 2011
Posts: 36
Thanks: 0
Thanked 0 Times in 0 Posts
EVAP VSV: Number of nipples
---
Any idea why my Vapor pressure sensor VSV would only have two nipples? as I was putting the rest of the EVAP together I ran into a wall.
I attached a few photos. The first is of the diagram I was following to set up my EVAP(96' evap setup). The second is of the location I grabbed the VSV from the intake manifold.
Did they change the EVAP system after 2000-01?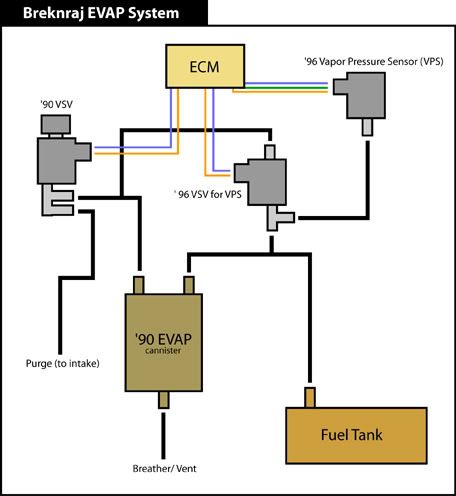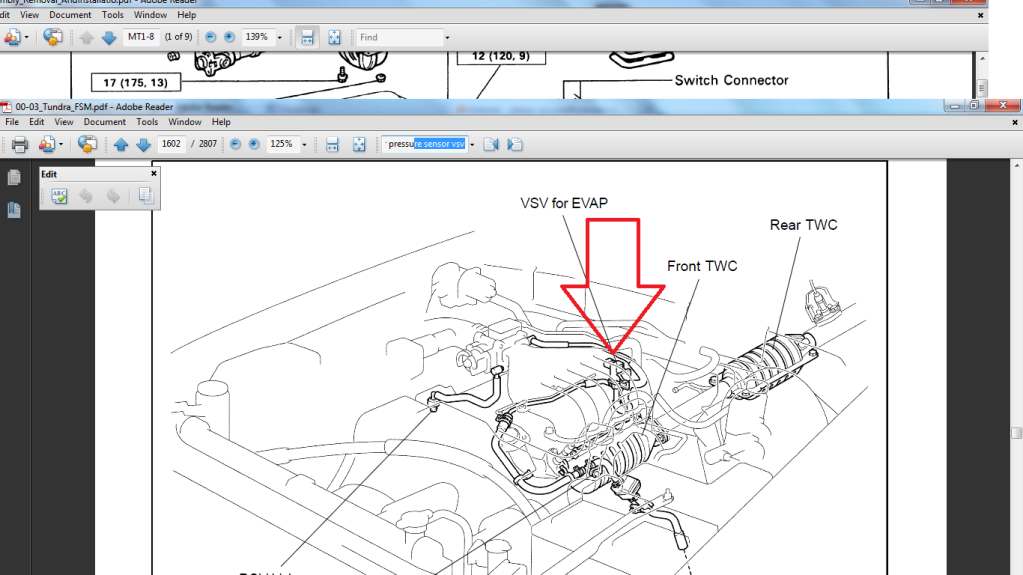 06-30-2011, 05:33 PM
Registered User
Join Date: Jan 2007
Posts: 6,106
Thanks: 0


Why two? That's all that's needed to allow the sensor to detect vapor pressure in the fuel tank, which is the whole purpose for it(I thought). That VSV is an electronically-controlled vacuum switching valve that allows vapor pressure from the fuel tank to travel in one hose and out the other hose to the sensor.

Why three? Maybe it has something to do with pressure in the canistor too? You tell me...I ain't that good at trying to guess what the OBDII does. Time to download that manual I suppose...

Oh, almost forgot. Just cap the line going to it that doesn't go to the fuel tank or sensor
---
Last edited by MudHippy; 06-30-2011 at

05:39 PM

.
06-30-2011, 06:08 PM
Registered User
Join Date: Apr 2011
Posts: 36
Thanks: 0
Thanked 0 Times in 0 Posts
interesting thought. capping it might work. I'll have to see if it throws any codes. Anyone else want to chime in?
Thread
Thread Starter
Forum
Replies
Last Post
95.5-2004 Tacomas & 96-2002 4Runners
95.5-2004 Tacomas & 96-2002 4Runners