starting trouble 88 4 runner
10-02-2005, 08:37 AM
Registered User
Join Date: Jun 2005
Location: west virgina
Posts: 36
Likes: 0
Received 0 Likes on 0 Posts
starting trouble 88 4 runner
---
i have a 88 4 runner runs decent some times it will not start but cranks and has fire and fuel psi but will not runwhen it does start it acts like it flooded and when it clears out it runs good . some times when i shut it offit wil not restart check al the sensors and replaced the normal plugs wires cap rotor fuel filter air flow sensor any help would be welcomed
10-02-2005, 08:41 AM
Contributing Member
10-02-2005, 12:00 PM
Registered User
Join Date: Jun 2005
Location: west virgina
Posts: 36
Likes: 0
Received 0 Likes on 0 Posts
ok i have now found out the only way to get it to start and run is to jump the fuel pump to battery the battey terminal in the dia connector has weak battery power so i jumped it straight to the battery
10-02-2005, 12:49 PM
Contributing Member
If you look at the wiring diagram on the page I posted a link to earlier, you'll see there is no power at the diagnostic/fuel pump test connector. Why? Because it is a connection to ground: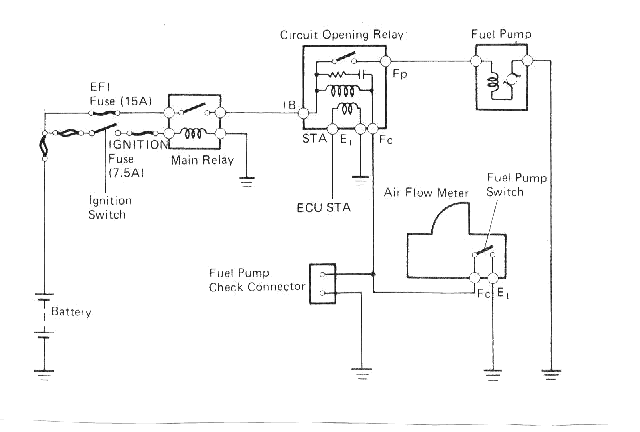 It simply provides a path to ground for the current flowing through the secondary winding of the circuit opening relay.
10-02-2005, 01:03 PM
Registered User
Join Date: Jun 2005
Location: west virgina
Posts: 36
Likes: 0
Received 0 Likes on 0 Posts
yes i understand that i must be missing something if i just the fp terminal in the diag conn to the b+ term the pump will not run because the b+ terminal is very weak so i jumped it straight to the battery and it ranso i was thinking if the b+ terminal at the diag . connector is weak i have a power problem else were becauce when i ran it to the battery to the fp terminal the truck ran
10-02-2005, 01:19 PM
Contributing Member
OK, sounds like you have the newer style test connector, not quite sure which year they changed. In that case, then yes, the B+ is supplying power to the pump. A Factory Service Manual wiring diagram would show you where that terminal is getting power from.
Thread
Thread Starter
Forum
Replies
Last Post
Maintenance & Repair Archives