Mendocino National Forest 2/09
02-11-2007, 04:03 PM
Contributing Member
Join Date: Jan 2004
Location: Pleasant Hill, CA
Posts: 880
Likes: 0
Received 0 Likes on 0 Posts
Mendocino National Forest 2/09
---
Tofer and I (and some passengers) all headed up early to wheel for the day in Mendo. We entered through Stonyford.
Lots of rain, even more mud, and some exciting climbs up some grades and scary slides down some hills. All in all a fun day! We cruised along M5 and took some of the side trails that loop back to the main road. Headed over to Lett's Lake. Wheeled some trails and then dropped Chris off at camp. My party was going to return home. We got out to pavement and a few miles toward home and the headlights started to dim.... so we pull over. Seemed to be acting fine with limited load so we start driving again and got about a mile before the lights dimmed some more and it became unsafe to see. We pulled the negative terminal and the thing kept running.... but we'd flick the headlights on and it would stall out. We were out of cell range and couldn't get anything on the HAM radio (especially with a dead battery). 3 hours later the first car comes by and we wave them down and gave them our AAA info, GPS coords, and a number back home to call to help us get out. 3 hours later a tow truck shows up and we're on our way home. An exciting day. I got home and as I walk in the door my alarm from the day before went off.... a whole 24 hours of madness. Oh, also I found a ripped CV boot once I got home.
Chris got cold and wet and decided he wasn't gonna camp. He got home safe and sound.
Lesson learned: Carry a space alternator. The alternator and water pump are the only 2 belt driven items you need to survive and I already carry a spare water pump.
Pictures: (Chris has more.)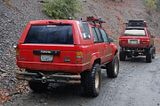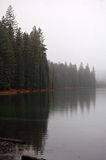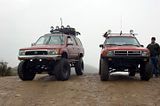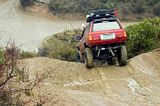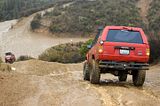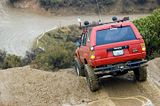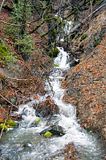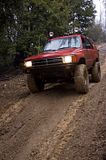 ---
Last edited by JoKEpLaYeR; 02-11-2007 at

04:20 PM

.
02-11-2007, 08:43 PM
Contributing Member
Join Date: Jan 2004
Location: Pleasant Hill, CA
Posts: 880
Likes: 0
Received 0 Likes on 0 Posts
Chris, those are sweet pics of my rig out playing. Thanks!

And Joey, we're gonna go back for sure! It's a relatively cheap weekend trip for me cause it's about one tank of gas for a weekend of fun. We'll let you know.
02-11-2007, 09:53 PM
Sponsor
Thread
Thread Starter
Forum
Replies
Last Post
95.5-2004 Tacomas & 96-2002 4Runners
Off Road Trip Planning, Expeditions, Trips, & Events