Colorado 4Runner Jamboree July 31st, Aug 1st & 2nd 2009!!
08-11-2009, 07:33 AM
Registered User
(just kidding, wanted to give you a hard time about it
)
If 4LoLo's pics don't show up for you, I copied and FTP'ed them to my server
---
Last edited by Volcom; 08-11-2009 at

08:24 PM

.
08-11-2009, 08:13 PM
Registered User
Originally Posted by
Mayhem
Nice stop motion video! Turned out well. Nice pics also. Can I use some in the video I'm editing? I was also curious if I could get the two videos you have of Cory and Jared making Cleveland Rock for the video? Those two are about the other things I didn't get on video. Thanks again for taking great pics and video on this trip.
08-12-2009, 09:08 AM
No problem Aaron, thanks for posting up the run-down and pics.
Other than some body damage, it's just the ring and pinion as far as I can tell. Then again, I haven't torn into it for the full postmortem yet. The third is one of my spares, time to finally get my 5.29s in my elockers I guess.
I am probably going to end up doing a square shaft. That whole shaft separating thing sucked. That was the first time I ran with my RUF spring pack I built a while back. Obviously a lot more travel up front than my Alcans that were in there.
---
I didn't realize my pics failed, worked fine on my box.
Thanks again Aaron.
08-12-2009, 04:35 PM
Registered User
Join Date: May 2007
Location: Summit County, Colorado
Posts: 1,441
Likes: 0
Received 0 Likes on 0 Posts
I had a great time too! We definitely need to do this more than once a year, maybe in a couple differant area's where there are other trails.
This picture makes me want to crap my pants!
I've had that rock come into the cab of the old truck once or twice and it's not fun. Did it mess up his cab at all?
I see Jared took the line I took last year though the V-Notch!
I'm glad you guy's were able to get him through and out of the exit. I bet if he had 4.7 gears in one of his cases he would had made it though a lot easier (he does have a long wheel base though).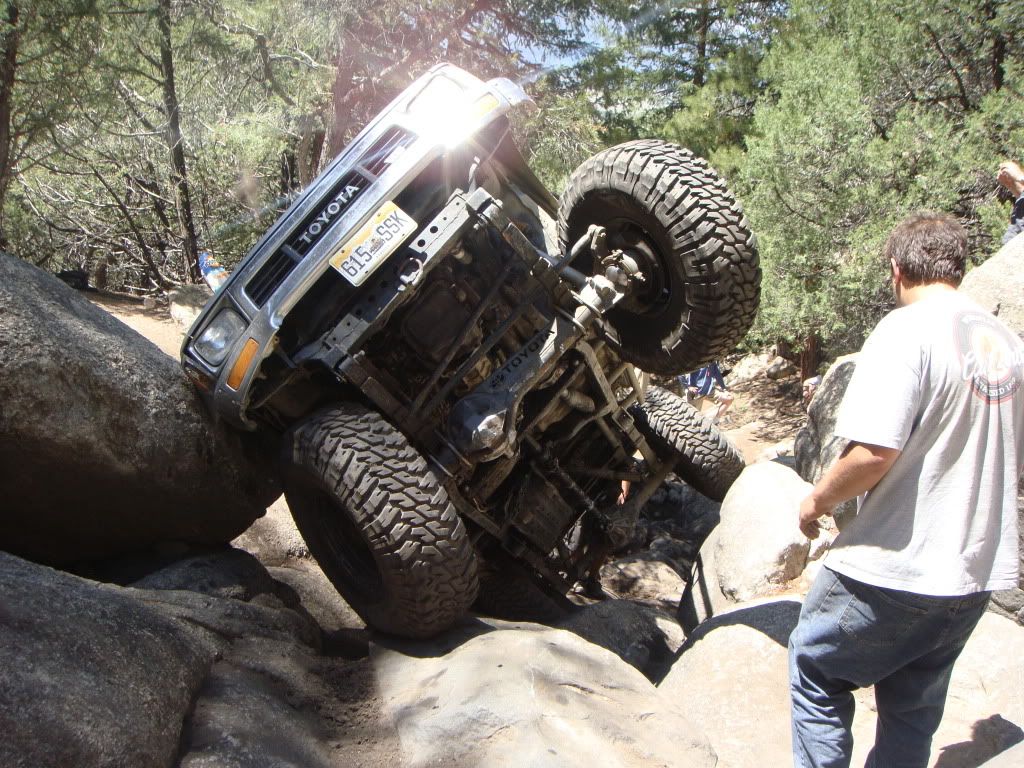 ---
Last edited by DIRTCO; 08-12-2009 at

04:37 PM

.
08-12-2009, 09:16 PM
Registered User
To answer your first question, yeah it did some damage
Phil took more major damage to the A pillar and where the door hinges. He also put a huge crease in the dash, right under the steering wheel
I think Jared would have been able to avoid some of the damage with a set of 4.7's in the rear case. His rig's front half walked V-notch with no problems, probably 10 different times. Since his WB is long, his rear passenger would climb the left notch wall and tip him on his passenger side. Rear tires climbed too good
If he could have gotten the rear to slip down to the right, he would have been fine.
08-17-2009, 05:35 AM
Registered User
Join Date: Aug 2005
Location: Denver
Posts: 183
Likes: 0
Received 0 Likes on 0 Posts
08-17-2009, 05:56 AM
Registered User
08-17-2009, 07:43 PM
Registered User
Originally Posted by
Mayhem
I do this for a living and uploading/converting/filing takes forever.... I have some of the videos up on vimeo...
ChromeKiller on Vimeo
If that doesn't work out career-wise, looks like your a damn good burro racer
08-20-2009, 06:15 AM
Registered User
Holy Cross video is up!
[YOUTUBE]http://www.youtube.com/watch?v=ph1bKd4VXU0[/YOUTUBE]
or .wmv file
http://volcom.rockfrogs.org/CO4RJ-09/HolyCross.wmv
(Right click and save as, please! 30mb)
I didn't get much video from BV Carnage to make a full video, just some clips. I might put them together later.
Thread
Thread Starter
Forum
Replies
Last Post
95.5-2004 Tacomas & 96-2002 4Runners (Build-Up Section)
General Vehicle Related Topics (Non Year Related)
86-95 Trucks & 4Runners (Build-Up Section)
86-95 Trucks & 4Runners (Build-Up Section)