476 Miles of Off-Road through Death Valley
10-08-2007, 10:56 PM
Registered User
Join Date: Jul 2007
Location: Fullerton,CA
Posts: 29
Likes: 0
Received 0 Likes on 0 Posts
476 Miles of Off-Road through Death Valley
---
Hey guys, I took a modified version of your Death Valley itinerary and used it for a 4 day trip that we just did. We actually managed to hit every stop except for Trail Canyon and Keane Wonder Mine.
Here are a whole bunch of pics
Some samples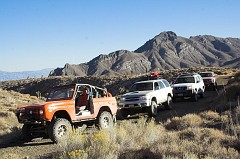 Thanks again for all of your help!
10-09-2007, 08:12 AM
Contributing Member
Join Date: Dec 2005
Location: Los Osos, CA (we can't agree on crap!)
Posts: 2,124
Likes: 0
Received 0 Likes on 0 Posts
Travis, looks like a fun trip! You guys definately covered some ground. Thanks for sharing the pics. I looked through them all last night, the one with the dusty guys in the bronco was classic, it looked like they just finished the Baja 1000.

You should come out to Pismo this weekend.
10-09-2007, 11:21 AM
Registered User
Join Date: Jul 2007
Location: Fullerton,CA
Posts: 29
Likes: 0
Received 0 Likes on 0 Posts
Thread
Thread Starter
Forum
Replies
Last Post
95.5-2004 Tacomas & 96-2002 4Runners
General Electrical & Lighting Related Topics
95.5-2004 Tacomas & 96-2002 4Runners
95.5-2004 Tacomas & 96-2002 4Runners