Toyota 4Runner 1996-2002: Aftermarket Sound System Modifications
A quality sound system will deliver the power and clarity you want. Here's how a simple or not-so-simple modification could improve the sound system in your 4Runner.
This article applies to the Toyota 4Runner (1996-2002).
So, you want to turn up the quality on the sound system in your Toyota 4Runner? Whether you're interested in installing a radio with a removable face plate, or the ability to achieve quality cable-connected sound, the truth is you have a number of options here. This guide will walk you through the best options on the market today based on honest feedback shared by other 4Runner owners, and offer pro-level, consumer approved installation tips for your new stereo modification. Keep reading to learn more about turning up the sound in your 4Runner.
Sound System Modifications
For the Toyota 4Runner, you have a number of directions to go when it comes to sound system modifications. You can throw money into your current sound system or make small modifications to boost sound quality based on your individual needs. Here are our top recommendations!
Adapter/Aftermarket Stereo Head Unit
DIY Cost – $25-$100
Professional Cost – $100-$200
Skill Level – Easy; adapters are a plug and play option, and head unit requires mounting brackets.
Let's face it. Auxiliary input adapters, which plug directly into a CD changer port for high quality sound, deliver a considerable amount of convenience, and the cost per adapter can be as low $25. Don't forget to purchase a mini-jack to complete the upgrade, though.
Your other low-cost option (although not as cheap) is to purchase an aftermarket head unit. Many come with a removable face plate to deter theft. Aftermarket head units offer such a high level of quality you should be able to keep your stock speakers without needing an upgrade. For an even more powerful sound, combine both your front and rear diversity antennas into one "more profound" antenna using an adapter cable.
A high quality double DIN aftermarket head unit should run you about $200; however, more expensive head units could reach upwards of $300 to $400 or more. Pioneers is the go-to brand for the Toyota 4Runner.
Front Door Speaker
DIY Cost – $75-$100+
Professional Cost – $400-$500+
Skill Level – Easy/Moderate; some wiring is needed.
For your front door speakers, it's recommended that you stick to Polk Momo, "mids" and tweeters for the highest possible quality in sound. Go for "two-ways" in the rear, and be sure to add subwoofers for increased bass all around. Remember, "mids" and tweeters are only great for middle to high range frequencies. Pioneer speakers are a favorite among 4Runner owners and, at around $75 to $100, depending on what type of speaker you choose, the price point is excellent. Boston Acoustics and Infiniti also receives glowing reviews.
It's possible to mount up to 6.5" speakers in the front (some modifications may be needed) and 5.25" speakers in the rear.
While not necessary, you may want to also think about running all of your speakers through a quality 4-channel amplifier.
Double DIN Navigation Stereo System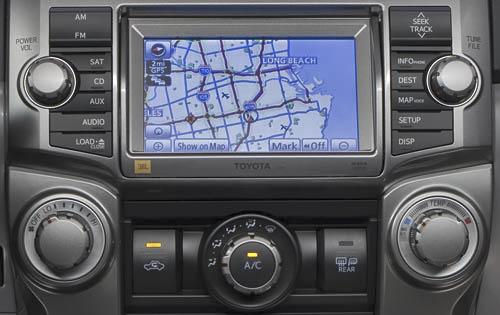 DIY Cost – $300-$1,000
Professional Cost – $400-$1,200
Skill Level – Moderate; installation requires some wiring connections.
This is the most expensive way to gain increased sound in your 4Runner, with quite a few bells and whistles to boot. Be careful not to block your air conditioner controls when choosing which system to install, however.
Pioneer and Eclipse are go-to brands for the 4Runner, with RCA also receiving glowing reviews and honorable mentions on most Toyota forums.
Wiring behind your dashboard may be too advanced for the everyday DIYer, so this might be a modification you want to leave to the pros!
Related Video: Toyota 4Runner Stereo Installation
Related Discussions