underlined acronyms
03-05-2012, 06:29 AM
Registered User
underlined acronyms
---
just a thought, but why don't we have more? i see "mph" works (mouse-over text: miles per hour), but i think we could use more.
sas, ifs, dd, r&p, ds, lt, ff, mpg, and i'm sure there's more on the
yotatech glossary
.
just something that crossed my mind...
03-07-2012, 02:07 PM
Why don't we have more? I didn't know we had any. I've never seen what you're talking about.
But they show up everywhere when I'm logged out. Just not when I'm logged in. THANK GOD!!!
Because those are all just links to a bunch of BS advertisements. Like this one...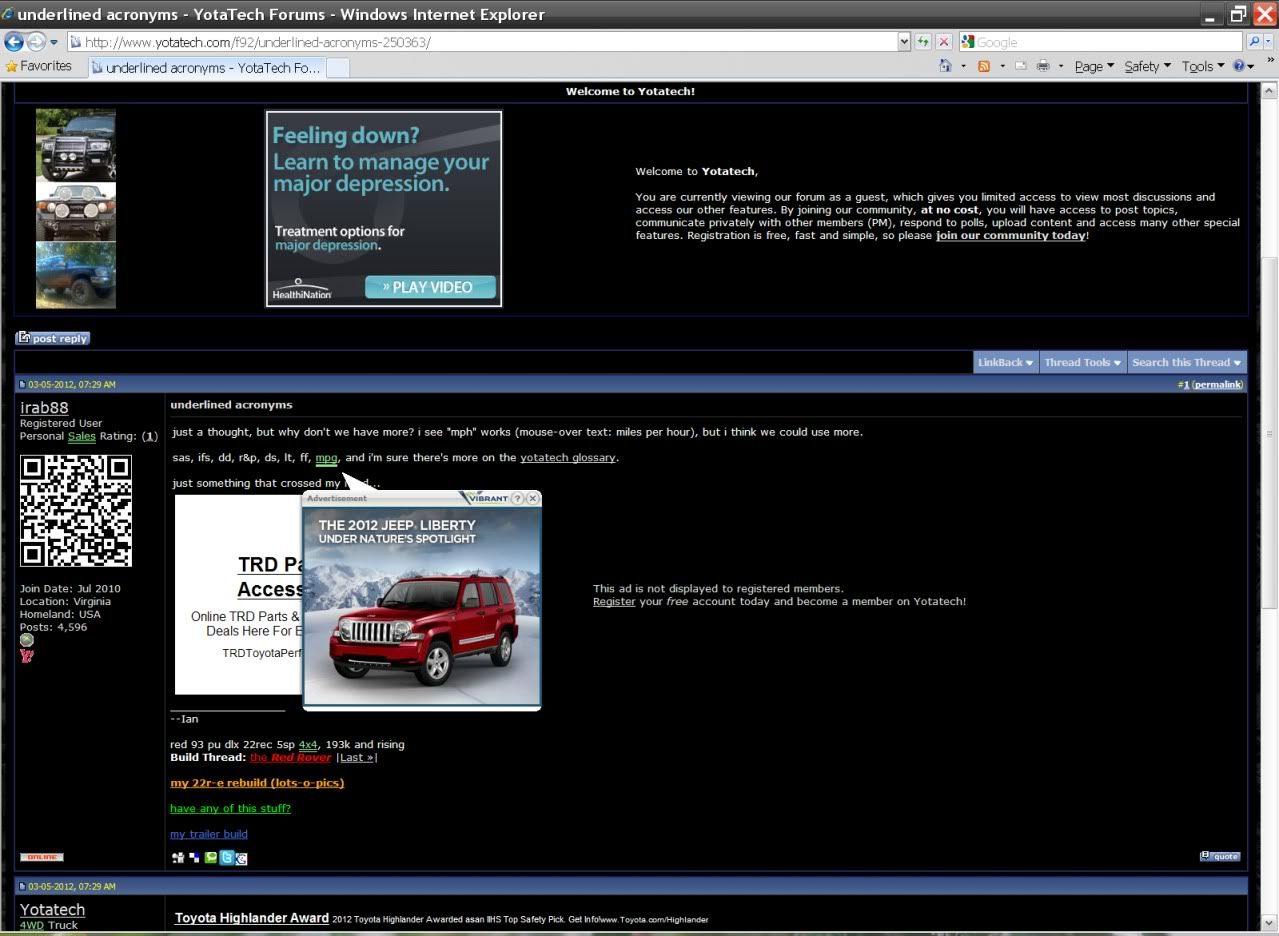 Like that has anything to do with
miles per gallon
?
Which web browser do you use BTW? And/or how do you have it setup to do that I wonder? And how does that even work exactly? Who decides what the letters comprising the acronym stand for in words? I'm mean WTF? The letters could mean anything. Hence why I'm able to use that particular one here and there.
But, what we're really talking about here are actually abbreviations, and/or initialisms, for the most part. Since to be an acronym, technically speaking, the letters of an abbreviation or initialism need to be in the form a speakable word on their own. Such as NASA(National Aeronautics & Space Administration), OSHA(Occupational Safety & Health Administration), UNICEF(United Nations Children's Fund), or KISS(Keep It Simple Stupid). For instance, when refering to NASA, we don't say "en∙ay∙es∙ay", we say "na∙suh". Get it?
---
Last edited by MudHippy; 03-07-2012 at

02:10 PM

.
03-07-2012, 02:12 PM
Registered User
put your cursor over "mph" (<-- right there)... you should see "miles per hour" appear below your cursor.
it would be nice if you could put your mouse over something like "sas" and see "solid axle swap"
edit: picky-picky
---
Last edited by irab88; 03-07-2012 at

02:14 PM

.
03-07-2012, 02:23 PM
OH! Now I see it!
I just had to hover the cursor there for a couple seconds. Then it showed up.
But wait a second...it's not underlined. It's in quotations. And when it's not in quotations, it doesn't work like that, miles per gallon won't show up. So...what the heck
is
the deal with this...whatever it is? Doesn't seem to have anything to do with underlines or acronyms(technically speaking). I really don't get it now...
EDIT: Ok, I'll give you the underlined part...I guess. The "acronym" isn't, but the words it stands for do(or rather than underlining the "acronym", one could say they underlie it, if the definition of the term underlie can be stretched that far...sure why not?).
---
Last edited by MudHippy; 03-07-2012 at

02:35 PM

.
03-07-2012, 02:41 PM
Registered User
my bad. my version of firefox at work shows a small, dotted underline. but it should work with any combination of punctuation

:mph:
mph
"mph"
(mph)
mph.
03-07-2012, 04:14 PM
You didn't try underlining
mph
. Which makes no difference...as it turns out. Because you're right.
I was trying mpg, not mph.
Great, now I'm gonna be checking all of them just to see. Whether I already know what they mean or not. This should be fun...gonna have to start making a list then too, I suppose. What do we have so far?
1. mph = miles per hour
---
Last edited by MudHippy; 03-07-2012 at

04:15 PM

.
Thread
Thread Starter
Forum
Replies
Last Post
General Vehicle Related Topics (Non Year Related)