I'm trying to find out what the cause of this bearing noise in my truck is when I'm driving at speeds above 35-40 MPH only when the truck is cold, so I've been doing various troubleshooting things lately.
I went outside today and took a little video with my digital camera to try to capture a possibly related noise that my truck makes when I have my transfer case in neutral and put the truck in 5th gear(therefore the transmission will be moving at the same speed that it would be when I was in 5th gear cruising down the street but the transfer case being in neutral will prevent the wheels from turning). My truck is pretty quite in general, but when I put it in 5th gear with the x-fer case in neutral as mentioned above, I get a weird humm noise... but only when the truck is cold. I'm wondering if this is normal, or if anyone else has this noise.
The noise is definitely coming from the transfer case though, closer to the front part of it where it mates up with the transmission. That was where I hear the humm in the videos below coming from when I'm under the truck. My truck is a 2001 4-Cylinder 5-Speed, so it has the chain driven transfer case.
Here are links to 2 videos that I took this afternoon of the noise.
1) This first video is from inside the cab when I put my transfer case into neutral and then shift into 5th gear. It's a little hard to hear the noise in this video from inside the cab on film, but it gives you a better idea of exactly what I'm doing to cause the noise.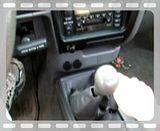 2) This second video is a video from directly underneath my truck near the transfer case. The video starts with the truck idling with the transmission in neutral as well as the transfer case in neutral. At about 6 seconds into the video, you can hear the tone change as I shift the transmission into 5th gear and the transfer case starts making a whine/humm/whirring noise, and then I put the transmission back into neutral at about 12 seconds into the video and the x-fer case whirring noise goes away.
Does anyone elses truck do this when it's cold? If someone is willing to try this on theirs and let me know if your truck does the same noise before the truck has warmed up, it would help me a ton in troubleshooting and I'd really appreciate it.