My Tranny Cooler Install (With Pics!)
05-05-2010, 08:00 PM
Registered User
Join Date: Mar 2010
Location: Fort Worth, TX
Posts: 226
Likes: 0
Received 0 Likes on 0 Posts
My Tranny Cooler Install (With Pics!)
---
Recently finished (re)installing my Tru-Cool 4454. Previously I had bolted it on from the bottom of my 4Runner, where the skidplate bolted on. After discovering that I couldn't reattach the skidplate without severing the ATF lines, I realized I would have to remount it. Unfortunately, I had to wait about three weeks til I had time to attempt it again, but it was surprisingly easy once I found out the right way to remove the grille (the clips should be pressed from the inside with a flat head screwdriver, not from the outside
)
Here you can see that it's dirty from the previous low mounting. These two brackets were able to hold it fairly flush against the AC condenser, although if I ever pull the radiator I'd like to put a ziptie through on the right side of it.
Another shot of the mounting. The send line goes in the top and out the bottom, according to MtGoat's recommendation in another of the myriad 4454 threads out there.
This is to try and show how the hoses are coming through, they use the same hole that the freon lines do coming out towards the front of the truck.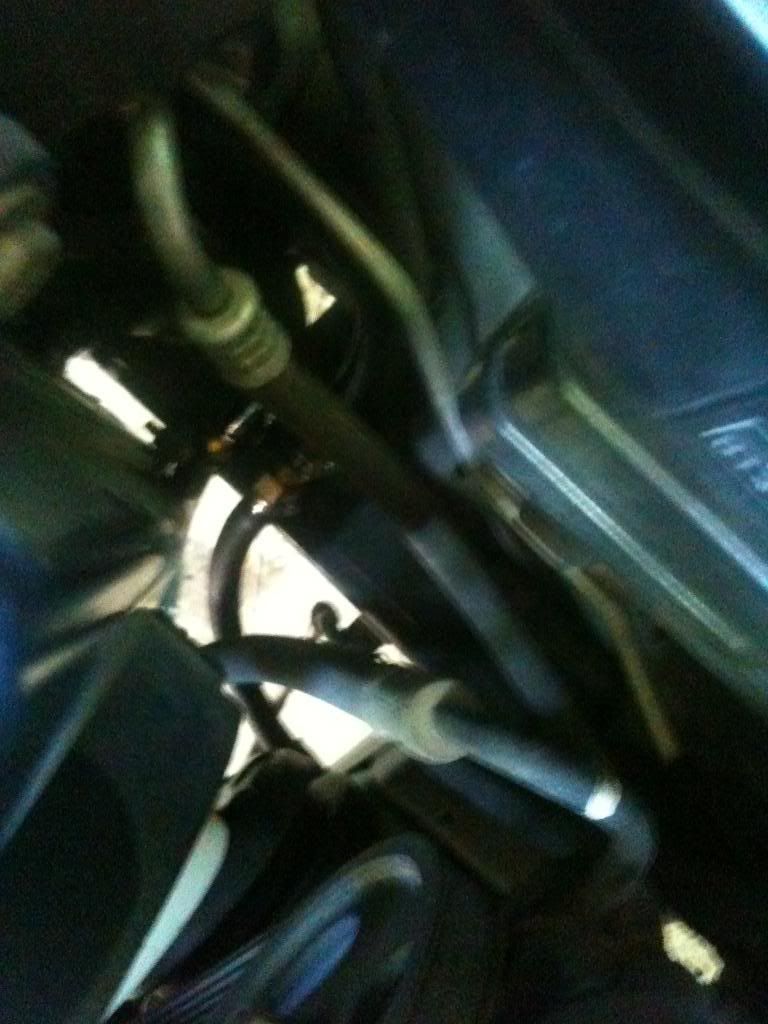 This one's a little confusing. The fan is there in the bottom left of the pic, so the front of the truck is towards the upper left corner. I'm trying to show the connections I made to the old tranny lines, behind the hole they come through to get to the front where the cooler is mounted.
Final shot of the whole setup.
I'm really glad I remounted it; when I did it the first time, it was mounted so low that I don't think it got sufficient air flow. After draining for this attempt my ATF looked somewhat burnt, so I really think it was a good idea to put it back up high with the fan pulling air through it all the time. I drove about 2,000 miles on it in the previous setup (in three weeks.)
Hope these can help anybody who needs ideas on mounting. Happy wrenching!
05-06-2010, 04:36 AM
Registered User
Join Date: Mar 2010
Location: Fort Worth, TX
Posts: 226
Likes: 0
Received 0 Likes on 0 Posts
Thanks, just wish I had a scanguage so I could see how hot it's getting. Just based on performance though, it seems a lot happier. Shifts are smooth, and my shift selector doesn't get as hot at the bottom.
03-29-2012, 04:40 AM
03-29-2012, 07:12 AM
Contributing Member
Join Date: Nov 2010
Location: Columbia River Gorge, Oregon...east side
Posts: 5,125
Likes: 0
Received 0 Likes on 0 Posts
That how I did mine too and it's works great...not pushing against gravity that way.
Be sure to get the tranny cooler as close to the radiator as possible, so the fan pulls air through the cooler.
04-06-2012, 10:34 AM
I installed one last week before a 1000 mile trip. I used an Auto Zone cooler and some 300 psi pushlock hose from my local hydraulic store. I had my radiator out anyway doing the timing belt and I used the supplied zip ties to attach the cooler through the fins of the condenser. The install worked out very well and clean. I'm glad I did this instead of rebuilding a trans later
Thread
Thread Starter
Forum
Replies
Last Post
Misc Stuff (Vehicle Related)