How much gear do you carry on a daily basis? [pics]
04-28-2010, 08:26 AM
I keep all of my tools in soft bags, less rattles and clunks
Plus they are easy to pack, take up less space.
I have 2 main large tool bags. I have 2 smaller bags in each of them to keep things organized.
First bag is for my sockets and wrenches, along with a few misc tools in the large bag.
Misc sockets, extensions, swivel joints, and rachets. If I have needed it to wrench on my Toyota, its in the bag.
wrenches, again just the stuff I need for my Toyota with the exception of a full metric brake line set.
Also keep a basic craftsmen socket set, with a 10mm hex wrench for my drain plugs.
And here is the second bag. I keep my electric parts, hammers, and punches in the bottom. Also a flashlight, and misc hardware.
bag-o-wrenches pliers, vice grips, needle nose, wire crimpers, angle cutters, hemostats, ect.
screw drivers, I need to add a few more to the bag. Took out the duplicates, then misplaced ones I used...
And here is the second bag all packed up.
I also have a fire extinguisher mounted in the 4runner, first aid kit, jumper cables, fluids in the side pockets. 1 bag for recovery straps and shackles. And another bag for ratchet straps. And for now my 35" spare tire resides in the back as well.
When I go wheeling, I run a ratchet strap through the handles of all 4 bags and secure them in the back. I make sure nothing is left loose in the back of my truck, just in case I do have a roll over.
09-20-2010, 01:42 PM
Registered User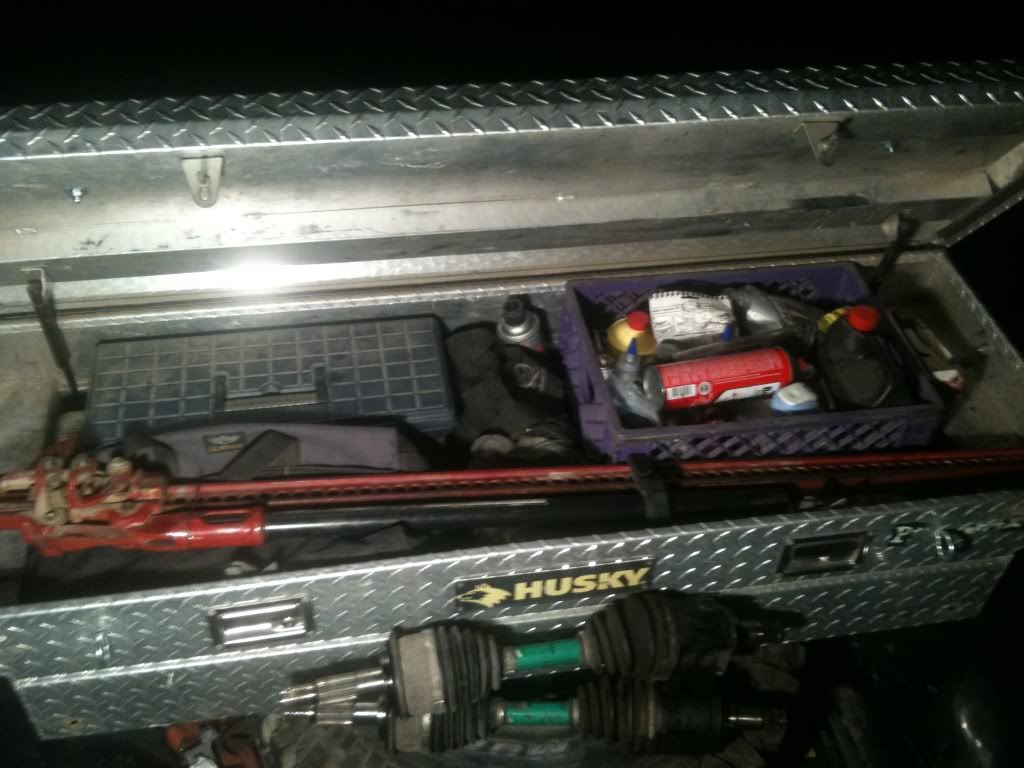 Practically every tool I've ever used to work on my truck is in the blue tool box.. In the tool bag I have some rags, spare wire, spare fuses, spare bulbs, electrical connectors, heat shrink, my voltmeter, spare hose clamps.. Fluids, I believe I have 3 quarts engine oil, 2-3 quarts gear oil, 3/4 gallon straight toyota red, 1 quart mixed toyota red, brakekleen, maf cleaner, PB blaster, ATF for the power steering, Thread locker (red, blue and green), RTV (Black, red, and I'm forgetting the last one), Can of high temp grease, Brake fluid and 1 man brake bleeder kit, Some JB weld, one gear oil pump..
I also have a spare air filter that only gets used offroad, saving my clean one for DD duties (I swap em while airing down), 1 spare U joint, 2 spare lower ball joints, 1 spare CV shaft not visible (the 2 green ones are a friends I'm holding for the time being), 2 Spare Aisin Manual Hubs, and 1 come along, 2 D ring shackles, 1 recovery strap and one tree saver. Random nuts and bolts..
Also visible is my air pump and my 60" highlift. Um theres a prybar and a breaker pipe in there somewhere too..
I should weigh all of that stuff some day. Wonder what it will come out too.
02-16-2011, 08:16 PM
Registered User
Wish I had my rig
---
Flew to Colorado to go snowboarding this past weekend in Breckenridge. Weather was good but wish I had my 4Runner and was able to do a little sight seeing of my own. Had to settle for the Ford escape rental that I thought was going to explode on some of those mountains.
03-19-2011, 04:27 PM
Registered User
Join Date: Nov 2008
Location: Napa, CA
Posts: 1,211
Likes: 0
in my truck i have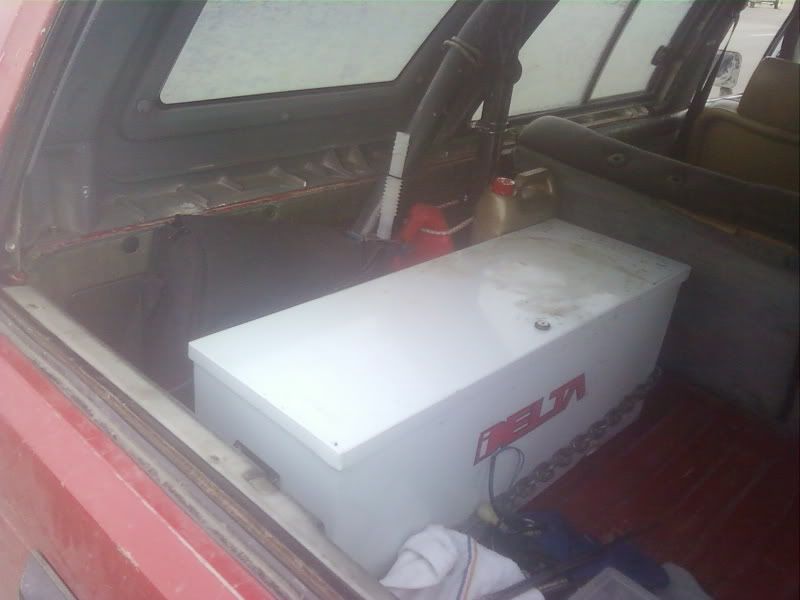 behind the lock box is a:
1gal gas can
1gal water
in the black bag i have:
jumper cables
4 safety chains w/quick links
multi-tool
zip ties
hose clamps
gloves
electrical tape
knive
spare pens
spare wire
lighters
matches
and some more cant remember at the moment
and behind the rear seat and next to the lock box:
spare pants
socks x2
boxers
shirt
in the lock box:
[IMG]http://i65.photobucket.com/albums/h221/c10guy/Scav/0305111502-01.jpg[/IMG
top left corner:
small cig lighter plug in air compressor for air matresses( which will be soon to come)
under tht is a small tool box with varies tools
bottom left:
sunflower seeds
couple bottles of water
duct tape
electrical tape x3
3/8 drive ratchet w/sockets
plus more tht im forgeting
bottom right:
2 tool sets
top right: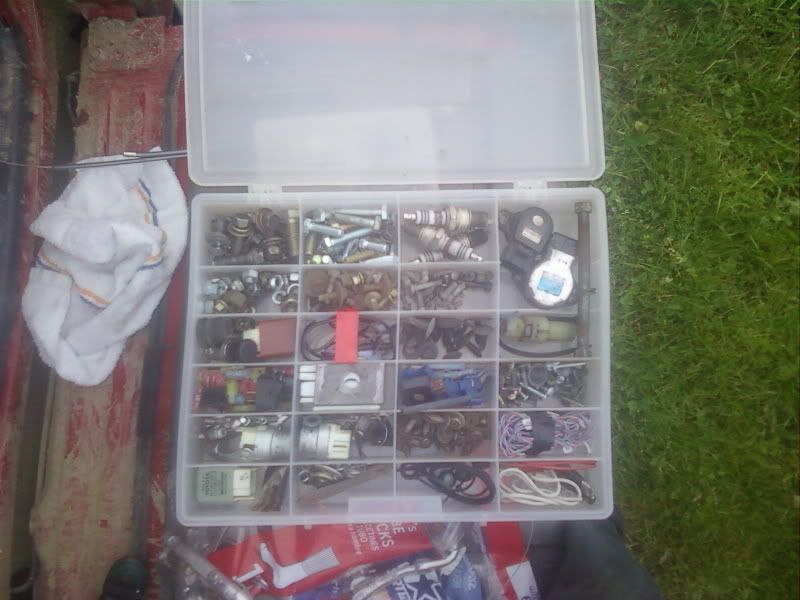 assortment of bolts and things.
drivercubby hole:
bottle jack
pass. cubby hole:
4x
fire extinguisher
1gal water
2lb hammer
under rear seats:
3ft crow bar
and the one thing i havent seen yet.
pass. floor board:
battery box(ie. jumper box)
06-11-2013, 07:08 AM
Registered User
Join Date: Aug 2011
Location: Fraser Valley, British Columbia
Posts: 1,504
Likes: 0
Received 0 Likes on 0 Posts
He explained that post #81. Idiot friends do dumb things.

I got yelled at on facebook once by my moms friend for an idiot writing something about me liking large black somethings....

Idiots and beer.


-
---
Last edited by Red Wagon; 06-11-2013 at

07:09 AM

.
06-30-2014, 04:45 AM
I personally rock a toolbox on my truck,
I always have the jack stuff in the cab behind the seat, in the box I usually have oil, coolant. cables. few bottles of water, a knive or axe and a small shovel and some food and such if I'm going out to play or on a long road trip. first aid kit. only thing that changes in the winter is add in some winter clothes and a blanket for the girlfriend.. looking at getting some kind of rack/carrier down the road
Thread
Thread Starter
Forum
Replies
Last Post
Axles - Suspensions - Tires - Wheels
The Classifieds GraveYard
Off Road Trip Planning, Expeditions, Trips, & Events