4Peaks Mini-Trip
01-17-2008, 06:39 PM
Contributing Member
4Peaks Mini-Trip
---
Got bored today, and heard the trails calling. Plus the dog wanted to go, so how could I say no. All I needed was an excuse. So, I figured I'd go and try and find "Sandy Beach" which is the planned run for Saturday (1/26). Perfect.
I has some rather vague directions, so after several loops I finally got to where I needed to go. Plus I found a couple of ways to tie the main 4 Peaks access road to Butcher Jones... and one of them is a very fast, tight, twisty sand wash. Nice.
Some ruins before Cottonwood Canyon (AKA Sandy Beach Trail):
Just needs some minor touch up: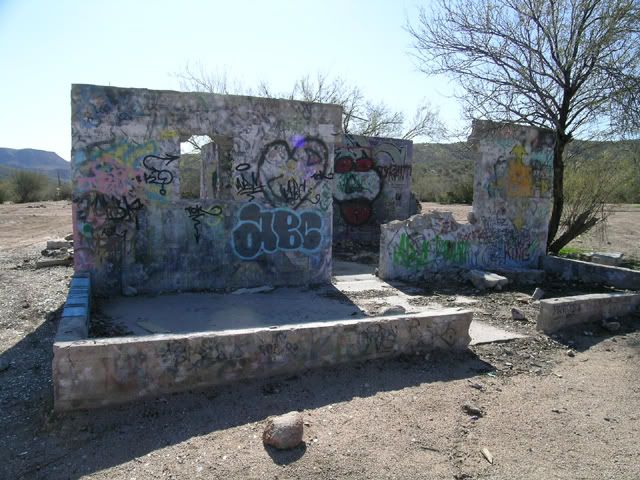 Turns out Cottonwood Canyon is flowing pretty good. Not very deep, but all wet sand and soft.
Upstream: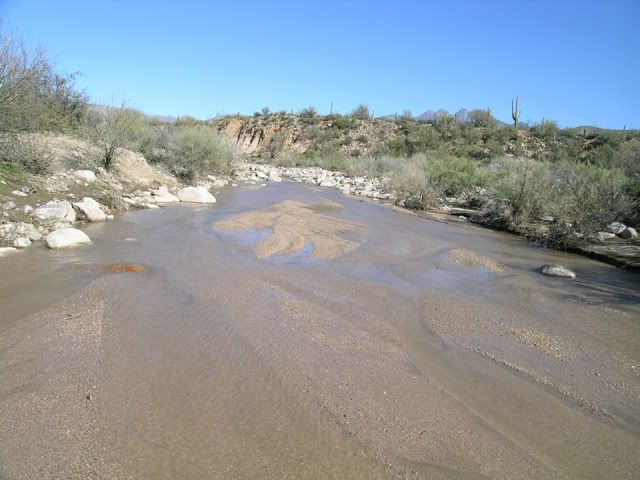 Downstream: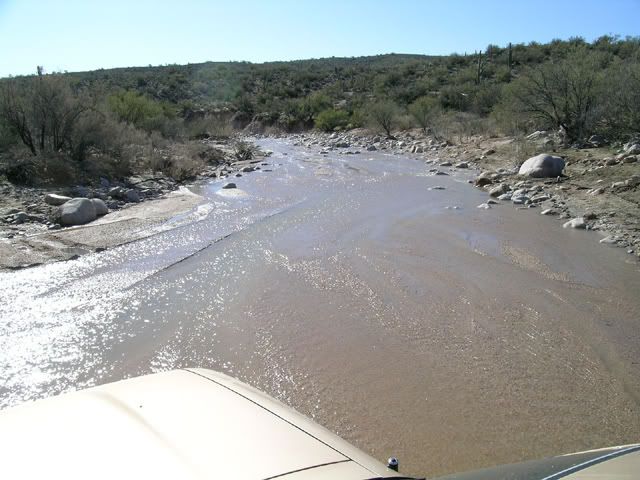 I was only in 2WD with the rear locked when I stopped in the middle of the river to snap those pics. Turns out, that was a dumb idea. Good thing the 3.4 is still running strong. I felt like I was in a tractor pull, with the only goal to make it close enough to the shore so I could get out and lock the hubs. Just made it, and 4WD pulled us out easily. But now my plan to explore "Sandy Beach" was a NoGo. To much water to really tell anything.
Luckily for me... there was a trail going somewhere... and I was about to see where it went.
So, I began the climb out. Pretty rocky and steep in places but nothing to bad. Got very high into the foothills. Looking back, you can see where I started:
View of 4 Peaks from the one of the high points in the trail: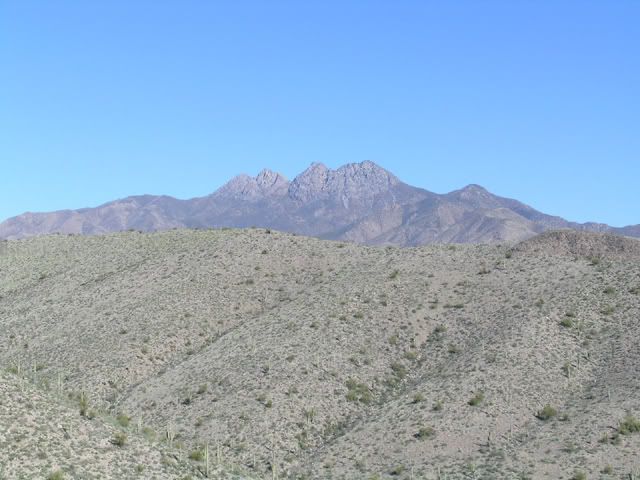 The trail winded seemingly forever. Conditions began to worsen.
A little rougher: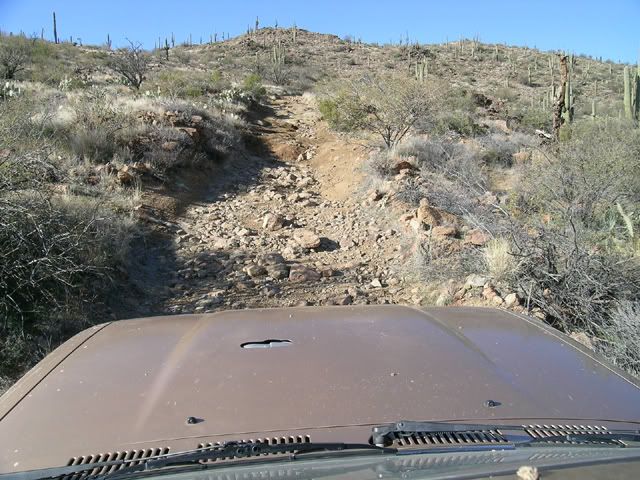 And rougher still: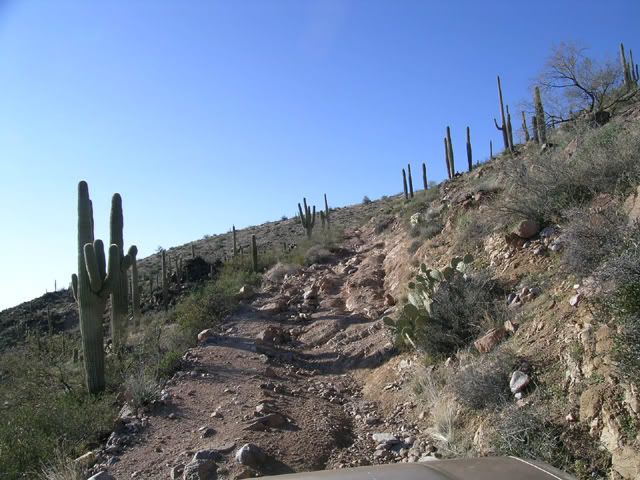 Just when I thought there was no end, or no reason for this trail to even exist in the first place... I started to find some interesting bits.
---
Last edited by Elvota; 01-18-2008 at

07:29 AM

.
01-17-2008, 06:52 PM
Contributing Member
First thing, came across a nice creek. The dog was anxious to stretch her legs, so off we went.
Nice clear water. If I imagined real hard I was in CO.
:
Some cool little falls:
Dog on lookout... wondering what was taking me so long:
Back in the truck, the trail still tapered. Less and less use. Out of nowhere there was a trail head. Very strange, but the dog didn't seem to care. Out of the truck again.
"I get so tired of waiting for you.":
We only went up a short bit. I took a look at the TOPO when we got back and it seems this trail gets you all the way up to 4 Peaks. Maybe next time. Back in the truck and over the next rise we saw a good sized building!! Always surprising to me how those ranchers build such structures in the middle of nowhere.
A little spooky (notice the deer skull):
This guy probably had more fun before he was a wall ornament:
Inside didn't get much better:
My artistic shot for the day:
We explored a bit more. Found another hiking trail leading to who knows where, but the drivable road was over. Figured it was time to turn around and start making the climbs out.
The trail really winded through the valleys: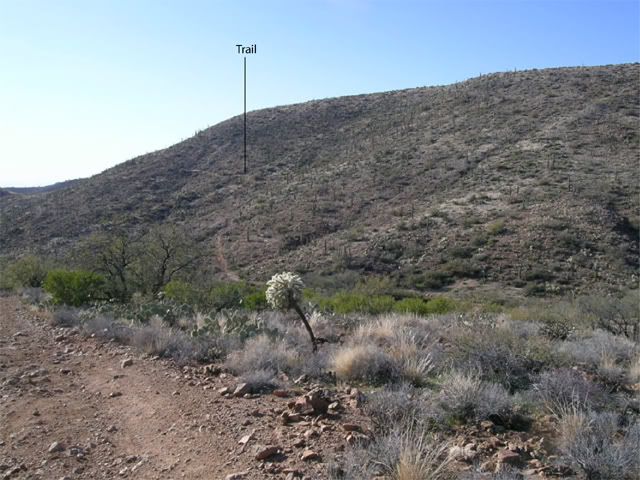 Some good views: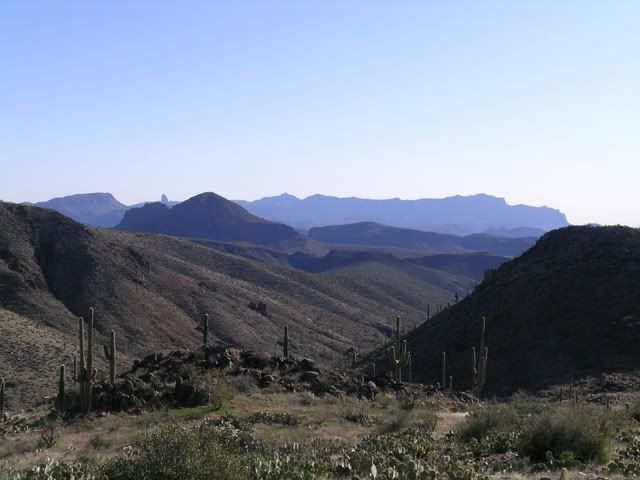 And of course... one of the 4Runner (Saguaro Lake way in the background):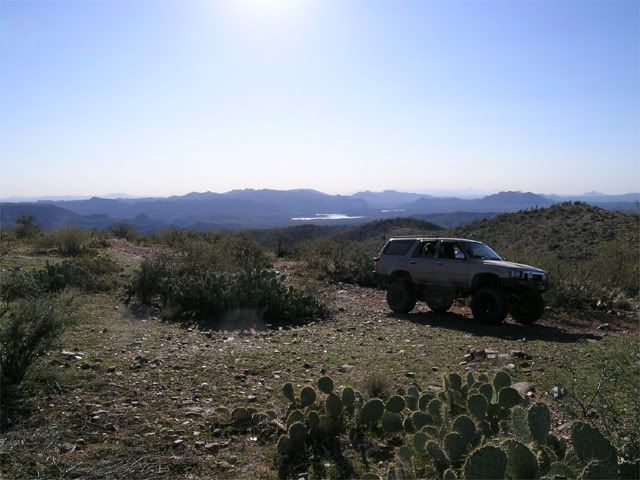 That was that. Even though the road led to a dead end, it was nice to put some more of the pieces of that area together. Seems like roads spiderweb forever back there. To be honest, the southern foothills of the 4 Peaks area are much grander and have a lot more to offer than I expected.
---
Last edited by Elvota; 01-18-2008 at

07:30 AM

.
01-17-2008, 06:54 PM
Contributing Member
01-18-2008, 12:36 PM
Contributing Member
Actually guys... I found two routes from 4Peaks road to the lake. One has a fairly technical DH with a bypass, the other is just a sandy wash. Both routes would be considered mild.
SOAZTim, do you remember the first run I did with you as well as some of the other AZ YT guys out there by Butcher Jones? Well that very first sandy wash takes you all the way up to the 4Peaks road.
I did see a trail or two that looked harder but didn't take them. One looked really promising though.
I think Sandy Beach would be the hardest technical route and most likely get to a very remote spot on the lake. I am sure we will find out one day soon.
Thread
Thread Starter
Forum
Replies
Last Post
General Vehicle Related Topics (Non Year Related)
Trip-Trail Reports & Photos