The "Back to the Future" Marty McFly Toyota Pickup Trucks
You might not be able to afford a DeLorean, or want to drive and maintain one, but you can have Marty McFly's dream truck.
If you are a fan of Toyota trucks, then you surely remember the black 4x4 pickup Marty McFly lusted after, and later owned in the "Back to the Future" movies. Sure, the DeLorean gets all the fanboy attention these days, but there is no denying that the 1985 Toyota Pickup in the movie is a much better vehicle, especially if you want to spend your time driving it and not staring at it in the garage. DeLoreans were expensive, unreliable and not particularly fast back then; the only thing they have going for them now is the timeless supercar look.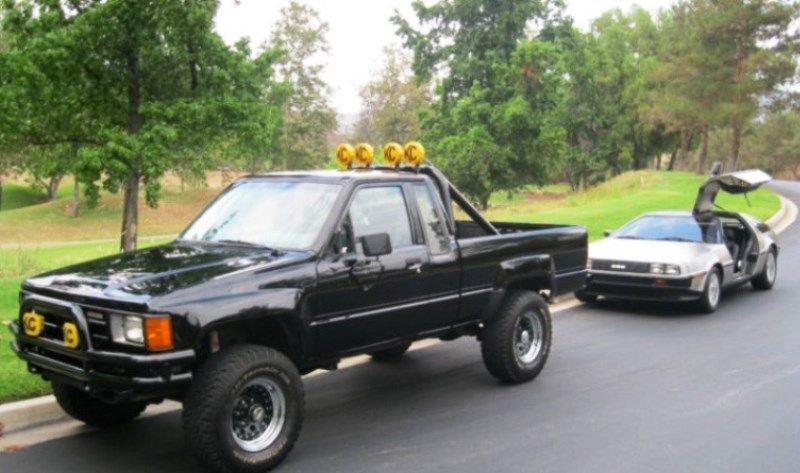 There were two different trucks in the movies, and also a modern tribute made by Toyota for the anniversary in 2015, from a 2016 Tacoma. Let's look at them all.
Back to the Future Truck
The original truck was based on a 1985 Toyota Xtra Cab (HiLux) pickup, because that was current at the time. Now as you all know, the 1985 was a special truck because it combined a fuel injected 22R motor, and the tougher solid axle/leaf spring front end setup. Marty's truck is additionally tricked out with amber KC lights on the tubular front bumper, and four more round KC lights across the "roll bar" in the bed, chrome and black steel wheels, and aggressive Goodyear Wrangler tires. Otherwise, it is pretty much stock, except for tinted windows and a blacked out grille. According to the internet, the proper truck will also have a rear slider window, gray interior and 5-speed manual transmission. If you are a real geek, the license plate number was 2BAK860, though feel free to slap on a readily available set of "OUTATIME" plates.
Figure 2. Sure would be fun to take that up to the lake this weekend.

Figure 3. The truck is still cool, Marty's look is not.
Back to the Future II & III Truck
Like many movies, there was no plan for a sequel when the first movie was made, and so the truck used got sold and lost, eventually junked. When the second and third installments were made, a new truck was built from another 1985 Yota truck, with just a few differences (and this truck still exists, and is being restored, though it was nearly lost in Mexico after being stolen). Both trucks used Smitty Built tubular bumpers, KC lights, Goodyear tires, and US Wheel model 94 wheels. The original truck had a signal tube light bar in the bed, while the new version had a double loop version of the "roll bar" with the light mounted on it. It also must have had some magic power adder, because it managed to spin all four wheels on pavement in this scene, drag racing Flea.
Toyota's Tribute 2016 Tacoma
It just so happened that the 30th anniversary of the original movie coincided with the release of a facelifted Toyota Tacoma, and so the 2016 Tacoma "Back to the Future" tribute truck and commercials were born. Toyota took a Tacoma TRD Off-Road and gave it a slight lift and a set of 16" TRD Beadlock style alloy wheels, with black centers, and raised white letter all-terrain tires. They also added a full complement of Smitty Built tubular bumpers and light bar, some KC lights, and retrofitted a set of 1985 4x4 mudflaps. The final retro touch was "Toyota" painted across the tailgate in the 1985 style.
Figure 4. The Toyota Tribute Tacoma.

Figure 5. Retro style tailgate lettering, mudflaps, and taillights.