Hello All,
This is kind-of an introduction, and build up all in one thread.
My name is Andy, and This is my 86 - used to be a Turbo Toyota. I bought it last year for $600.00. The motor started (by the means of a push button under the hood) but that was about all that was going on when I bought it. When I got it, the bed was off, the radiator, fan, shroud, alternator, and some other parts where either off or missing. There were no mirrors, and the passenger side window like to fall down on its own. This is my first Toyota, and its my DD. I'll walk you through some pictures. As of right now I don't have any motor shots, but it used to be a turbo truck. Someone has removed the turbo motor (the explanation I got when I bought it was that the guy who owned it went to prison for 10 years, and when he got out the truck wouldn't run. Therefore the motor was removed) and replace it with a 83 Celica motor that was supposedly rebuilt by Jasper.
This was the truck when I first got it, (except it had no mirrors) 4 mis-matched wheels and tires.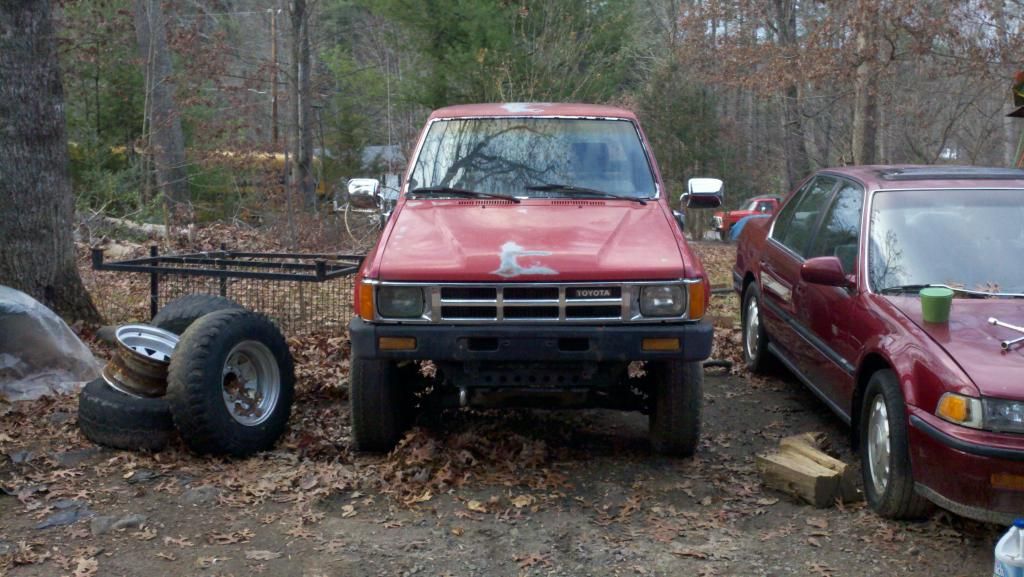 Already trying to flex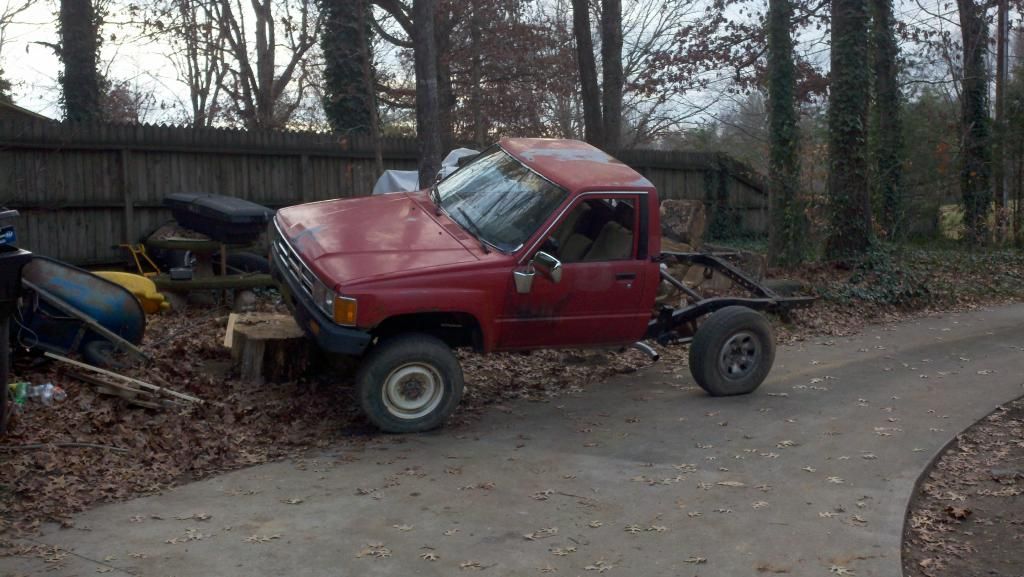 But not very well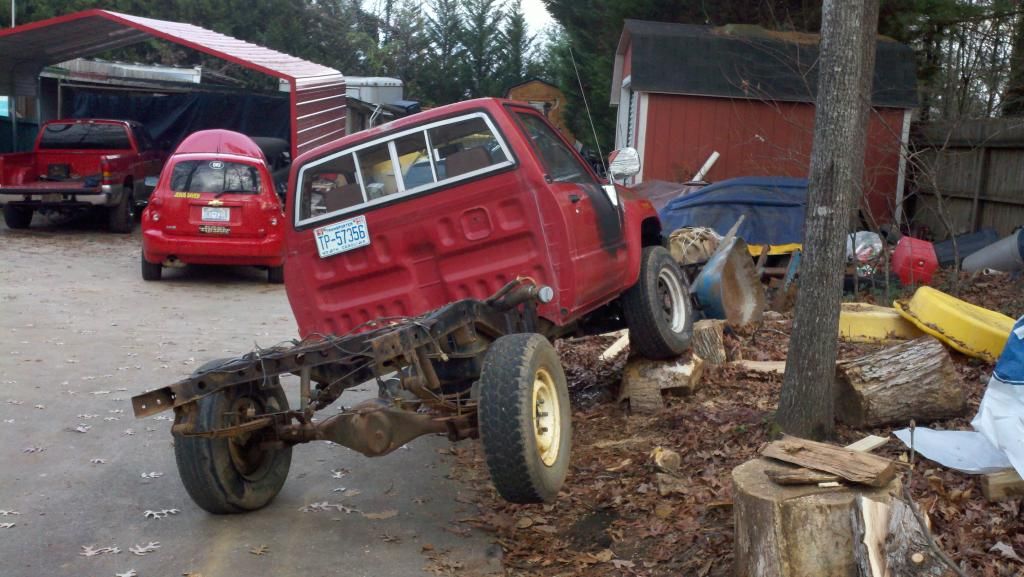 Brought home some new tires mounted on free wheels (this is why I needed a truck)
Move on into the future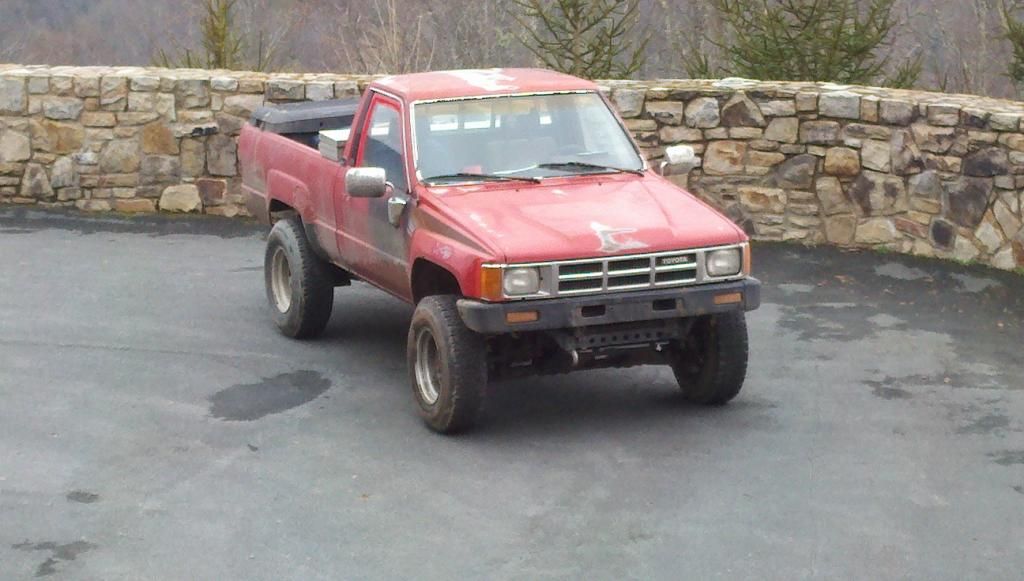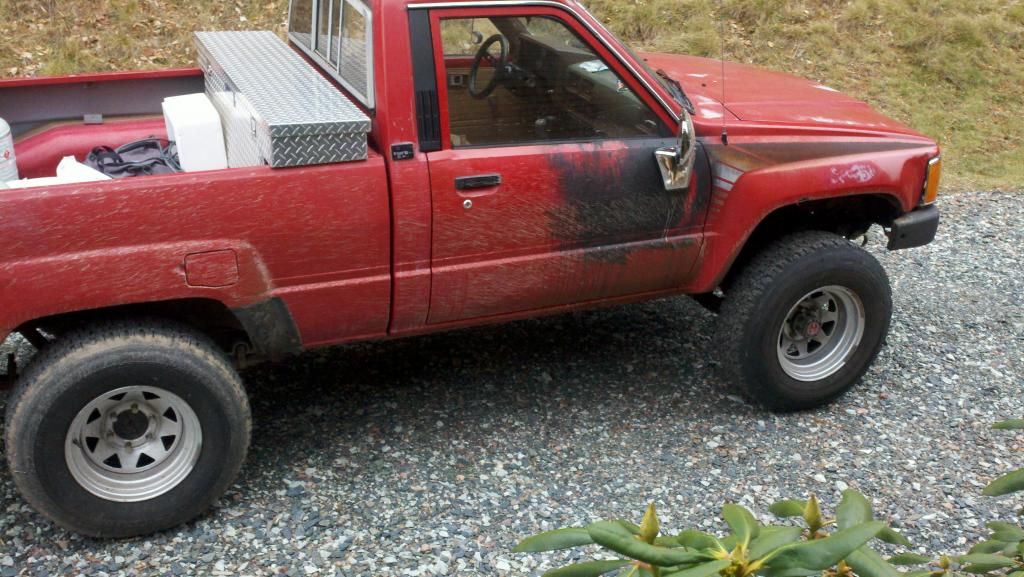 New, not so free but cheap wheels that don't leak air (in a hail storm, cant see the wheels very well, but they are original wagon style)
And now on up to today, a few mods, and what I call Bright Eyes found a decent set of original window visors and another new set of tires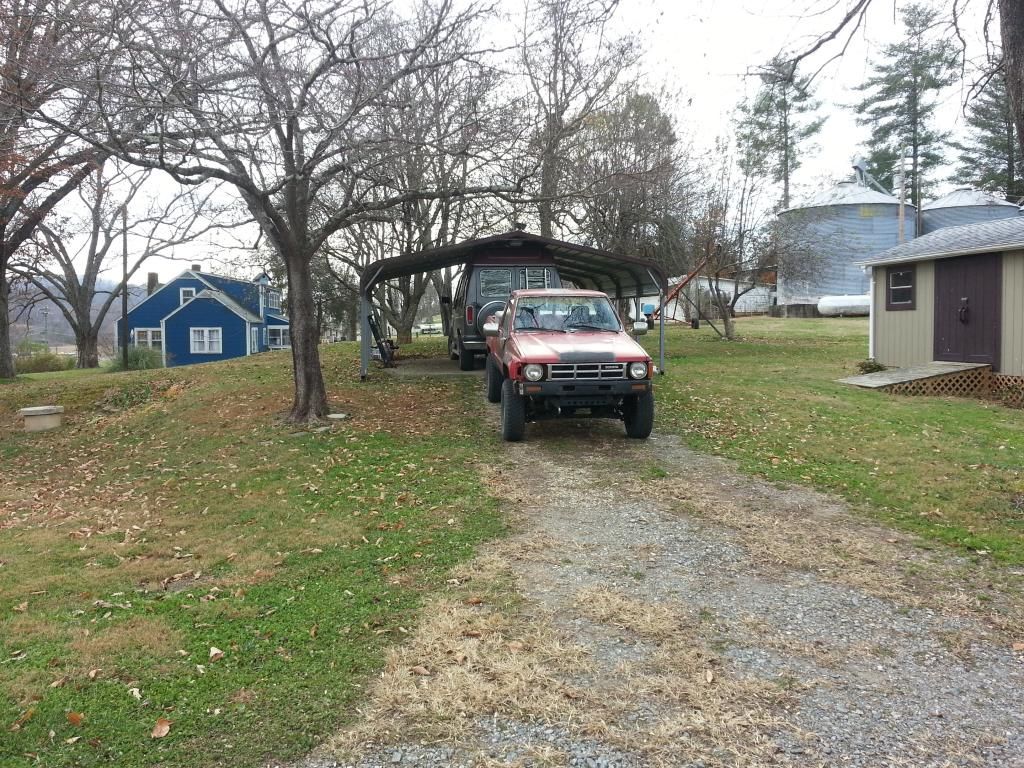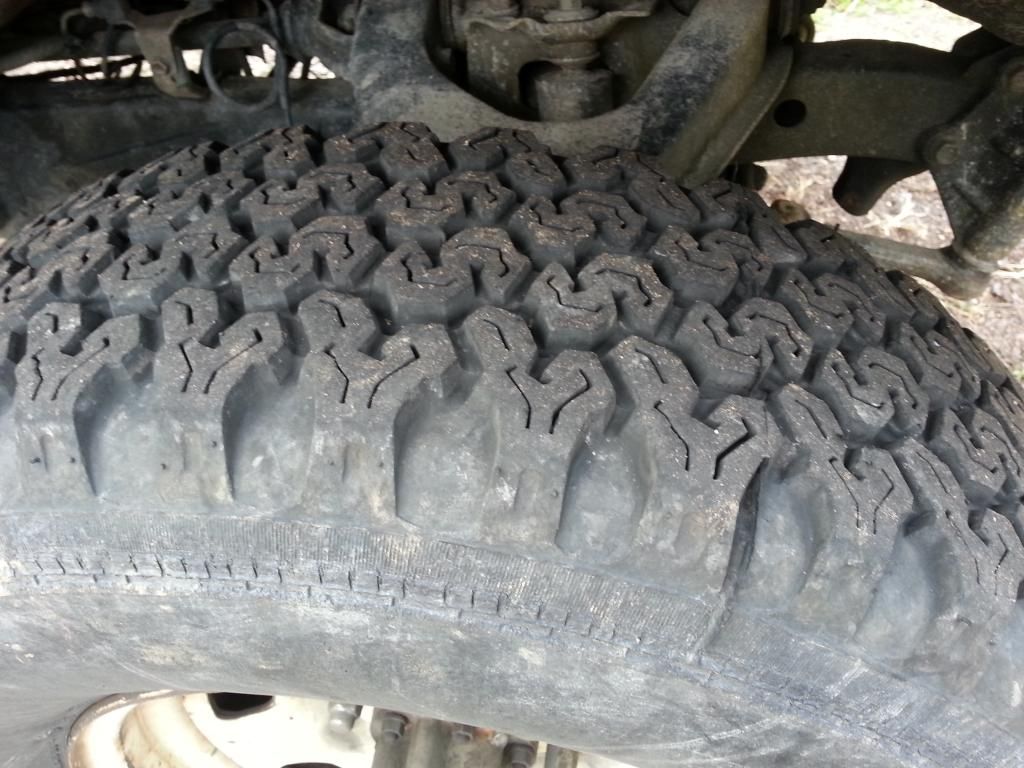 And lastly, a few odd pictures I have taken along the way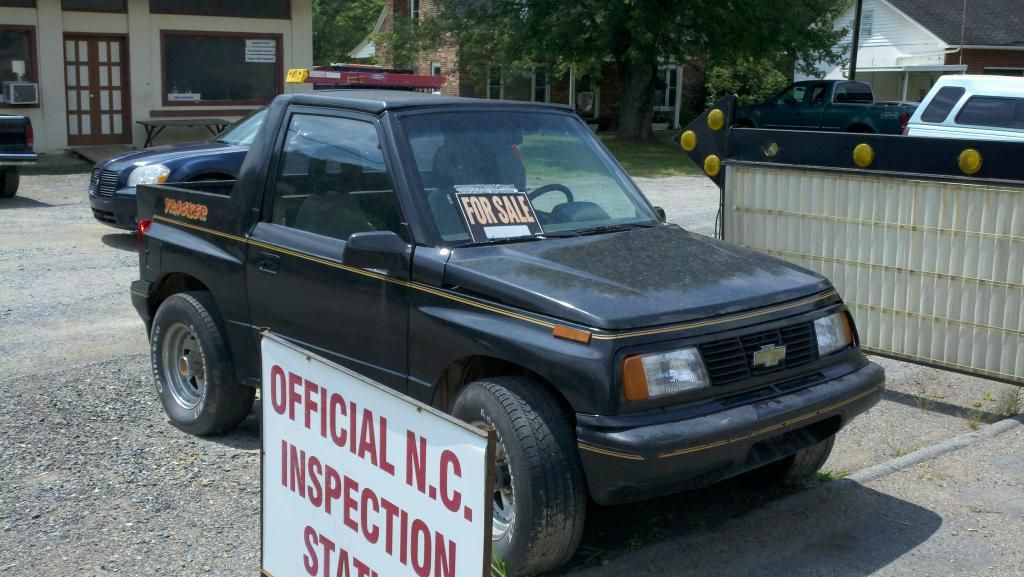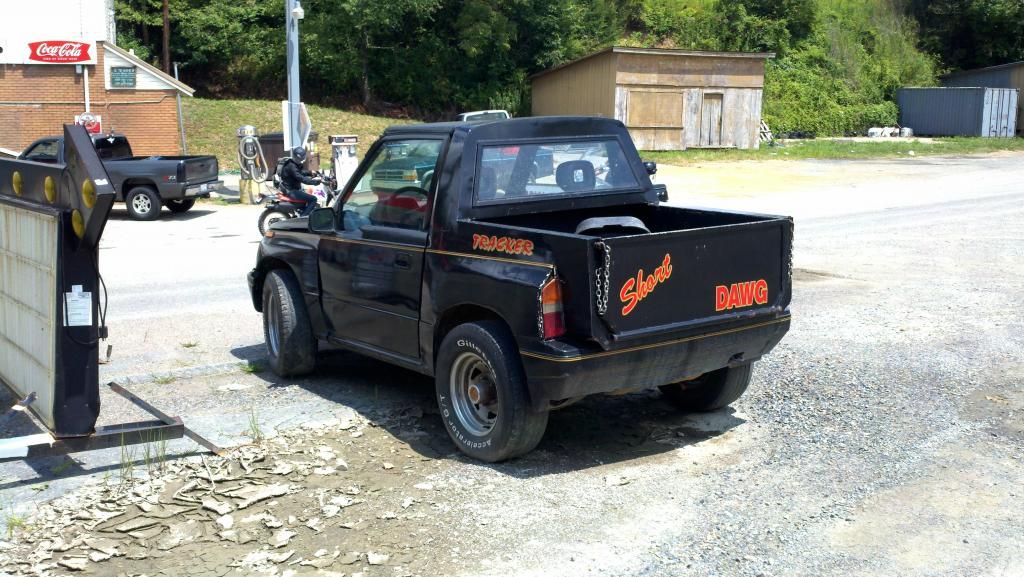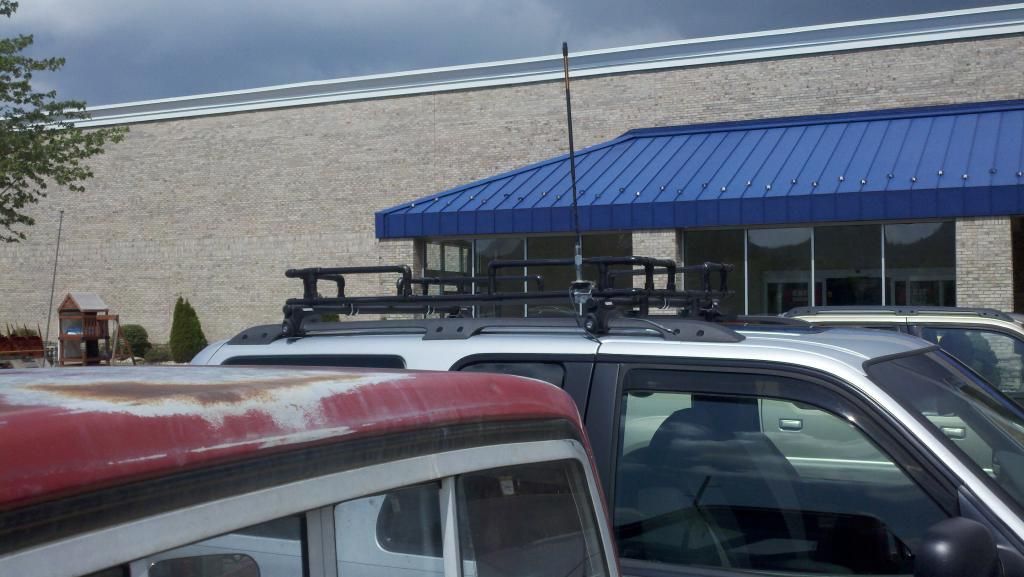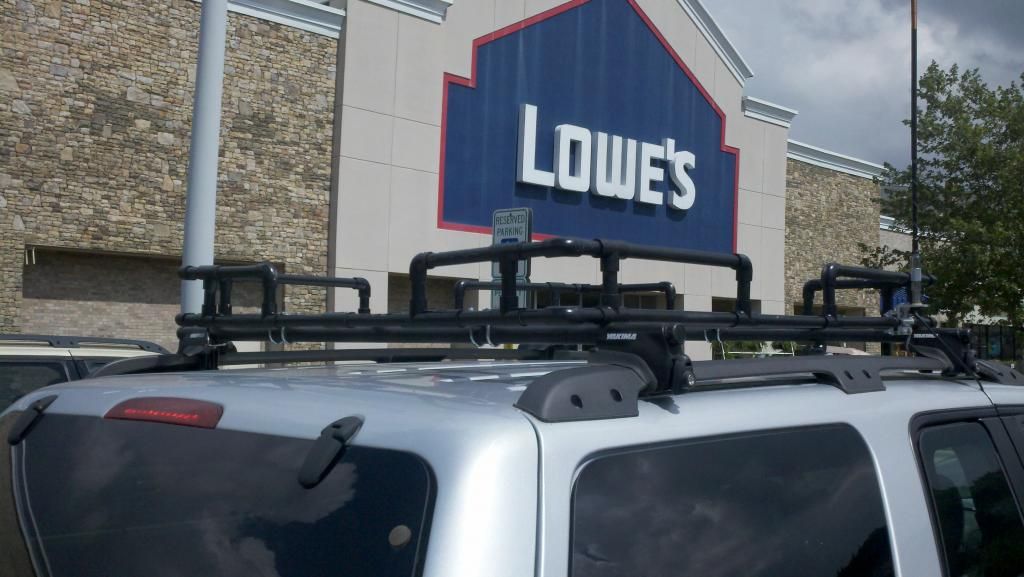 Ok, thats all the pictures I have for now.
What all I have done to it to get it to where it is today and parts it had to have to run:
New, Water pump, alternator, 2 power steering pumps, battery, battery cables, new cable to the fuse box, 2 new belts (used the old ones for awhile), 32/36 Webber (the orig. carb's choke wouldn't work and I couldn't find a replacement), took radiator into the rad shop it was 3/4's stopped up, new fan clutch, 2 New Master Cyls. out of a 95 Land Cruiser, New clutch master cyl. and slave cyl (the old one was leaking inside the cab, and in two different places at the transmission before it quit), removed the fuel pump from the tank added a peice of brake line that runs into a sock, stock fuel pump left me sitting one day so added a 3-4psi electric pump that runs through the stock pump so it still has a return, New big mirrors Wheel Bearing kit from Marlin front and rear, rebuilt rear drums new brakes, cylinders, and spring kit, fixed stuck bell cocks, tried my best to get the drive shafts back in alignment still not sure they are, some misc. bulbs. and most important so I can fit in and drive it a tiny steering wheel (Im 6'7" and my knees and the factory wheel didn't get along)
The 83 Celica motor is a bit different than any pickup motor I have looked at. It has a truck oil pan on it, but the water ports for the heater core come out on different sides of the motor. I had the heater core hooked up backwards for this whole year, last winter I had some heat... this winter none. I went to flush the heater core and found out real quick why I didn't have any heat.
The alt brackets on the celica motor didn't match up with the alt wiring I have in the turbo truck so on one of my many junk yard runs I got the new brackets (which the top bracket broke just a couple weeks ago and had to be replaced along with the ps pump and master cyl).
Some things I have to add, you don't need the ECU to run a carb motor in an EFI truck everything works fine without it (i was told that I had to keep it, well on one of my more recent junk yard runs I found the kick panel for the pass side and I tried for the life of me to figure out how the ecu mounts up under it and so I just decided Id unplug it and see what happens... no smoke, no flames just fine)
I think that is all I have done, probably have done more just can't remember.
Parts needed: Chrome Fender Light, passenger side. new bumper with end caps (the one on the truck is quite bent, the ends caps came off one day when I ran over a bush... yes I said a bush)
Any questions?