pickup roll bar
07-13-2011, 05:07 PM
Registered User
Join Date: Jul 2011
Posts: 1
Likes: 0
Received 0 Likes on 0 Posts
Looking for good rollbar and skid plate for 90 Toyota Pickup
---
Im new to these forums, and was hoping that someone could help me in my search to find a good (and semi-cheap) rollbar and a Skid plate for my '90 Toyota Pickup DLX 4x4 with a regular cab. It seems impossible to find any that work, i think the truck has a 2'' body lift, but im no expert. If someone could give me some brands that would work, that would be awesome.

Edit- Im also looking for a grille guard/brush guard to fit on my truck too.
---
Last edited by 90ToYotaPickUp; 07-13-2011 at

05:16 PM

.
07-13-2011, 06:16 PM
Registered User
Join Date: Jan 2007
Posts: 6,106
Likes: 0
Yeah..body lift has nothing to do with it. It'll either fit an 84-95 Toyota PU bed or it won't. I don't know what else to tell ya.
So anyways...back to this thread here...
Originally Posted by
toyNG
Are the roll bars, like the one shown in the pic below, of any use in terms of protection? I know that lots of people use them for lights, but will they offer any protection in a flop? I've seen them go for pretty cheap on craigslist, so I was debating getting one. What do you all think?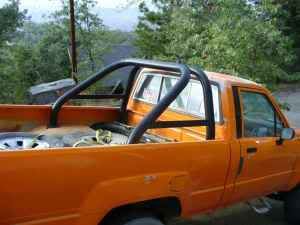 I've got one that's similar. And I've got real world evidence to suggest that they offer a substantial amount of protection really. The cab and the upper doors would have been crushed and all the windows broken, and not JUST the windshield. WITHOUT A DOUBT, had the "rollbar" not been there. Now I'll never get rid of it.
---
Last edited by MudHippy; 07-13-2011 at

06:59 PM

.
07-14-2011, 11:25 AM
Registered User
Join Date: Apr 2009
Location: Calgary, AB
Posts: 705
Likes: 0
Received 0 Likes on 0 Posts
My junk.
I'd rather have a little extra steel stopping the cab from crushing in on me.
My buddy had a roll bar on his truck when it rolled down a steep mountain side.
He is 100% sure he nor the driver (cousin driving/wrecked his truck) would be alive if he didn't have the roll bar.
---
Last edited by Stuwy123; 07-14-2011 at

11:32 AM

.
01-18-2014, 04:29 PM
I have a 91 pickup and was wondering where the hell i could find a bar like the one that Dannymcfly has or something similar? Ive looked online and all I can find is crap...
09-22-2017, 09:53 AM
Resurrecting an ancient thread because, well, I just bought this roll bar. I had wanted one on my 94 4x4 Xtra cab for a while but it took some time to find one that was chrome (matching all my other chrome) and at a good price. I bought it because:
A) roll bars look cool as h3!! (and thus increase the value of the pickup)
B) they can save lives
Don't be deceived, folks; they aren't going to preserve your cab or offer the promise of keeping inhabitants injury-free. But a decent roll bar will absolutely limit the extent of a crushed cab in the event of a rollover, even if the bar is bed-mounted. That's the role (pun intended) of a roll bar. They offer more than simple aesthetic appeal. I'm guessing even the nay-sayers would rather roll over in a truck with a bar than without.
Now I just need to find new installation hardware. I have no idea who manufactured this part as it has no distinguishing marks at all. The specialized bolts that connect the bars have a round head that's sorta "rolled" to conform to the rounded tubing.
---
Last edited by Brock Lee; 09-22-2017 at

10:25 AM

. Reason: Adding info
Thread
Thread Starter
Forum
Replies
Last Post
The Classifieds GraveYard