Toyota Tundra: How to Replace Fuel Filter
A clogged fuel filter can cause an array of problems, including hard starts and fuel starvation at higher RPMs. Find out how to fix this fast and easy!
This article applies to the Toyota Tundra (2000-present).
The fuel filter is extremely important to your truck's performance. When working properly, it filters out contaminants in your fuel to make sure your engine is getting a clean fuel supply. However, inherently, there is a limit to how many contaminants your fuel filter can catch over time due to buildup. After thousands of miles, your filter will start to get clogged, which can lead to reduced engine performance. Another factor that will make your fuel filter dirtier is if you regularly use a fuel system cleaner in your tank. This will remove contaminants stuck in the tanks as well as lines and clog the filter over time. Thankfully, the filter is easy to replace and can be done by any amateur mechanic!
Materials Needed
14mm and 19mm flare wrenches
8mm socket and ratchet
Rags and catch bucket
Step 1 – Locate and loosen fuel filter lines
The fuel filter lines need to be unhooked from the chassis line to allow for enough movement in the fuel lines for the filter to be removed. Use Figure 1 as a reference to find these clamps located on the driver's side of the truck.
Caution
Be careful not to damage the fuel line, as this is an expensive repair!
Step 2 – Remove fuel filter
First, remove the clamp around the fuel filter by removing the 8mm bolt on the clamp and bending it away. Then, remove the fuel filter by using your 14mm and 19mm flare wrenches and turning the 14mm nut counterclockwise to loosen the fitting. Fuel will start to drip when you do this, so make sure you have your rags and bucket ready. Back the nuts out all of the way and wiggle the fuel filter out. If there isn't enough clearance, do not force the filter out. Instead, allow the fuel lines to flex more by un-clamping them in other locations.
Figure 2. Removal of filter clamp.

Figure 3. Removal of fuel filter.
Step 3 – Install new filter
Now, you can install the new filter! Make sure you follow the marked direction of the fuel flow on the filter and install the line back into the filter. Use your flare wrenches to tighten the filter back on. Make sure you do not over-tighten these fittings. That's it! Clean yourself up and start your car up!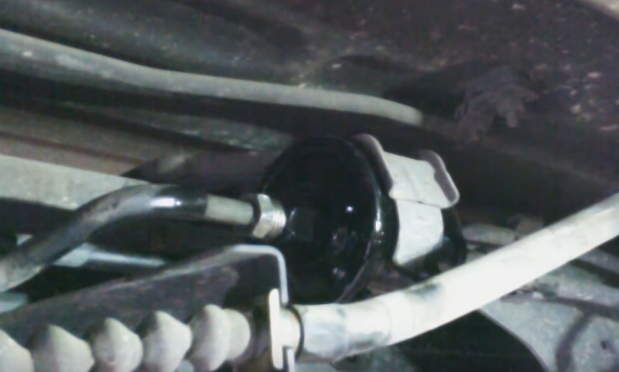 Featured Video: Fuel Filter Replacement on Toyota Tundra
Related Discussions