Toyota Tacoma and Tundra: Camper Shell Review
Add functionality to your truck with a truck cap, and get some ideas where to start with this article.
This article applies to the Toyota Tacoma and Tundra (1996-present).
You already know trucks are great. But sometimes it's helpful to bridge the gap between an open-bed truck and an enclosed utility vehicle with a camper shell, or as they are known today by their manufacturers, "truck caps." It's likely they're called truck caps now because the companies didn't want potential buyers saying, "What would I need a camper shell for? I don't go camping!" Plus, "truck cap" makes it sound like your truck is wearing a cool hat. Which is awesome.
Having used a camper shell many times, I can tell you their benefits go far beyond sleeping under them. It's great to be able to move firewood or oily engine parts around in the back of the truck, but also be able to lock stuff like bikes or tools inside without worrying about them going missing from an open bed. Modern truck caps look great. They usually fit the body style perfectly, especially if you have a common truck like a Tacoma, and can be painted to match your vehicle exactly.
There are also – and this is not an exaggeration – millions of combinations of options. Cab size and bed size are the obvious starting points, but manufacturers also offer a myriad of options like headliners, lights, equipment racks, dog-friendly what-nots, and cargo organizers.
That said, truck caps seem to all be priced about the same, going by forum response and the manufacturers' web sites themselves. Expect to pay around $800 for a base model fiberglass truck cap and go up from there based on options. Some manufacturers, like ARE, offer cheaper aluminum models which will be a few hundred bucks less, but users report they're also a lot louder on the road. On the other hand, the aluminum models are usually lighter too.
Truck Cap Review
| | | | |
| --- | --- | --- | --- |
| Low Height | Yes | Yes | Yes |
| Mid Height | Yes | Yes | Yes |
| High Top | Yes | Yes | Yes |
| Commercial | Yes | Yes | Yes |
| Plastic | No | No | No |
| Fiberglass | Yes | Yes | Yes |
| Aluminum | Yes | No | No |
| Wireless Locks | Optional | Optional | Optional |
ARE
ARE customers appear to be very satisfied with their caps. While this isn't a truck accessory that differs a whole lot from manufacturer to manufacturer, the ARE models do look good. ARE appear to be in good standing with their customers, and they certainly look good on the trucks. They have a ton of options to satisfy anyone, which you can see in table form here, and a seemingly robust dealer network.
Snugtop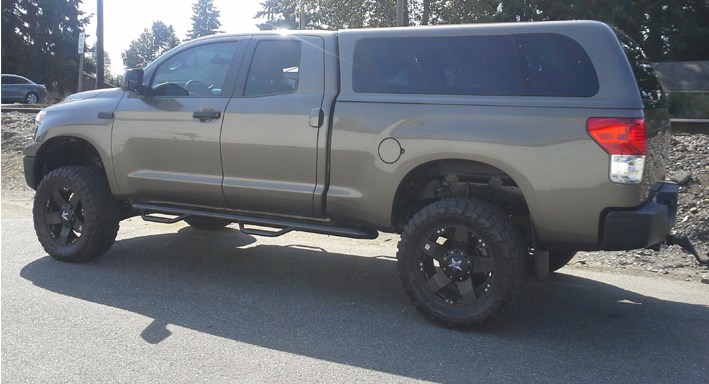 Price – $1,000-3,000+
Looks – Good
Weight – Comparable
Snugtop, based in California, are peculiar in the truck cap game in that they have an actual email and phone number on their web site that you can call. While your humble author has never seen a Snugtop cap in person, the fact that the company will consider getting an email or phone call from the general public says to me that they might be worth my cash. They also have a whole page just for Toyota, which you can see at this link. Snugtop mostly services the western US, so if you're east of Texas you might have trouble finding a local dealer.
Leer
Price – From $400 used online and up
Looks – Good
Weight – Comparable
Warranty – Available
Leer makes it hard to figure out exactly what their warranty is just by looking at their web site, but they do appear to have one. They also appear to have the most extensive dealer network, but those dealers are not required to come back to speak to you after whoever answers the phone initially puts you on hold. Those matters aside, this is the one shell I can speak about from first-hand experience. While many forums users say to steer clear of Leer for various reasons, I owned a Leer and had no trouble with it. It matched my truck paint exactly, never rattled, leaked, or had any problems whatsoever. I thought it was great, and I slept in it quite a few times. I got that truck with the cap on it, though, so I never had to deal with anyone at all. But then again, if you never have to deal with a company because their product never gives you trouble, that's good.
Conclusion
Because of the way truck cap manufacturers rely on their dealer network, your best option is going to be dependent largely on where you live. Your experience will only be as good as the dealer you're working with. It will benefit you to be relaxed about it. If you just got a new truck, you're probably dying to get a cap on there so it looks finished. We know how that feels. But if you're in a hurry, you might end up in a business relationship with someone who will put you on hold and never come back.
Related Discussions