puulboy's 'Wikid' 2007 FJ Cruiser Build-up thread
12-15-2010, 06:10 PM
Registered User
Join Date: Jul 2007
Location: AZ
Posts: 53
Likes: 0
Received 0 Likes on 0 Posts
puulboy's 'Wikid' 2007 FJ Cruiser Build-up thread
---
Wikid
Toyota Super White
I remember when...
Wikid was Sun Fusion Yellow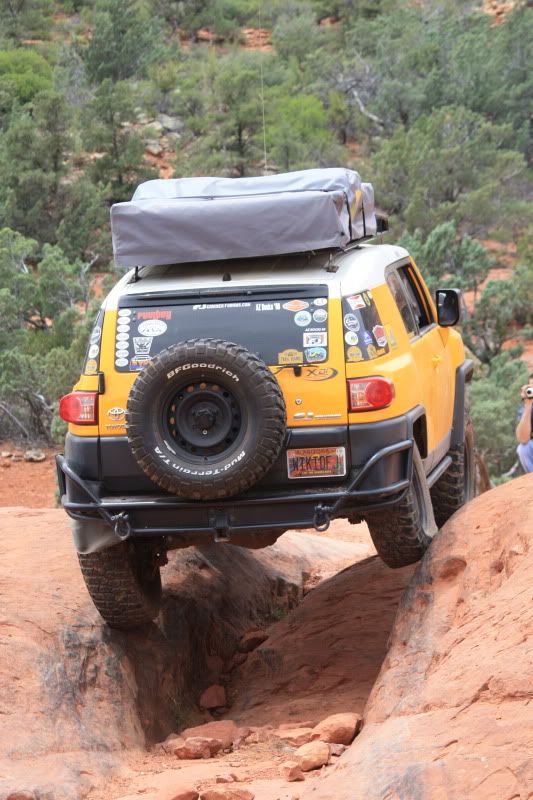 2007 FJ Cruiser,
Package 1
4x4, a-trac, locker, side air bags, FJammer audio etc
Special stuff
Total Vision Products Baja Camera System ,
Custom Overhead Console, 8 camera's, 4 screens, digital switchers , ecu's
Quad Channel DVR/ motion sensing, gps tracking
Center panel, cb mount, 9 switches
Custom battery box , over passenger, rear, wheel
Custom air compressor mount, over drivers rear, wheel
Second skin audio, complete interior sound deadening/ insulation
Gearing
East Coast Gear Supply Nitro 4.56 gear's
Performance
Doug Thorley SS ceramic long tubes, Y pipe and muffler
Custom 3 inch pipe, through bumper, oval exit
AFE Pro Guard Dry CAI
Suspension
Overland Warehouse/Radlo 2.5
3" adjustable Coilovers,
Rears and coils custom valved for my FJ
Extended rear swaybar links
Swaybar relocate, bump stop extension
Toytec hd rear links/ 1" Dif Drop
Toytec 1" Bodylift
Camburg 1.25" uniball UCA's
Armor
Ricochet Full underbody skid package
Custom Laser cut, front skid.
Lower control arm skids
Rear shock skids
Inchworm, E-locker skid
Demello Hybrid Slider
Wheels/Tires
Method Race Wheels 16x8 4.5 backspace
General Grabber red letters
Spydertrax 1.25" Wheel Spacers
Steering
HD steering links
Bumpers
Road Armor bull bar front
Bulldog 9500, Remote control
Viking Synthetic Winch line/ thimble
Metal Tech rear custom cut tube bumper
Bushwacker Fender Flares
Electronics/Communication
Lowrance Baja 540c Navigation
Cobra CB/Wilson 1000 antenna
National Luna dual battery controller
Red Top Optima for start
Sears Platinum M-1 Marine Battery
Engel 45 refrigerator
Blue sea 12 circuit fuse panel
Zantrax 1000 watt power converter
Custom nine switch overhead panel, triggered to rear buss bar
CTEK trickle charger/conditioner
Lighting
Lightforce Striker 170's,PIAA 520 ions
Vision X Tantrum rock lights/controller, remote
Onzuim interior lights, dashboard lightbulb
Off-Road gear
BajaRack, utility rack
Puma, 12v Air compressor, 1.5 gallon tank
Rear bumper mount air chuck.
Recovery bag, shackles, d-rings, straps,
Titan air jack
48" hi-lift
First Aid kit
Tools
Basic trail tools
CV axle , tie rod, serpentine belt etc.
Coming Soon…

Fujitsu 730 Tablet PC for all off-road navigation, custom laptop mount
LED exterior lighting, to be determined
Custom badge plate, by Ricochet
Expedition one, front bumper change?
Sponsored gear
Total Vision Products, Baja Camera System
Overland Warehouse/Radflo, Suspension
Ricochet, full skid protection
Doug Thorley Headers/Exhaust
Toytec rear links, body lift, dif drop
Viking synthetic winch line
East Coast Gear Supply, gears
Method Race Wheels, wheels
Go-Pro, HD Video Camera
Total Visions, Baja Camera System
The story
After a year thinking about rock spotting camera's. I was strolling the auto isle at Costco. when I noticed a licensed plate rear view camera. Cheapo 80 bucks. Momma just rolled her eyes. After the groceries were put away, I went to the garage Faux hooked it up, bent the bracket for the camera and double face taped it to the right side of the front bumper, aimed at the tire. I took the truck down the road and followed street cracks, with the screen
THAT WAS IT...
I located a company in Tucson called Total Vision Products. Rod and I spoke at length, about a simple four-camera rock spotting system. Three months later, the idea evolved into a Baja Camera System, which includes eight cameras, overhead console, four screens, digital switchers and a quad channel DVR with GPS Tracking. Rod designed the equipment for this system.
Camera Views Include:
Front approach & Rear Departure (wide view)
Front rock spotters, left and right tires
Rear axle camera
Roof forward facing (wide and normal view)
Rear Roof (normal view.
Driver side views will be the front approach, rear departure, rock spotters, and axle cameras. Passenger side will be all roof view cameras. The thought behind this is using the driver side screens for utility and the passenger side for trail video. Cameras selected on screens, are all recorded to a quad channel DVR. Prewire in capabilities up to eight additional cameras, with two channels of audio.
Suspension
Overland Warehouse/Radflo
We are using the complete 2.5 Radflo System that they have developed. The suspension is designed with the weight of my build in mind. After having three different systems on that did not perform well, I finally have the right one. It handles flawlessly and smoothly on the road. It also handles everything I throw at it off-road. System comes complete with 2.5 coilover's, 2.5 shocks, springs for rear, sway-bar relocate bracket, extended, bump stop for rear, and they added extended sway-bar link for testing. Don't count this out as a high performing system.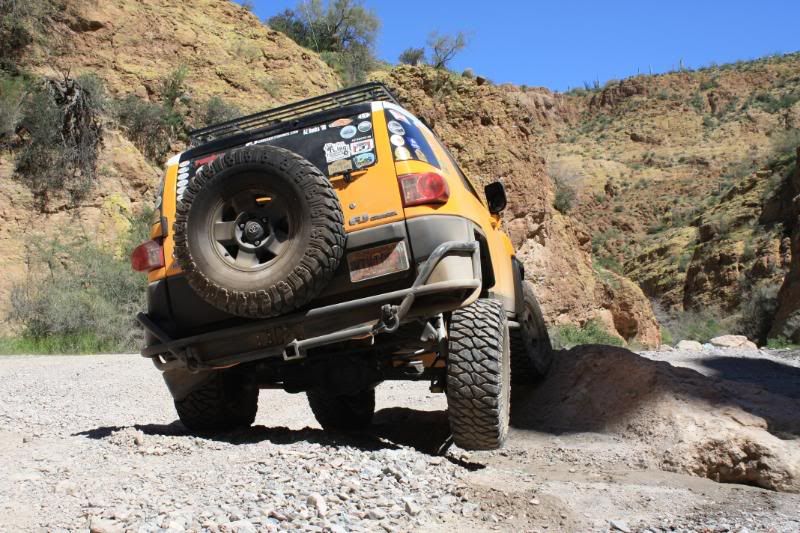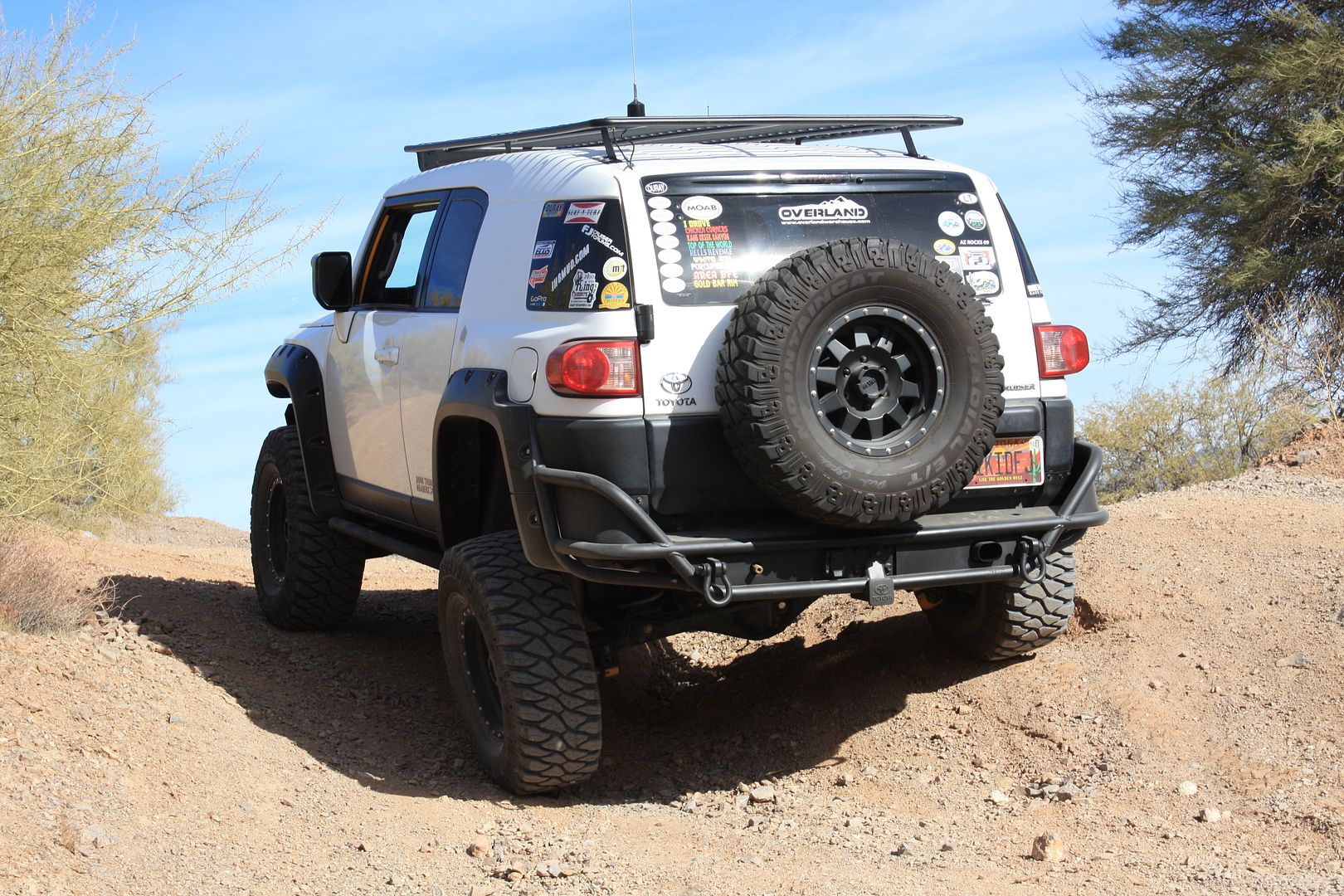 Gearing
East Coast Gear Supply Nitro 4.56 gear's
After a Brief encounter with the skinny pedal, I must have chipped a gear in my stock dif. Here is the Hill where I think it happened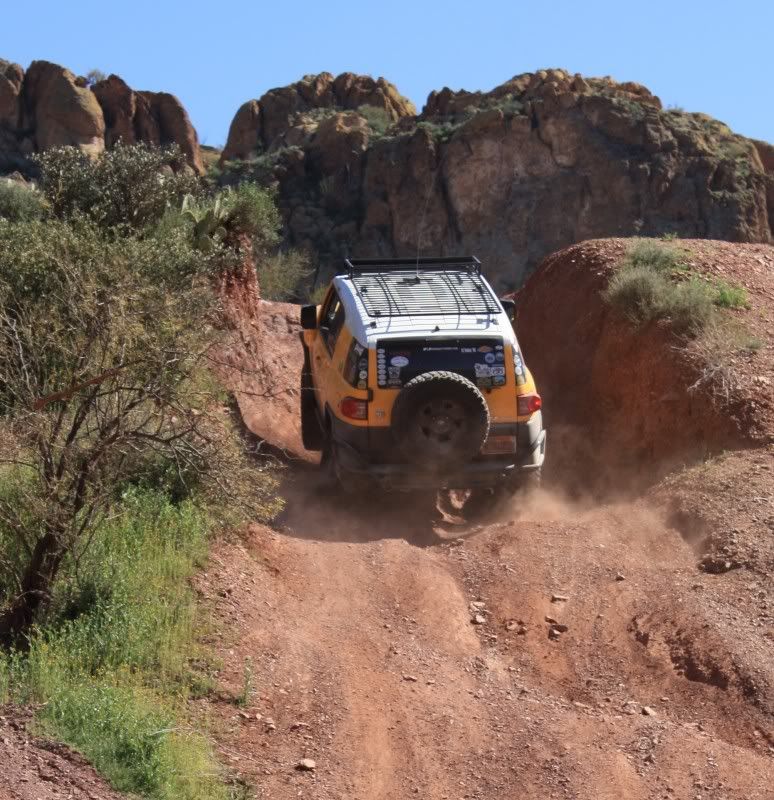 Chase from ECGS helped outfit Wikid, with some new teeth. They sent out rear diff third member and front outfitted with 4.56 nitro gears, in turn I sent them the cores. I would highly recommend these guys for regearing
By the time I limped home, there were 3 teeth.. ahh missing.
If you have some mechanical skills or can recruit someone with those skills , you can save some $$$$ doing the switch out , yourself.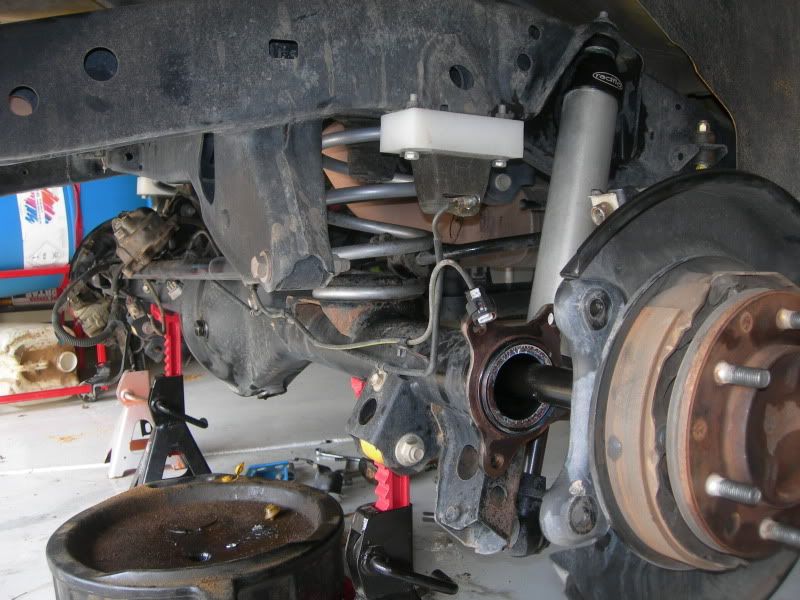 Ricochet Skid Plates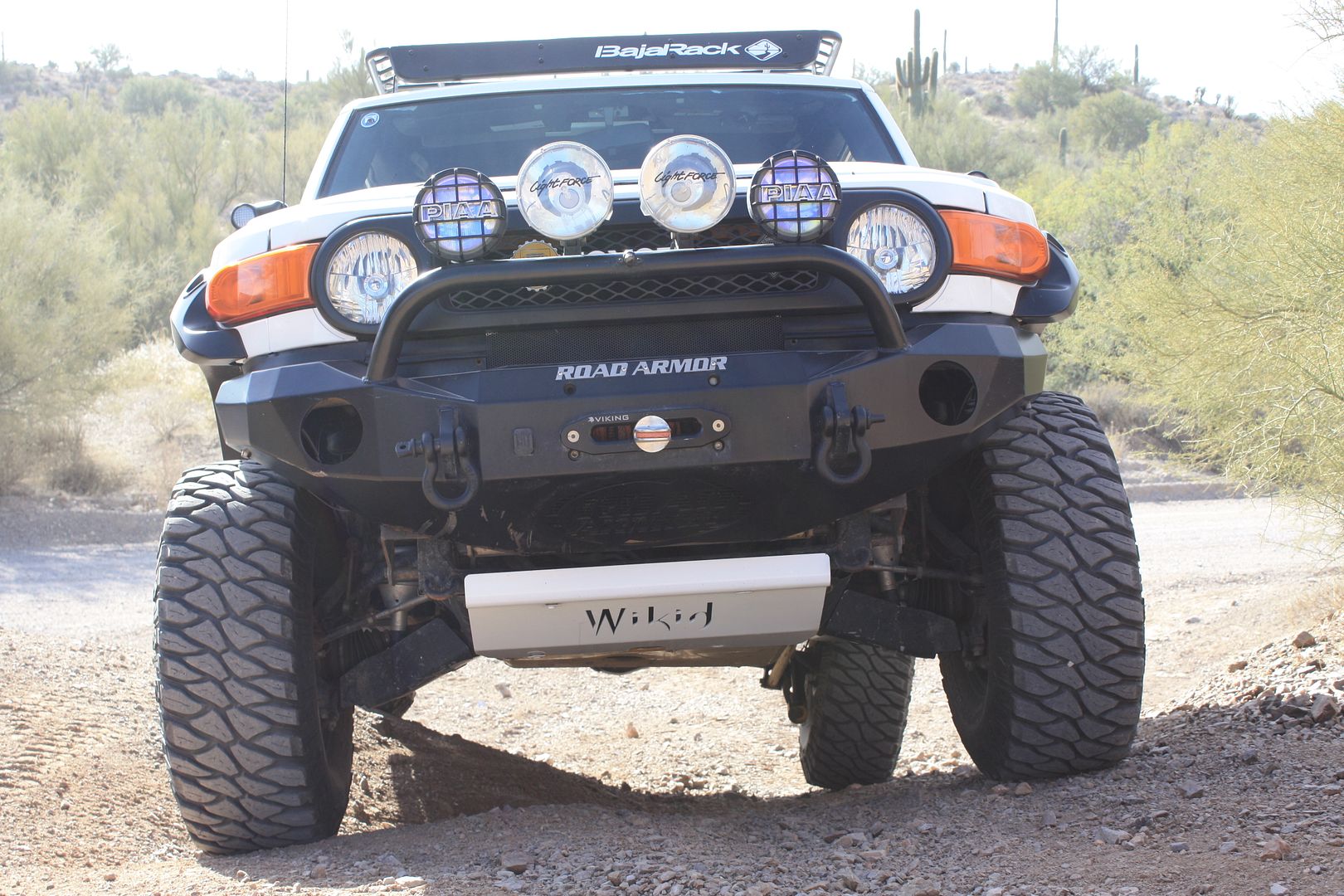 Ricochet skid products are protecting the belly of Wikid. Brad, is excellent to work with and his skid plates are designed well. I have been abusing his skids since early 2010 with Cruise Moab, Sedona Fest, FJ Cruisers Summit and many local trails. They have been sliding rocks and still staying true to form.
Full under body skids customized with a sexy, laser cut "Wikid"
Lower control arm skids
BajaRack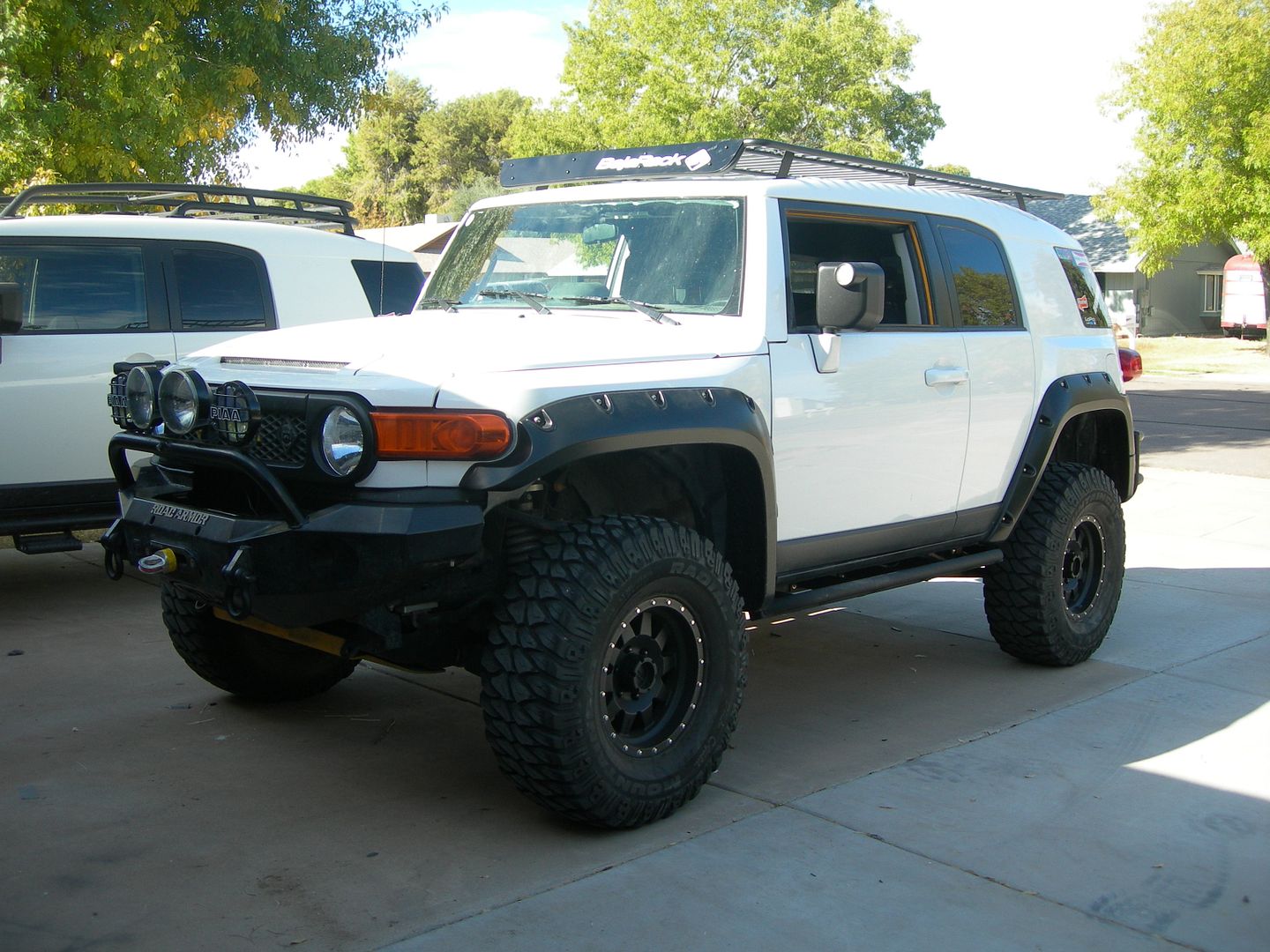 This is a customer service oriented company that has a well designed product.
I started with the EXP rack, with a RTT. Now I have the Utility Rack, that gives me the ability to fit in my garage. I really like the new look and the construction is great. I have further plans for the rack to follow.
Doug Thorley Headers/Exhaust
Doug Thorley has outfitted Wikid, with a complete exhaust.
Long tube 304 Stainless Steel headers ceramic coated
Y-Pipe and muffler
In addition to this I had a local exhaust shop, Apache Muffler, run custom three inch tail section through the rear bumper with three inch oval tip
Here it is all trimmed up and done.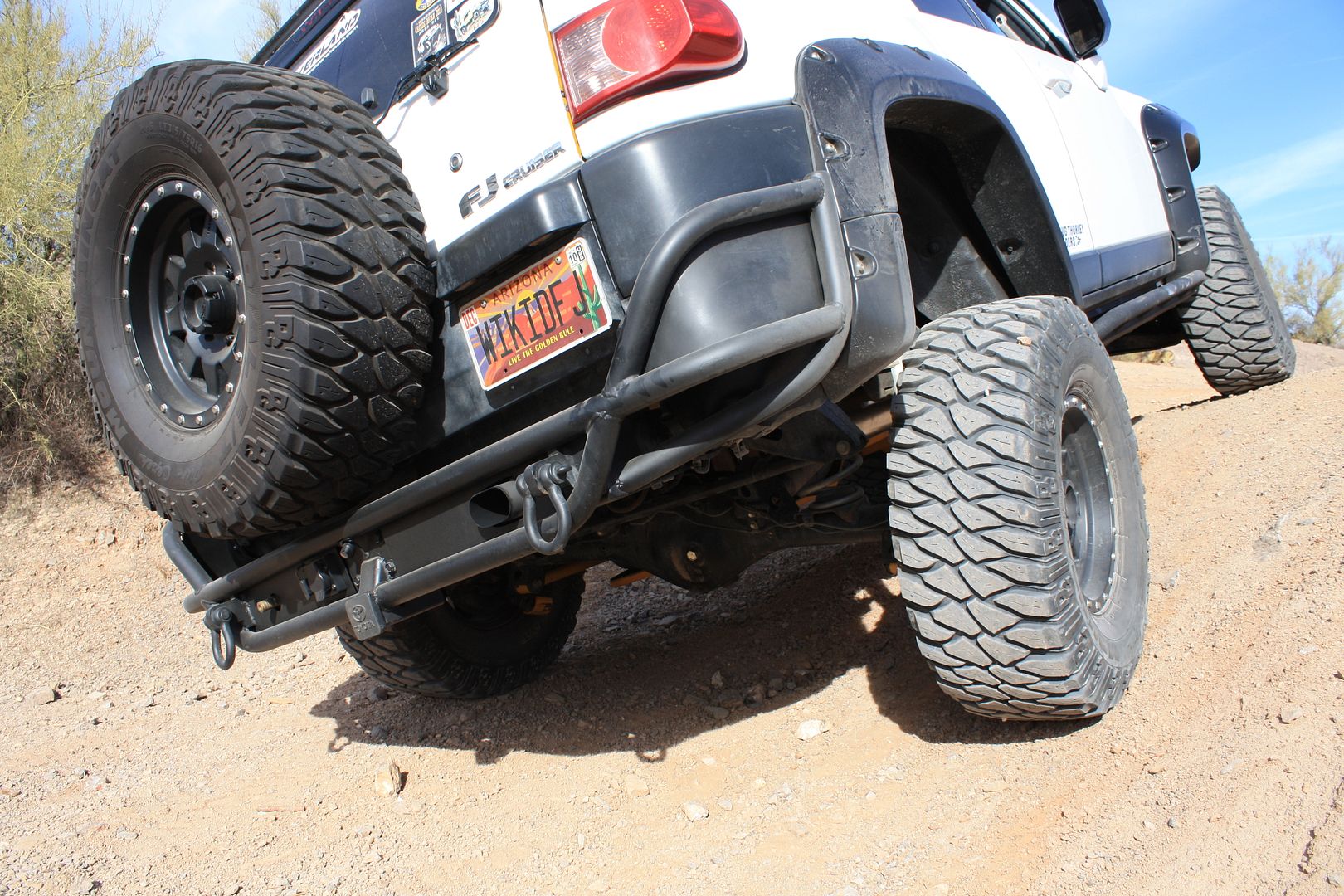 New General Grabber 315/75/16 red letters
I pulled the skids to do a front dif oil change, plus painting the rest of them.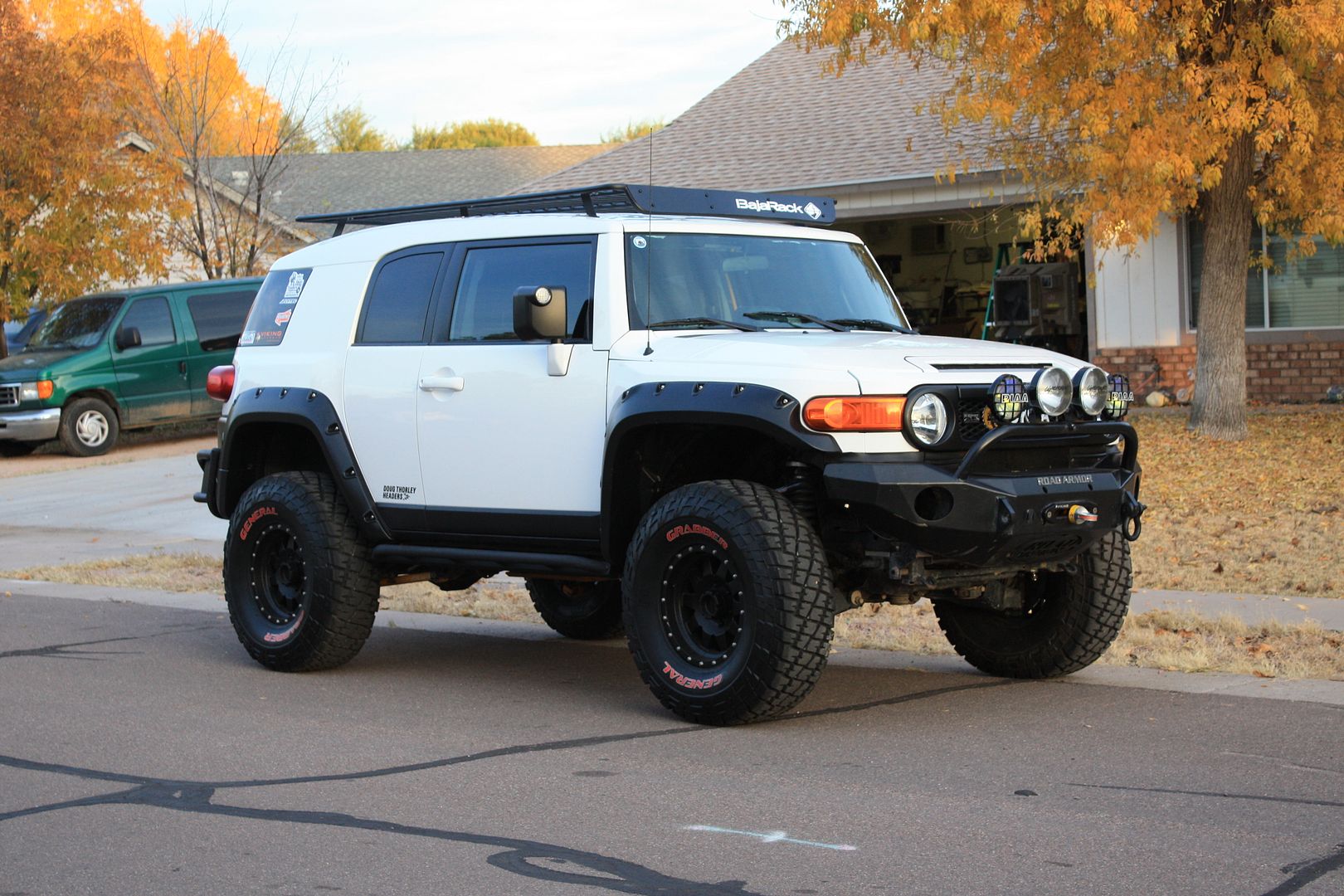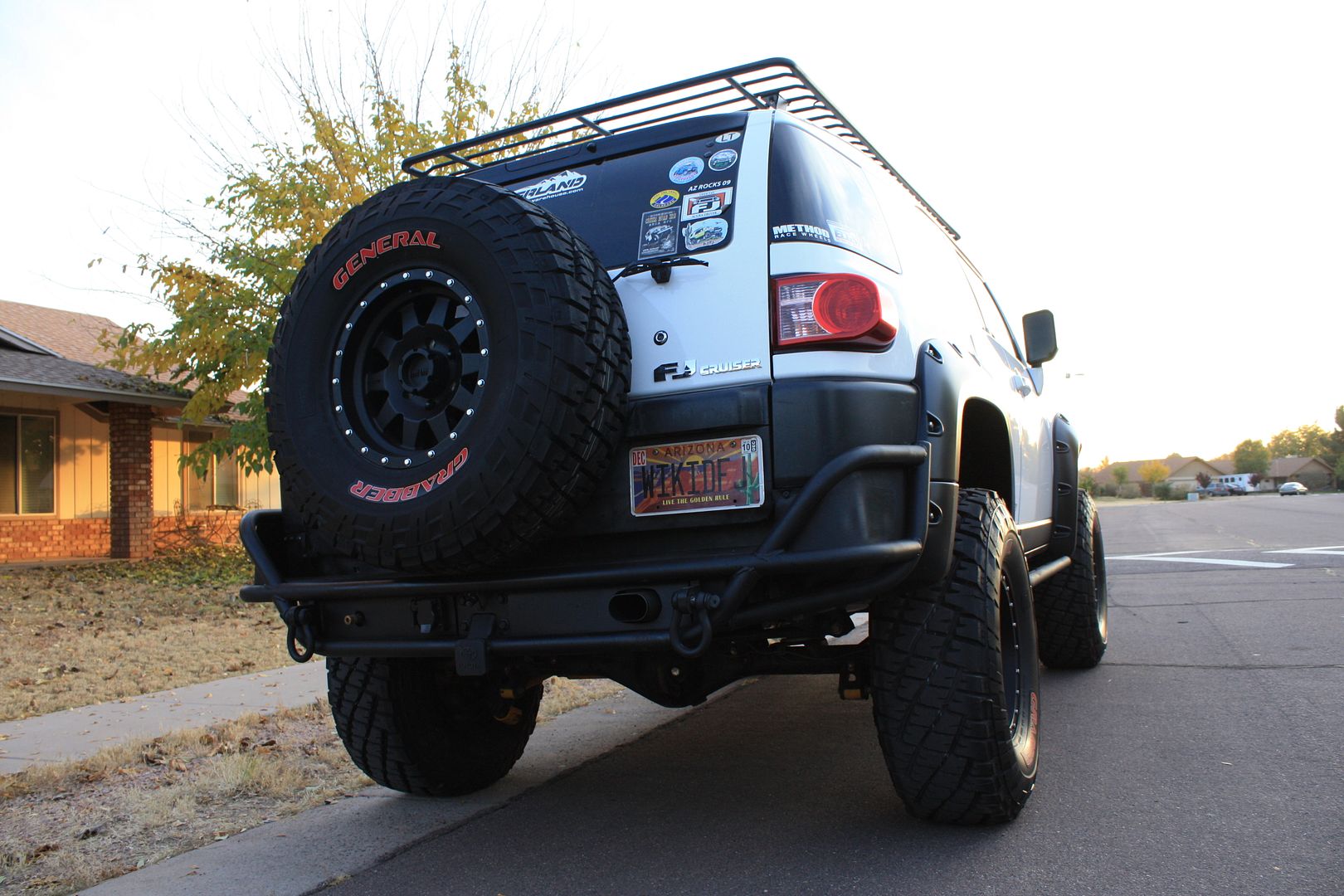 I just installed the Camburg 1.25 uniball UCA's. What a difference in handling. I had a brand new set of All-Pro HD steering links I saved to do UCa's and links at the same time.
Then took it in for an alignment . Our local network alignment knows their stuff.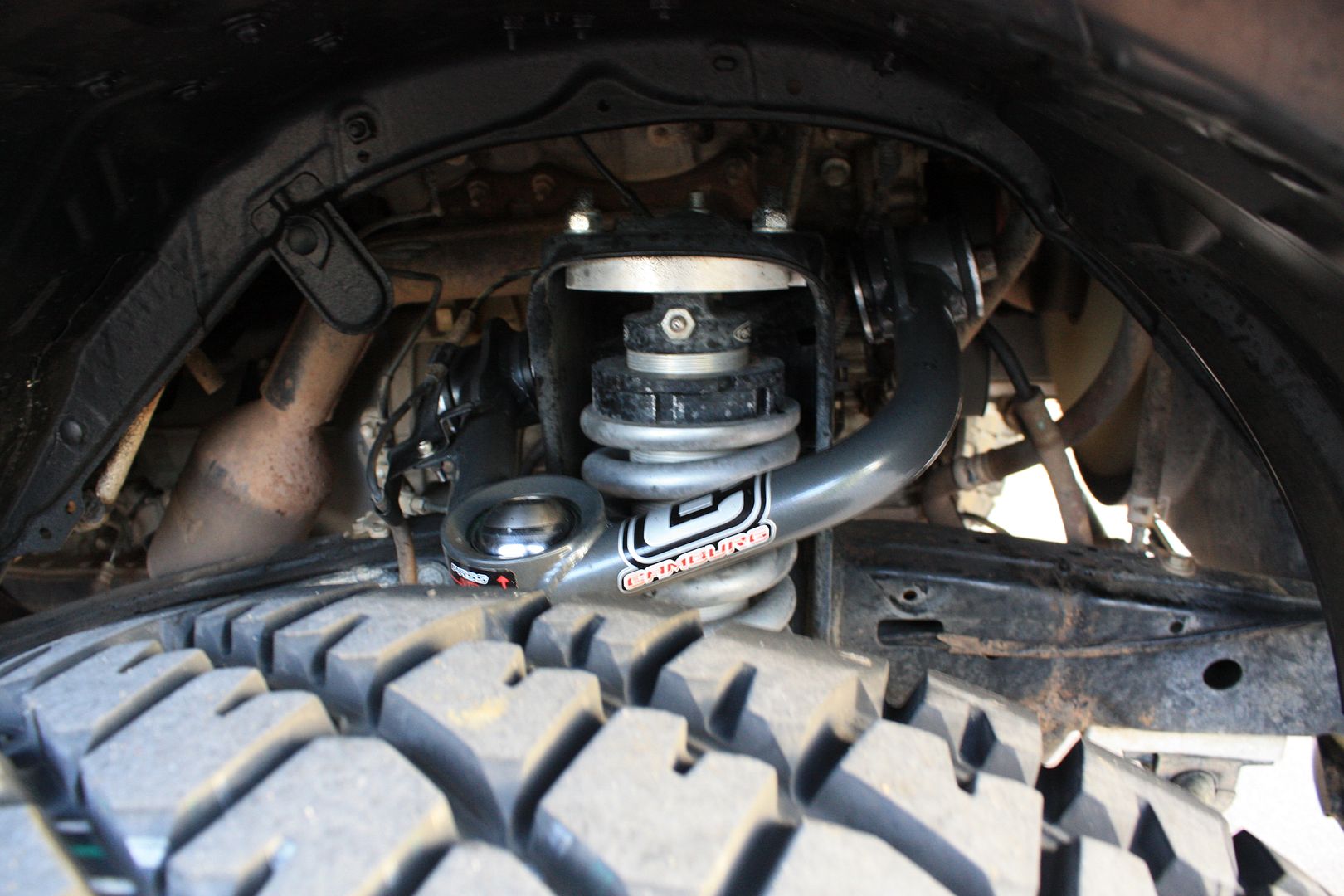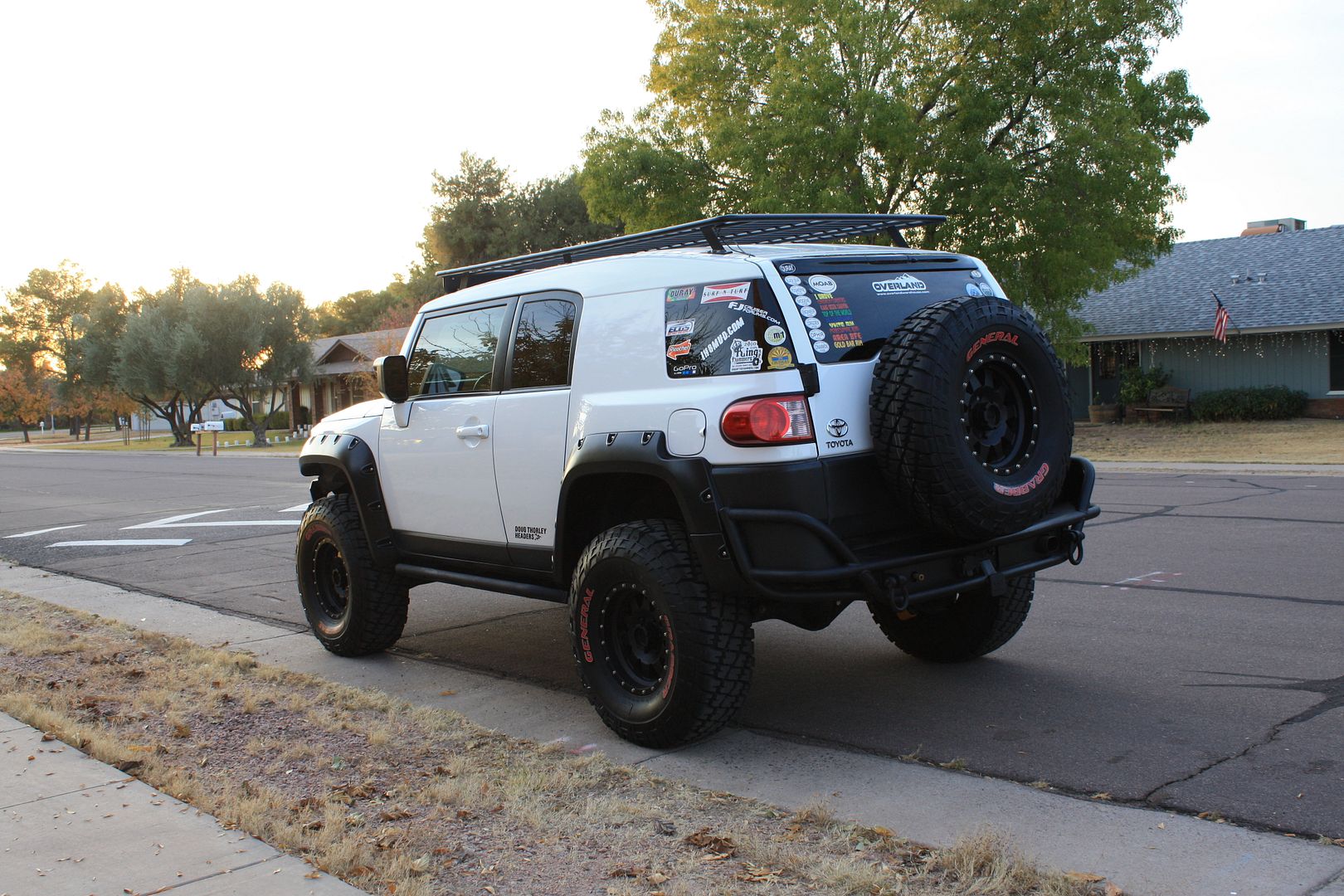 Thanks
---
Last edited by puulboy; 12-15-2010 at

06:20 PM

.
Thread
Thread Starter
Forum
Replies
Last Post
Misc Stuff (Vehicle Related)