Crossing high water - how high is too high and what to watch for ???
08-17-2009, 07:05 PM
Crossing high water - how high is too high and what to watch for ???
---
Around here streets can go from bone dry to 2-3 feet of rain with a REALLY good rainstorm. So I started to wonder how much water height is too high in a 3rd gen runner with a 3" lift (and soon a snorkel). Also what are the problem areas to look out for ??

I've installed the extended diff breathers but was wondering about the water ingress into the automatic transmission. Also my door weatherstripping is in good condition so will this keep water out of the cab ???

Also whats a good speed to go when crossing high water, I've been told creep through it at a high idle from some guys and others tell me to keep a 5-10 miles per hour pace to keep a wave being pushing by the front bumper to keep water off the engine.
08-17-2009, 07:54 PM
I have read in several articles to keep a wave in front of the vehicle. By doing so they say the water level inside the engine bay stays lower. This is what I have read so take it with a grain of salt. Me I just stay away from water crossing. The only thing I like my engine to suck in is air and fuel.
08-17-2009, 08:22 PM
if you extended your breathers. you just have to worry about the stock intake, you dont want your vehicle to take a big breath of fresh water, will cease it. so just think about how high your air box intake is.
water in the cab is kind of hit or miss, water is water and come in through damn near anywhere, id be worried more about your firewall holes and cab depressurizer hole. if your rig is lifted 3" and with 33's, you should be able to handle 3 ft of water.
drive a little faster than idle.. slow but not sitting still slow.
08-17-2009, 11:23 PM
Registered User
Join Date: Oct 2005
Location: Oakland, CA
Posts: 26
sleepy970 has it spot on. You want to go just fast enough to generate a bow wave, the displaced water creates a low spot behind the bumper which lowers the water level in your engine bay. This doesn't take a lot of speed, about 5mph or so.
The big issue is to prevent water from getting into your differentials, transmission, and transfer case by relocating the breathers. You'll also want to check your wheel bearings more often to make sure the grease is not contaminated.
On my old ZJ I could have water part way up the doors with no intrusion into the cabin. In a friend's Xterra the water was almost over the hood before it came into the truck.
Here's some bow wave shots if anybody is interested. This river was almost 3' deep in the middle.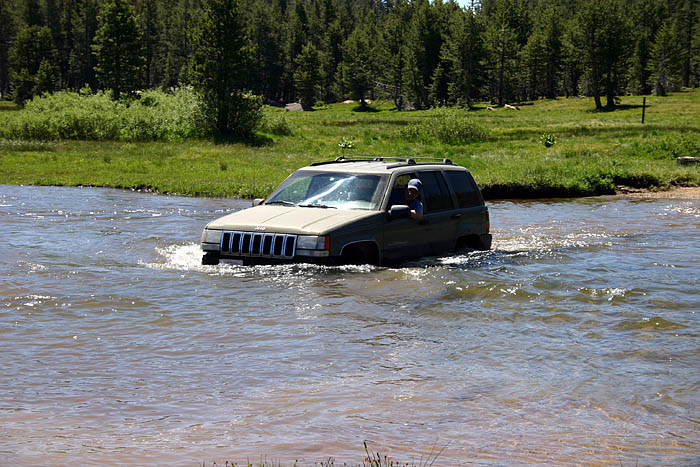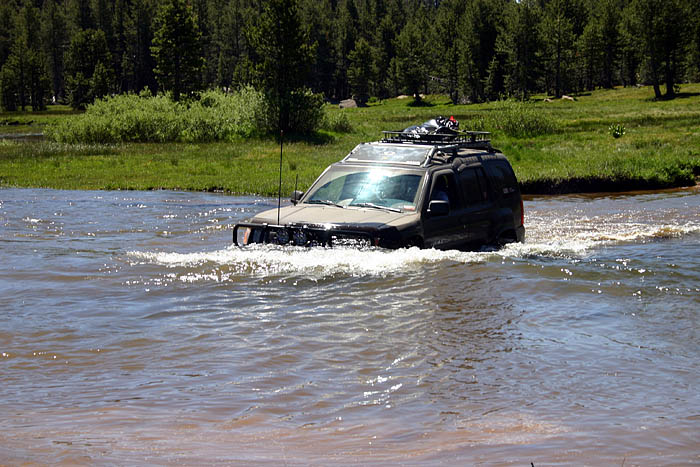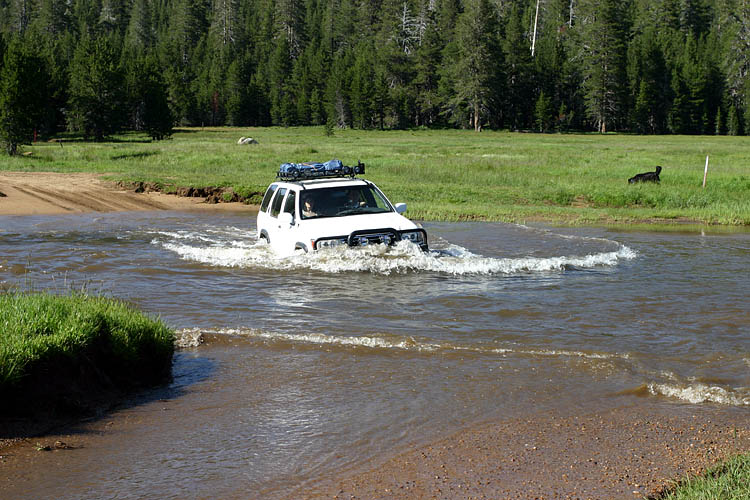 - Matt
08-18-2009, 01:31 AM
Contributing Member
Join Date: Mar 2004
Posts: 1,221
Toyota rated the 3rd gen 4Runner to do water wading up to 700 mm water depth. So you can add how much lift you have to 700 mm. But then the 700 mm water depth is conservative to protect Toyota against any claim.
08-18-2009, 04:23 AM
700mm = approx. 27.6 inches btw.
Extend your diff breathers (5-10mins/side) and you shouldn't have to worry about anything, just don't go too fast and don't try and cross fast-moving currents.
Fink
08-18-2009, 05:49 AM
in those photos above, that is NOT recommended. yes they got through it but they
are moments from sudden engine damage. When water gets sucked in and kills the engine the engine will crack apart from water hammer and you will be SOOOOO sol.

if you go in water 1 FOOT DEEPER as those pictures show you had best have a snorkel. they
are so lucky they didn't suck in water

the other stuff, bearings and breathers...you can skip if you do a teardown after every wheeling mission (which you should do anyway).

anyhow...

1) expect to pop all 4 wheels off and do bearing maintenance after underwater wheeling
2) install long breathers on the diffs
3) expect engine lights if the a/f and o2 sensors stay drowned for a long time
4) get a friggin snorkel for water as deep as the pics. holy crap !
---
Last edited by BigBallsMcFalls; 08-18-2009 at

05:50 AM

.
08-19-2009, 08:47 PM
Registered User
Join Date: Oct 2005
Location: Oakland, CA
Posts: 26
BigBallsMcFalls, you are correct that those pictures are close to the point where water could be sucked into the intake, that's about as deep as you can safely go without a snorkel. We have been through that spot many times over the years and are always careful to check the fording depth, and we've never had any part of the airbox get even damp.

My primary reason for posting those shots was to show what a bow wave looks like, but they are also a realistic example of the maximum depth you can cross without risking water intrusion into the cabin or hydrolocking the engine. Extreme caution is obviously critical to prevent damage.

- Matt
08-26-2009, 07:26 AM
Registered User
Join Date: Mar 2008
Location: Grass Valley, CA
Posts: 193
hey how would i find out different offroad ratings for my 94 runner?
08-30-2009, 05:33 PM
Running across a flooded spot in the road (bumper deep) which I drove daily and knew vey well and their being still water.

In my stock Civic Hatch I just ran thru it backwards, pushing a wave.

Knowing your limits and investigating your liabilities is key.
Thread
Thread Starter
Forum
Replies
Last Post
Misc Stuff (Vehicle Related)
95.5-2004 Tacomas & 96-2002 4Runners